The ring 3D printer is used to make wax models for the ring making process. The ring 3D printer is used in jewelry industries and for personal use. The ring 3D printer allows for bulk printing of gold and silver rings.
How 3D printers work for Wax Ring Making
Dreambot3D ring 3D printer is used to print various custom models for 3D printed engagement rings.
The ring 3D printer allows you to cast large batches of gold rings.
With the ring 3D printer, you can express your creativity without limit and experiment designs of rings.
3D printed wedding rings solve the problem of a high value inventory that does not get sold. This allows you to print small batches on an as needed basis. Therefore, you save money on resources.
3D printing is a quick manufacturing process that allows you to reach the market faster with lower expenses. The manual casting model can be quite expensive and involves a lot of time.
3D printing allows a customer to request for a "one of a kind" piece with a customized message.
3D printing rings make it possible to create finished design in a single piece which means higher quality and time saving.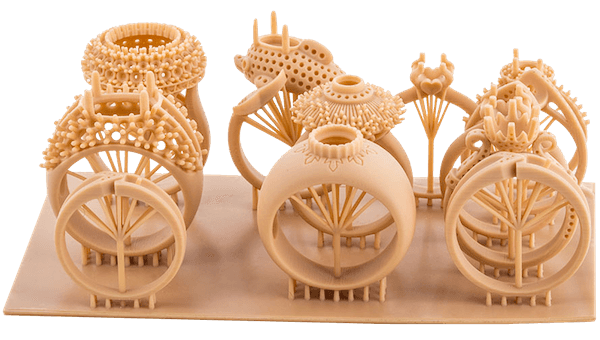 Don't know how to choose a model?
Are you confused about how to choose the correct model and type of 3d printer? We support 24/7.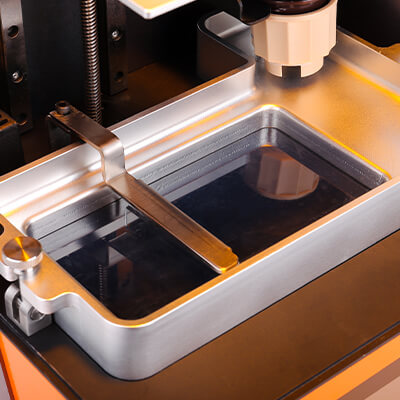 4K black-white industrial screen, 0.01-0.05mm layer thickness accuracy, more accurate printing of details.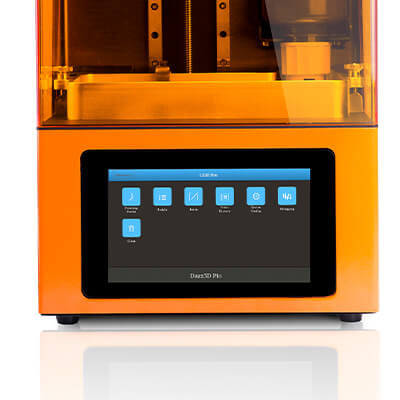 All 3d printers are equipped with PLC control system as standard, makes the operation more convenient, and reduces the error.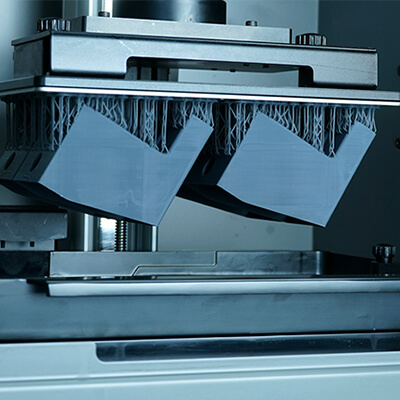 Large printing size, 20mm/h printing speed, complete your printing tasks faster.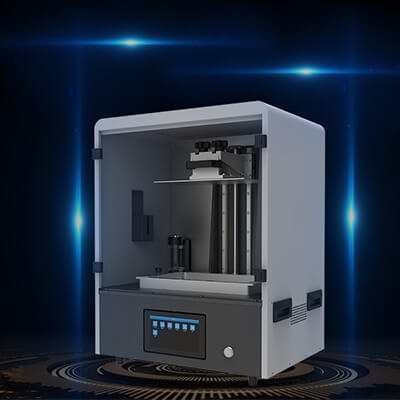 The all-metal one-piece shell reduces resonance, makes printing more stable and improves printing accuracy.
I would highly recommend this printed. 3D printed wedding bands, 3D printed gold rings and other types of printed rings have been created with the 3D printing machine. The application is stress free.
The printer is a solid one and tech support has been awesome and I found one flaw in the machine design but it was fixed immediately. Ever since printing has been nice, no more complications.
Creating custom made jewelry has been good with Dreambot3D printer. I create 3D printed ring designs almost everyday with my new printer, I print for many hours each day and this does not break down the machine.
I just received this printer and I'm happy with it. It seems to be built quite well. You need to assemble the hoop to the base and install a few connectors. The instructions are okay for that.
Of all the printers I've used this has by far being the most noiseless. The printer makes zero noise even after printing for several hours. The 3D printed ring designs are cast showing high precision.
How 3D Printers are Used in the Jewelry Production Industry
Jewelry 3D Printer Buying Guide
3D printers are considered as the advanced rapid prototyping technology and also treated as a design tool to create highly inexpensive models faster in the jewelry design procedure.
Physical 3D models developed through 3D printing have made it possible for them to review the concepts effectively. Before making the final product, you can first create a 3D printed engagement ring to see how the final product will look like.
In turn, you will get positive feedback from your customers and can develop a more superior product. On the other hand, a ring 3D printer allows the manufacturers to understand real-time teamwork. It may be noted that, in recent times, the demand and utilization of 3D printing technology have increased a lot, with various industries are now adopting the technology.
In the case of the ring production industry, which is a part of the jeweler industry, it was one of the first industries to adopt 3D printing in "investment casting." Instead of using metal printers, the jeweler makers use wax, and the pieces of jeweler are sculpted from wax.
After that, plaster is applied on both sides, and melted metal is then poured on the wax. After that, you will get the metallic version of the sculpt.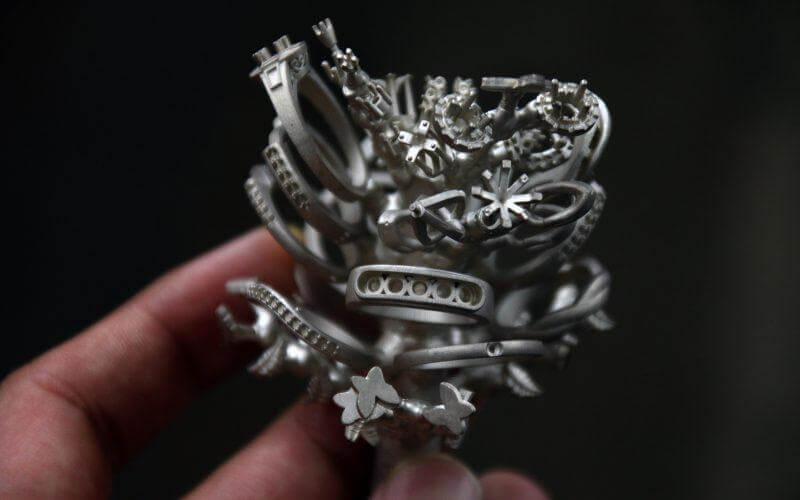 In this industry, 3D printing and CAD- Computer-Aided Design has created a different creativity level. If you are planning to create an intricate design, you won't be able to do that through the traditional process of ring making.
However, using a ring 3D printer, you can easily accomplish the design. Are you planning to start your own ring making business and looking for perfect tools and equipment for this? Don't worry at all, and you just need the best ring 3d printer to get started with this
However, when it comes to buying a quality 3D printer for making rings, you may face some challenges. The market is full of different types of 3D printers, and choosing the right one can be very confusing.
Besides, there is a lot of factors that you need to consider while buying this. However, to help you out here, we have written down this ring 3D printer buying guide. Keep reading to get a clear idea.
3D printing- an emerging production technique in the global jeweler industry
The scope of 3D printing seems quite limitless. For example, not only have the cars been 3D printed, but so too different powerful engine parts for rockets and human organs and limbs.
When such a level of intricate parts can be developed using this, there is nothing to surprise that most have turned to craft elegant and more uncomplicated products.
Jeweler designers have a keen interest in utilizing 3D printing to turn their creative ideas into physical objects, i.e., beautiful and elegant looking rings.
This technology can work great with different metals, the primary components of different pieces of the jeweler. They can develop joints that will be much stronger than the jeweler developed through the traditional process.
On the other hand, the designs will be more intricate and accurate than the pieces of jewelry that have been made by hand.  One of the most incredible benefits of utilizing this technology is the level of efficiency it has brought to production.
For example, when deployed 3D printing, a company named Graff found that using this, they can print around 500 pieces of intricate clasps at one time while sacrificing the quality. No matter how intricate the ring design is, when you have the best ring 3D printer, you can easily give your design a perfect shape.
Chapter 1:
The impact and changes of 3D printers on the ring production industry
Even though some retailers can have thousands of different rings, some customers still have some difficulties finding the right ring with all the features and qualities they want.  
People saying, "If they can get a ring whit that particular part of another ring, it will be just awesome," has turned into an everyday occurrence.
However, today's jewelers' shoppers no longer have to worry about this as they now have the option to craft a highly personalized ring. And all thank you for the modern 3D printing technology.
Before introducing 3D printing, jewelers had to spend a lot of time carving out a perfect wax model by hand. After that, the model would be used to create jewelry.
However, due to the energy and time it took to create just one piece, it was quite challenging for the jewelers to create custom pieces for their valuable customers. That's why the prices of custom rings were very high.
Now, the introduction of 3D printing has dramatically speeded up, creating designer rings by developing the wax models within an hour.
Not just it saves time and effort, it also offers jewelers creative freedom. As the waxes that are 3D printed are not limited to hand-made waxes, jewelers can now let customers go for custom pieces at affordable prices.
3D printing and ring making
For the ring making industry, 3D printing technology has proved to be quite disruptive.  There is a massive deal of uptake and interest based on how this technology will contribute to this industry's development.
Starting from the maximum level of design freedoms enabled by 3D printing and 3D CAD, by enhancing the traditional jewelry-making methods, this advanced manufacturing technology has created a massive impact.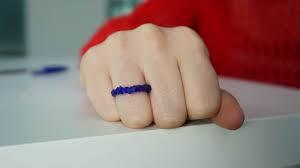 The most important way that rings 3D printers has impacted the industry is as a tool for tooling and rapid prototyping- as an ideal alternative to dying casting or investment casting.
This technology is used to craft the primary models or wax patterns. Such applications have witnessed considerable developments in different global jewelry sectors, eliminating some traditional processes.
3D printed wedding rings – the latest trend
Speaking about 3d printed wedding rings or 3d printed engagement rings, as the name suggests, these are printed using a 3D printer and customized after the rings are selected by the buyers online.
For people who don't know what will be the perfect size or style of a particular diamond. Many online jewelry shops are offering custom 3D printed rings for weddings and engagements. You can choose the diamond or other stones' shape, metals, styles, and more.
With this, the customers don't have to spend their time visiting different stores. Besides, it offers then the freedom to choose a custom-made engagement and wedding ring. The jeweler will not meet the requirements for design molds and faux pas, which can be very costly.
What's more? They can easily match the replica of what the customer wants. So, when you have the best 3D printer at your store, you can quickly expand your business and customer base.
1.1, What is the original production process of rings
The original and traditional production process of rings is jewelry casting. Sometimes, you can go for this method. However, the process is very time-consuming.  
Speaking more about it, jewelry casting is the method using which a wax pattern is created into a jewelry mold. After that, that mold is filled with molten metal (this can be gold, silver, bronze, and more) to form a piece of jewelry. The same process is followed to make a ring.
The process is also known as lost wax casting as the wax is lost during the ring making process. Let's understand this process correctly.

The casting method is used with a high-quality rubber mold made from the master model. Rubber is applied layer by layer around the mold and heated. It melts and creates a piece of mold.
The mold is then injected with a high-quality wax to develop the ring form. When the melted wax hardens, you can remove it and analyze it for quality. It can reveal the flaws with the rubber mold.
More than one wax model can be added together to create a tree. That is then placed in a cylinder mold. The benefit of forming a tree is that it lets you cast different rings at once. The models are attracted to the sprue to create a channel letting the molten metals enter into the mold.
The cylinder is then correctly filled with investment to cover the wax appropriately. In the jewelry industry, high-grade plaster is used for casting.
A vacuum machine is used to pull out air from the cylinder to prevent forming of bubbles. Bubbles can significantly affect the casting's quality.
It will be let to dry, and the cylinder is fired to make the investment hard and melt the wax models. Based on the size and design, the process can take many hours.
Once done, the mold now has a perfectly ring-shaped cavity, which will be used for casting. After that, mold is then placed in a casting machine and then carefully filled with melted metals.
Once done with pouring and setting, the cylinder is then removed from the casting machine. After that, it is wholly quenched in water. When the investment is washed out, it will leave the newly casted ring. After that, the jewelers remove the sprue, clean the ring and give the final touch-ups.
Even though the process is an effective method to create rings, hand-made jewelry can cost more as the entire process is carried out manually.
Besides, the process is very complicated. If you want to create an intricate design, this method won't work correctly. On the other hand, you have to craft the design manually, and it will depend on your creative level.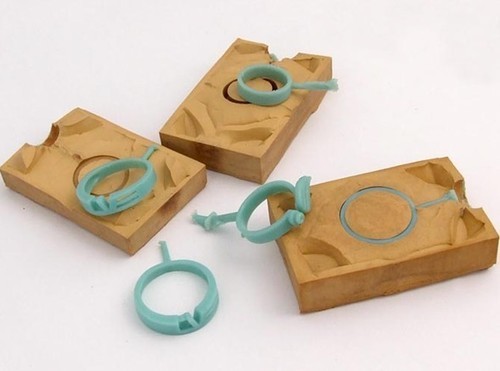 However, 3D printing technology simplifies the entire process by replacing the designing and mold making stages. We will discuss about this in the next section.
1.2, What processes can 3d printers replace?
3D printing is widely used to craft 3D printed ring molds. They can create highly accurate molds having thin layers. Instead of developing molds using hand and rubber materials, a ring 3D printer can create resin ring mold within a few hours. For this, a CAD design is used. Jewelers can leverage the technology and enhance their custom ring making ability. This modern crafting technology can help you in replacing some manual processes in ring making. Keep reading to explore more.
3D design with software
There is an enormous difference between making a ring design manually and using 3D modeling software. After thinking about a particular design, using the best 3D modeling software, you can create a digital design file.
If you look at the traditional method, the jewelers draw the ring design on paper for mold making. This can take hours. But now, creating an intricate design is an easy process. Besides, if you want to create a replica of any rings, you can use the 3D scanner to get that ring's designing.
You can even edit the design to give a ring a new look and then save that in the STL file format, which a 3D printer can read. After reading the file and instructions, the 3D printers can automatically carry out the 3D printing task.
So, it can be said that 3D printing technology will replace the manual ring design process. With the 3d printed ring design, you will be able to create a highly accurate ring.
Mold making process
Do you what is the most challenging task in creating a ring? Well, it is the mold making. Once done, the rest of the work will be much more straightforward for you.
When you have the best 3D printer, the printer will make accurate molds, unlike the hand-made mold where you can find some issues. Instead of crafting the mold using hand, you can use the 3D printer to create molds automatically.
When you feed the ring design, the printer will use a source of light to cure resin for mold making. The entire process will take only a few hours. Besides, you can create multiple molds at a single print, reducing the whole ring manufacturing time.
Even though some people love to have hand-made rings, but such things will have some significant disadvantages. For instance, compared to 3D printed mold, a hand-made mold will be quite challenging to design. In fact, when it comes to editing the design, you need to create a new one.
You will spend more money and time. Remember that 3D printed resin molds are the most accurate way to produce rings.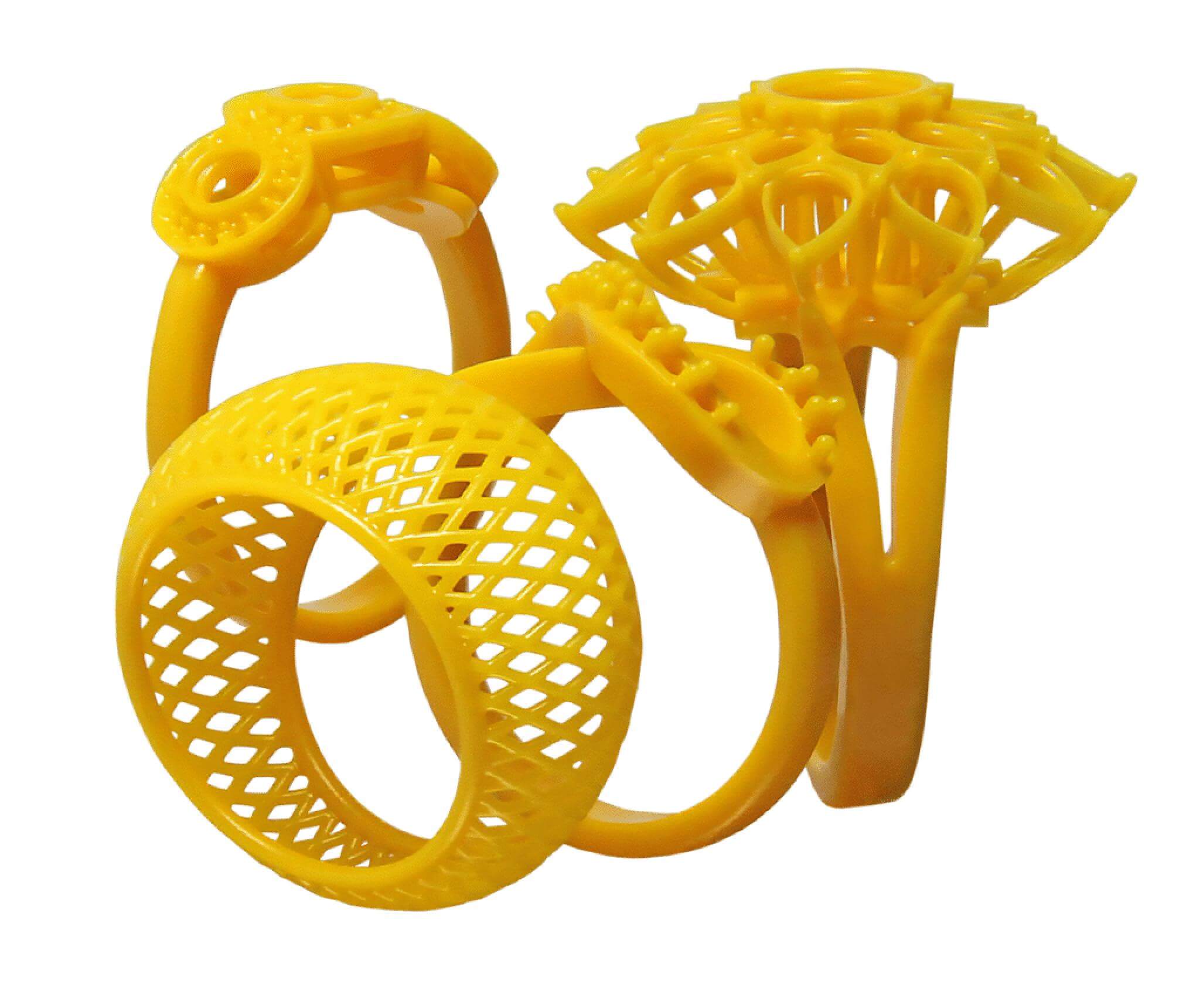 Besides, hand-made ring making dramatically depends on the jeweler's skills. And in such market conditions, you may not be able to find such talents. But with 3D printing, you can give shape to a highly intricate design. In fact, you can also create the 3d print lord of the rings.
So, it can be said that 3D printing has dramatically changed the way you used to make rings by simplifying the ring mold manufacturing process. Besides, there are some advanced 3D printers, using which you can directly print the ring.  
To use this, you don't have to very creative. You can download the digital design file and use them to create molds for the rings. So, if you plan to establish a ring-making company, you should integrate a 3D printer into the production process.
1.3, What's the changes after the intervention of 3d printers
It has been proved that using 3D printing and 3D digital technology, the greatest transformation from the traditional manufacturing method to rapid and digital jewelry production solutions in this industry can be witnessed.  To know more about this, let's discuss the significant applications of 3D printing in the ring-making industry.
Demonstration and design communication- This can be used to develop multiple models quite rapidly for faster assessment by 3D printing at the early stage of product design. This will not only save your time but also lower the chances of a design defect.
Function test and assembly test- This can help you improve the products' functions while lowering the production cost. Besides, the quality will be much better, and your customers will instantly accept the rings.
Meet the demand for customized rings- With a higher level of efficiency and flexibility, a 3D printer can help the Jewelers meet the customers' demand for customized rings. No matter what is the size and design requirement, 3D printing, it can be done quickly.
Directly producing some jewelry parts- As the technology is applied widely, unique and stunning jewelry products started to emerge endlessly. You can now produce different pieces of jewelry directly using these printers. Such things will take people to a whole new world.
Jewelry is crafted using the lost-wax casting method or by hand. These methods require a higher level of technical expertise and time. Utilizing a ring 3D printer, Jewelers can lower the need for a time-intensive labor process.
They can also use the printing process for crafting very intricate designs of rings and produce rings that are challenging to make using traditional methods.
3D printing is widely used for investment casting, and using that now different pieces of jewelry can be manufactured directly. Jewelers use 3D printers and CAD for creating molds and attractive patterns for jewelry.
What's more?  3D printing technology is very precise and ensures that the required sharpness has been achieved. When it comes to making rings having unusual designs, nothing can beat the best ring 3D printer.
Furthermore, 3D printers help them easily customize their products and develop designs that can be easily mass-produced.
The technology has helped a lot in terms of testing different patterns, designs, and colors. In a single print, you can create multiple patterns and designs. Now, let's have a look at some crucial opportunities that a 3D printer can offer.
With 3D printing, it has become a lot easier to create different intricate shapes and designs. The 3D objects will appear more realistic.
Replicating a costly ring can be done using a 3D printer. All you need just to scan the ring and create an affordable edition of that ring. Your customers will love that. This you can offer your customers the best designs.
Crafting custom molds
In the traditional mold making process, you will face difficulties in making custom molds, and to create one mold; you may take a few days or weeks. But with 3D printing, this can be done relatively quickly.
If you want to save money and time in mold making, a 3D printer will work best for you. Besides, with this, you can attain complex and unlimited iterations on unique designs. Just think whatever you want and use a 3D printer to give it a perfect shape.
Chapter 2:
Research on the advantages of 3D printers compared to traditional processes
2.1, Introduction to the working principle and development history of 3D printers
Talking about the earlier earliest record of 3D printing, it was dated back to 1981 when Hideo Kodama, a Japanese inventor, introduced the process to harden polymer material using ultraviolet light. That became a stepping stone to SLA- Stereolithography.
After that, Charles Hull discovered the SLA process where 3D printing-like technology was used to create smaller objects for testing purposes. It helped manufacturers to test the product before spending money and time on developing the real product.  
The 3D object was developed layer by layer, hardened using ultraviolet light, and rinsed with the solvent. The process utilized CAD to form 3D models.
There is another effective 3D printing technology, i.e., SLS- Selective Laser Sintering. This method of 3D printing utilizes powder polymer and additive manufacturing to form 3D objects.
The technique uses a laser light source to fuse the powder and then create the model layer by layer. SLA 3D printing can easily create complex products.
After that, FDM 3D printing technology, introduced by Scott Crump, brought a great revolution in the field of 3D printing as it greatly affected the production process by facilitating rapid prototyping.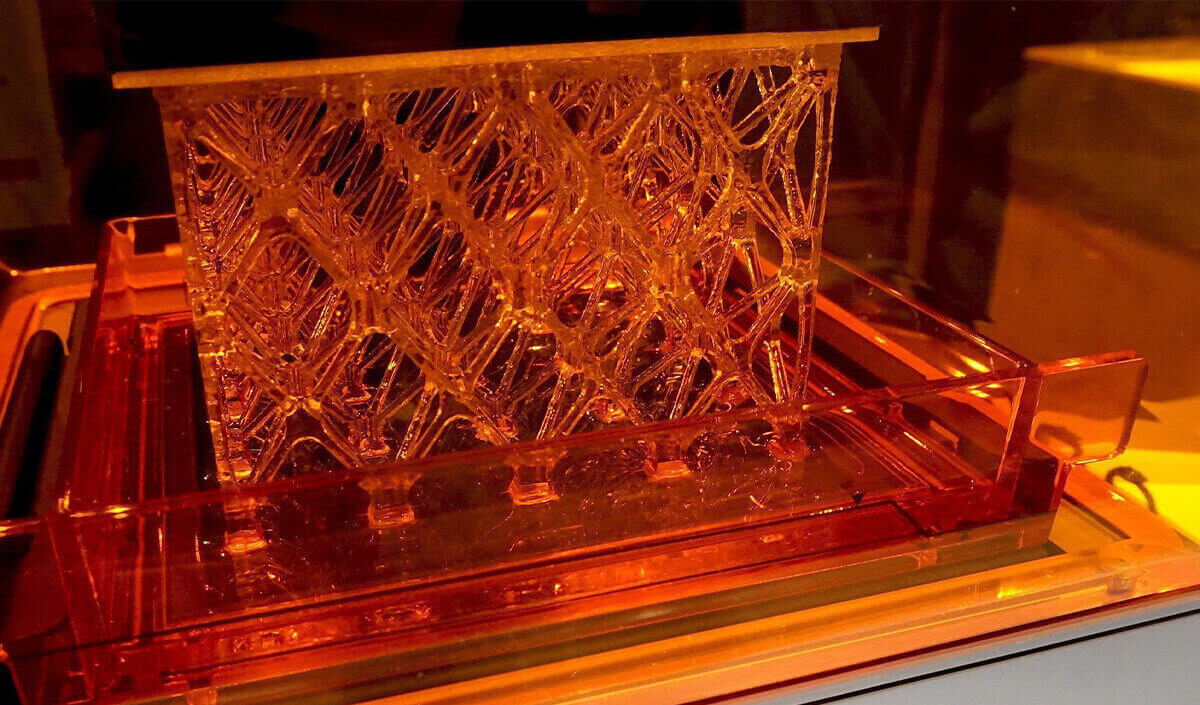 Now, FDM 3D printers are considered the most common type of 3D printing. These printers are also called "desktop printers."
When it comes to creating durable models, you can trust FDM 3D printing. The FDM 3D printer heats the thermoplastic, which covers the material into the liquid form and a nozzle, then extrude the material layer by layer to create the object.
So, it can be said that 3D printing technology has dramatically changed and improved over the past years. The technology allows you to create virtually anything simply by forming a computer file. It has been predicted that technology will significantly impact the manufacturing process.
The working principle of 3D printing
After knowing the history of 3D printing, you might want to know 3D printing technology's essential principles. In general, 3D printing is an intricate process, and understanding this can be a little confusing. However, here we have mentioned down the working principles of 3D printing in simple words to get a clear idea.
The modeling principles
The first stage of 3D printing is "additive manufacturing," where CAD takes virtual blueprints, or you need to create the digital design. The designs are then cut into different digital cross-sections, which the 3D printers will use as their guide for 3D printing.
The materials you will use for making a model will depend on the type of machine you are using. For example, if you are using an LCD 3D printer, you will have to use resins, and for an FDM 3D printer, filaments are used. The materials will then be cured or deposited on the build platform layer by layer until the model is completed.  
The 3D printing principle
In this stage, the 3D printer will scan the digital design file and form layers upon layers to create the model. The printing process will vary based on different 3D printing technology. For example, in the case of an FDM 3D printer, the filament is melted, and the nozzle of the printer extrudes the material in layers to form the object.
On the other hand, an LCD 3D printer work in a different way. It uses a UV laser light source to cure the resin. Here an LCD panel process the light and reflects the liquid resin's light source to harden the resin.
As you will be making rings, an LCD 3D printer will be the best option for you. The great thing about the machine is that it can create any geometry feature and shape without taking much time. Some machines can produce the thinnest layers.
The finishing principle
Once done with the printing models, the model is sent for post-processing. Post-processing, sanding, painting, and other methods are used to give the product a perfect look. In this stage, the support structure is removed from the object.  
After knowing the working principle of 3D printers, it will be better for you to know about the different types of printers available in the market. Here you will discuss three major printers, i.e., SLA, DLP, and LCD 3D printers.
2.1.1, SLA 3d printer
As per the study, SLA is the first 3D printing method among all the 3D printing technologies. The process is also called stereolithography. Here, the 3D printers come equipped with a laser source that is generally directed by the "Galvanometers," which work is to cure the liquid resin.
The "Galvanometers" direct the light source appropriately to a particular point on the build platform through the transparent tank to 3D print the models. When it comes to creating intricate and detailed 3D models or, say, rings, you can use the SLA 3D printing technology.
The technology is very accurate. However, this 3D printing technology comes with a few advantages. For example, the resin-made models maybe not as durable as FDM printed models. Besides, resins can be a little expensive.  Compared to DLP and LCD 3D printers, resin printers work a little slower.
2.1.2, DLP 3d printer
In the year 1987, Larry Hornbeck introduced DLP- Digital Light Processing. In some industries, DLP 3d printing is used as a significant manufacturing process. Different from other printers, DLP printers use a powerful digital light projector for resin curing.
Instead of projecting one layer simultaneously, the complete image is flashed onto the resin tank. Under this process, to direct the digital light selectively, the technology uses the DMD- Digital Micromirror Device. The DMD has multiple small mirrors that can range up to thousands to create a better accuracy level.
Even though the technology is quite fast, the 3D objects made through the DLP 3d printing won't produce FDM printed models-like mechanical properties.  Besides, the types of resins that you will use for DLP 3D printing will be costly.
2.1.3, LCD 3d printer
Even though the LCD 3D printers are not as common as SLA 3D printers, these are gradually overperforming SLA and DLP 3D printer. In fact, the advanced 3D printers can work much better than the DLP and SLA printers. An LCD 3D printer works like a DLP printer by flashing the whole image at once.
But here, the source of light will be different. Instead of using a projector, the printer utilized LEDs to create light. The UV light is then moved through the LCD panel. The LCD screen is acting as a mask and blocks the light, only revealing the layer based on curing design.
Different from DLP and SLA, LCD 3D printers don't need any specialized tool to direct the light source.
If you are looking for an ideal 3D printer for ring production, an LCD 3D printer is a machine that you should buy. This 3D printing technology is very fast and ideal for creating intricate models. The models will have fine details.  
2.1.4, Comparison: Why LCD 3D printer is currently the most cost-effective
In the field of ring manufacturing, quality and intricate designs will be some of the crucial factors.  Well, you can attain these two things very easily using an advanced LCD 3D printer, especially Dreambot3D' LCD 3D printer.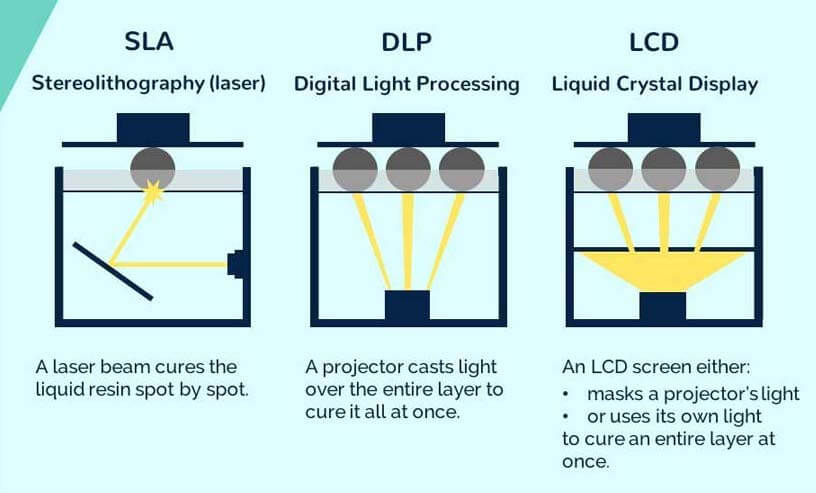 They can work much faster than the SLP and DLP 3D printers while not losing the accuracy level. As the LCD 3D printers can quickly cure all the layers simultaneously, it molds faster production. Let's discuss it more.
DLP and SLA 3D printers tend to produce better quality due to the laser's analog movement and its finer dimensions. The LCD 3D printers' quality of the model depends on o the LCD screen's resolution. While some printers come with a 2K resolution LCD panel, some can be customized to have a 4K LCD screen for better results. The model will come with a smooth surface and the most delicate details.
Based on what you want to 3D print, you will witness remarkable print speed differences between DLP, SLA, and LCD 3D printers. For small and detailed objects, LCD 3D printing has an advantage in terms of speed.
Because the UV laser in the LCD printer traces the object through the high-resolution LCD screen and the print speed will depend on the print size.
The machine can print the whole lay at a single time. As you will be using full build volume, the printers will work much faster and better than DLP and SLA printers.
Due to more complex components used in the printers, SLA 3D printers are quite expensive than the LCD 3D printers. Besides, LCD 3D printers can be purchased at a much lower price due to massive market competition.  So, if you are low in budget, then go for an LCD  3D printer.
Another best thing about the LCD 3D printers is that you will have the freedom to use different types of resins, such as dental resins, photosynthesis resins, tough or durable resins, and castable resins heat resistant resins, and more.
When you have this, you can respond to your customers' demands faster and offer them a customized 3d printed diamond ring. 
2.2, Analysis of the advantages of using 3D printing to the jewelry production industry
In general, two crucial techniques have been defining jewelry making for years. These are lost-wax casting and handcrafting.
Talking about these techniques, they require an excellent level of technical expertise. Besides, the process is also very time consuming, and a small mistake can be very expensive for you.
However, 3D printing and digital designs have significantly disrupted the age-old practice of ring making.
We are not saying that 3D printing has totally disrupted the industry. The jewelers are now combining new and traditional techniques and enjoying new possibilities in ring design and production. On the other hand, it has brought a lot of customization options.
Digital techniques are now augmenting the traditional techniques
3D printing has primarily augmented the investment casting principles and lost waxing by adding digital design as well as manufacturing techniques.
As discussed above, in the traditional process of lost-wax casting, jewelers hand-carve the patter in wax, they put the wax pattern inside a mold to burn the wax.
After that, they pour precious metals, such as silver, gold, and more into the cavity to form cast pieces. To get the final appearance, they polish the cast to get a shiny look.
With the introduction of digital flow, the jeweler uses 3D modeling software tools to craft the designs digitally. After that, the 3D printer creates amazing-looking 3D printed patterns used to cast in the mold.
The positive pattern is burnout, and after that, the ring making process follows that traditional investment casting.
Due to the digital techniques, the requirement for manual labor is lowered, and on the other hand, the design is easy to preserve, recreate and modify whenever required. Now, let's discuss the benefits of 3D printing in jewelry industry.
New players in the field of customized jewelry
It is a fact that the complex production process and complexity of the ring design has made customized jewelry more expensive than before. However, after the introduction of 3D printing technology, jewelers have started providing their valuable customers with personalized creations.
If one goes to the jewelers and asks for a ring, they will have customized rings. Customers can discuss about the design together, and after a few hours, they can have that ring.  It will be much easier and faster from the designing part to production than the hand carving methods. Besides, the piece can be customized based on the requirements of the customers.
The maximum level of freedom in terms of designing
3D printing has allowed the producers to create designs that will be difficult to hand carve using the traditional method. You can use high-quality castable resins for this and using an affordable LCD 3D printer from Dreambot3D, you can create the molds.
The jewelry pattern made of castable resins will offer a super smooth finish with exceptional design details. Detailed pave stone configuration, raised text, delicate filigrees will be some features of your ring.
It has been said the real beauty and power of 3D printing is that now you can control how will be the ring design that you want to print out. For example, you can make it 100 percent fill to get a heavier feel or go for 70 percent fill for lightweight rings. Get the unique 3d printed engagement ring designs with the help of 3D printing.
Better and faster mass production
It may be noted that 3D printing is facilitating an easier way for customization and a better way for mass production. In generally, vulcanized rubber made molds are utilized to create wax patterns for lost-wax casting.  
However, the master pattern is made through the traditional investment casting and hand-made carved wax method.
Well, using 3D printing, you can create master molds that can be utilized to create RTV- Room Temperature Vulcanization molds and higher-temperature sustainable rubber molds for ring production.
No inventory issues
It has been proved that 3D printing can solve the problem of the high-value inventory that may not get sold easily or take time. This is where you will need to produce rings in small batches. You might be wondering that producing small batches will cost you a lot.
This can be the fact in the case of traditional ring making, but you will save money in 3D printing. On the other hand, you can also handle your jewelry business online and create the parts on demand.
Faster time to market
It is a fact that hand-made jewelry molds can be very expensive, and it also requires a lot of time. On the other hand, 3D printers offer faster mold production techniques, and you can easily and quickly change the design of the models. So, you can reach the target market faster without spending a lot of money.
Following the rapid development as well as the adoption of 3D printing, the total spending in 3D printing across the world is projected to reach USD 34.9 billion by the end of 2024.
Such faster growth in the 3D printing market is a significant factor in driving the global 3D printed jewelry market, including the ring manufacturing industry.
Most jewelers are now using 3D printing for rapid prototyping and design to enjoy a high surface quality level. Besides, it allows them to manufacture complex products.
Furthermore, the global jewelry market is projected to reach a market value of about USD 480 billion in 2025. In the year 2018, the value was estimated at USD 278 billion.
Due to the growing demand for customized jewelry and rings, they are now extensively adopting the 3D printing manufacturing process, which is not time-intensive and low cost. There is a tremendous demand for smooth surfaces and high-quality jewelry.
This demand can only be fulfilled using a quality 3D printer, such as Dreambot3D's LCD 3D printers. So, if you have not used it yet, then don't waste your time and money; buy the best 3D printer now to kick start your ring making business.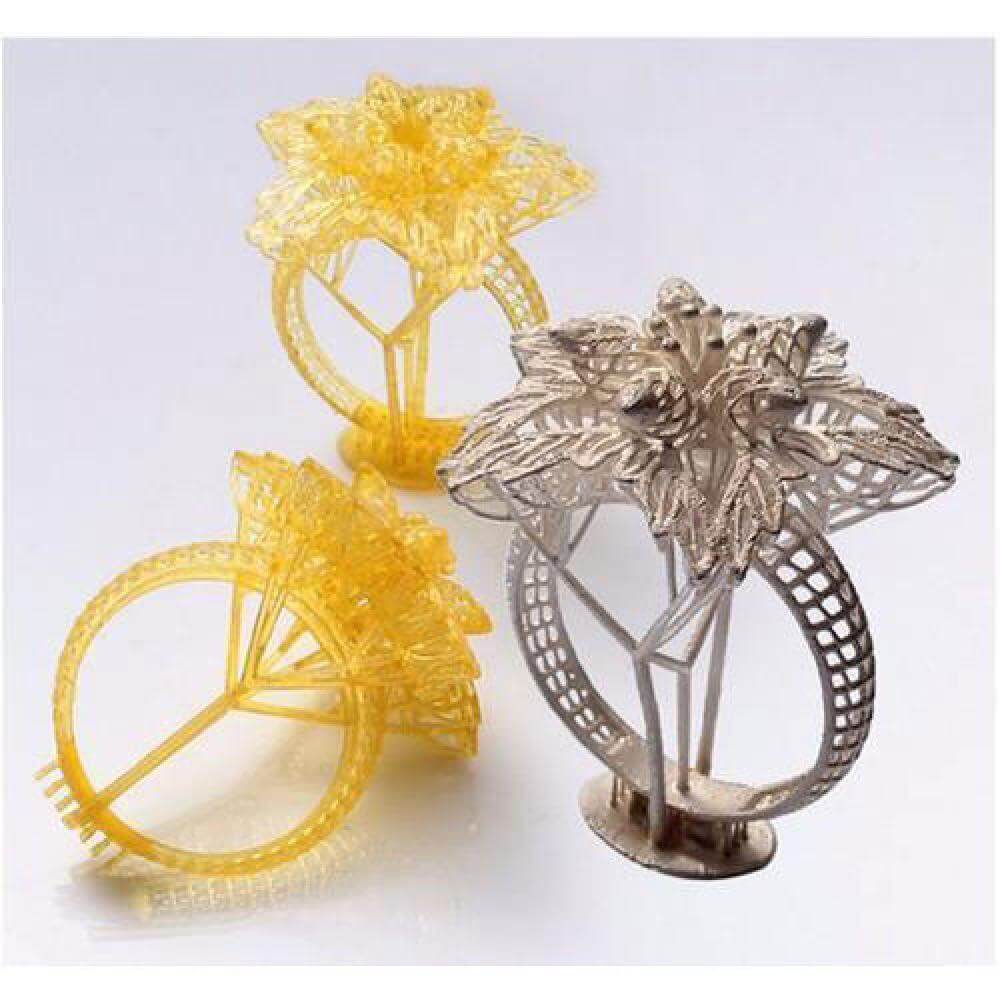 Chapter 3:
How to choose a ring 3D printer to assemble your rings producing line
While buying a 3D printer for ring making, you should always keep in mind that not all 3D printers are the same. While some will offer better printing speed, some will be best at resolution.
Besides, you will find many options in 3D printers that can choose the right one challenging.  Besides, there will be the FDM 3D printers and LCD 3D printers. So, how to deal with all these things?
Don't worry at all and go through the below-given points to get a perfect idea. We have arranged some major factors below that you should consider while getting a ring 3D printer.
3.1, How to choose the type of 3d printer: LCD is the best choice
In ring making process, the design and pattern of the rings will matter the most. So, you should keep this thing in mind while purchasing a 3D printer. While FDM 3D printers are great machines, but they can print small parts with great details.
This can only be done using an LCD 3D printer. Instead of using thermoplastic filaments, the printer user liquid resin to create an object, resulting in a better-quality model.
If you compare, you will find that the surface finish quality obtained through an FDM printer can be coarse. Besides, you can also see the layers lines. Sometimes, the thickness of the layer can go up to 400 microns. So, with the FDM 3D printing, you can't expect better details and resolution.
However, in the case of LCD 3D printing, such issues will not be there.  Here the printers use a UV laser to draw out every line of the model. The line can be very small and precise. As a result, you will get a smooth surface. In some cases, the width of the curved lines can be around 20 microns. So, it is instrumental in the jewelry industry.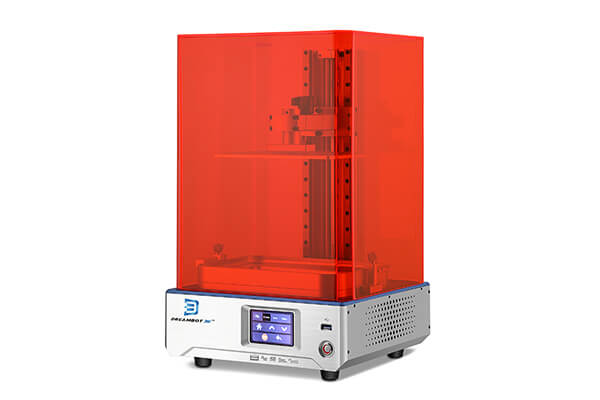 What's more? The FDM 3D printers, between the layers, create a mechanical bond. But an LCD 3D printer produces chemical bonds through photopolymer cross-linking to combine the layers. This, in turn, leads to a dense part that will be airtight and watertight. Such bonds generate isotropic parts with a better level of lateral strength. With the orientation, the part's strength will not change.
To achieve better dimensional accuracy for more significant size parts, you can trust the FDM 3D printing. However, the accuracy will not be suitable for smaller parts, and there will be no consistency. But an LCD 3D printer can let you 3D print with a high resolution.
On the other hand, the dimensional accuracy will be great and unmatched. If you want better accuracy and surface finish, which are the essential features of rings, LCD 3D printing is the best choice for you.
On the other hand, an LCD 3D printer can process different resins, such as high hardness resin and castable resin. So, you will get the freedom to choose printing materials. So, go on and check out the LCD 3D printers of Dreambot3D with some unique features. With up to 0.1mm layer thickness, the machines can work at 20mm per hour. Place your order now.
3.2, What is the size of the print
What do you mean by the size of the print? In simple words, it is the maximum size that the 3D printers can print. While for bigger print size, an FDM printer is useful, for smaller ones, you can go for an LCD printer, which is ideal for ring making.
Dreambot3D has some LCD 3D printers that will allow you to create smaller parts with the most significant details. For example, our ME-192 LCD 3D printer supports 192x120x270mm of print size.
We also have a printer that can offer 293x165x400mm of print size, like our LG-293. So, check them out now, and if you have any doubts related to print size requirements, please feel free to call us whenever you want.
3.3, Choose a reliable brand
Now, this is a significant factor to consider to get the best machine. As you invest a lot of money here, you will always want to get the best machine for your business. You will want to buy a 3D printer that can perform at a higher speed without sacrificing the print quality.
If you go for a brand that doesn't have a good reputation in the market, you will not get such features. However, the cost of the machine might attract you. So, it is advisable to choose a reliable brand like Dreambot3D. We have been offering our products and services related to 3D printing for years and established ourselves as a well-known 3D printer manufacture.
We offer 3D printers that can only offer the highest quality printing while operating at a higher speed. Besides, our machines come with a durable and fully enclosed structure to last for years and to offer you a safer 3D printing process.
When you are with us, you will enjoy 24×7-hour technical support to keep your valuable machine running smoothly. Get in touch with us now to know more about our products and how we can help you.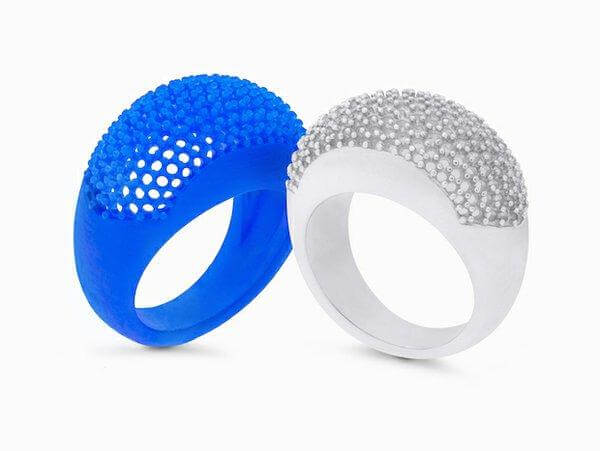 3.4, Safety configuration of the machine
A ring 3d printer comes with some complex components and also has multiple moving parts. The machines also have gears, motors, belts, printing materials, and more that can create injuries.
The resin you are using can release VOCs. Even though these are not harmful, but you should try your best not to get in touch with resin as it has some chemical substances.
So, it is advisable to buy a 3D printer that has all the required safety features. For example, a fully enclosed structure. Besides, a machine with an auto-off and heat control system will be better.
This is where you can trust the LCD 3D printers of Dreambot3D. Our 3D printers also support a one-key automatic generation feature. So, they are entirely safe to use.
3.5, Resolution requirements of the machine
While making rings, you can't ignore the importance of the resolution as it can influence the details. A ring with the most delicate details can easily attract a lot of customers. So, while buying a 3D printer, you need to make sure that the printer can produce a good resolution.
Don't think much about this and go for our ME-192 or LG-293 3D printers supporting the better print resolution. These machines are designed to attain up to 0.15mm of layer thickness while functioning at 20mm per hour speed. Our resin-based LCD printers are well-known for creating small parts with better resolution. Choose your model now.
3.6, Consider whether the price of the machine is acceptable
You all know that the cost will vary from one printer to another based on the features they are offering.  If you want to buy a printer with better printing speed, support for different types of resins, better resolution, and more, you will have to spend a lot of money.
As you are investing a huge amount, you need to make sure that the printer is good. However, when you are buying an LCD 3D printer from Dreambot3D, you should not worry about all such things.
Priced affordably, our LCD 3D printers come equipped with advanced features to make your 3d printed gold ring process faster and easier. Want to know more about our 3D printers? Call us now.
3.7, Consider the supplier's after-sales service capability
One of the significant issues that can affect the production process is the technical issue. 3D printers can frequently encounter various technical problems, and you need to resolve them as soon as possible to keep up your manufacturing process.
This can only be possible if the 3D printer manufacturer and supplier offer prompt and 24×7 technical assistance and faster after-sales service. That's why people prefer to buy the products of Dreambot3D as they get an excellent after-sales service facility with every 3D printer.
We understand the importance of time and your efforts. We always try our best to resolve your 3D printer with a few hours or days.
3.8, Consider the service life of the machine
Buying an LCD 3D printer can be a costly affair as the cost can be range between USD 500 to USD 25,000. So, you should make sure that the printer that you are buying has a better life span. Even though it will depend on how many hours you will be using the machine, it will be best to buy one that can run for at least 7 to 9 years.
Before finalizing your deal, ask the suppliers about the possible life span of the machine. However, Dreambot3D offers printers that can run for years without producing any issue. But we will suggest that you please keep good care of your machine by scheduling routine maintenance work.
3.9, Consider the maintenance cost of the machine
The expenses related to your 3D printers can go up significantly if you are spending a lot of o money on maintenance. It is a fact that the printers come with multiple electrical parts that need regular maintenance. Besides, you should ignore to keep the nozzle and built platform protected.
Besides, you can buy a printer that can run smoothly with little maintenance, for example, our LCD 3D printers. We have developed these machines keeping in mind different types of industries, and they come with robust structures. You won't face many maintenance requirements while using these 3D printers.  
Chapter 4:
How to choose materials
Different studies have proved that resin 3D printing can produce durable, accurate, and highly detailed parts with exceptional surface finishes.
Besides, LCD 3D printing is now also being used for diverse applications as the printing supports different types of resins. But choosing the right materials for 3D printing can be a little challenging for you.  
Some factors, such as mechanical, thermal, optical, electrical, and chemical characteristics, can significantly influence how a particular material will behave under different conditions. Such attributes will help you to decide which material is best for you.
In ring making, you can use two types of resin; these are castable resin and high hardness resin. So, let's know about these resins in detail.
4.1, High hardness resin
It has been seen that with the rapid development of 3D printing technology, the application fields of 3D printing are also increasing. On the other hand, resins are also getting more abundant. Some industries that require high performance are now using photocuring 3D printing technology.
However, the general resin's performance is quite difficult to perfectly meet the requirements. Sometimes, designers and jewelers need durable models or molds for prototyping, and they need something that can perform well under a high temperature. They are now looking for a resin that can offer better impact resistance, high thoroughness, and higher strength levels.
This is where high hardness resin comes to play. Such resin offers high physical strength, the highest level of toughness, and hardness to match ABS filaments' properties. The models made of this resin can easily withstand a higher level of impact force and mechanical pressure.
Besides, the models will demonstrate better resistance to heat. As per a taste, the model printed using this type of resin can demonstrate around 56 MPa of tensile strength and around 3GPa modulus of elasticity. Now, let's compare this resin with the standard resin.
Standard resin and high hardness resin
Making them easy to compare and keeping all the things simple, here is a list of different attributes of standard and tough resin.
Standard resin:
Supports low impact strength
Can create a fantastic super smooth surface finish
Colors can affect its properties
Creates high-resolution 3D print
Fragile in nature
High hardness resin
Produces super sturdy and shatter-resistant models
Perfect to create functional prototypes.
Can demonstrate a perfect resistance to the cyclic loads
Not good for parts that should have thin walls
Can be brittle
You can use this to create stunning and beautiful resin jewelry. It will look valuable and noble. Furthermore, the pieces will look highly individual.
How to use high hardness resin?
3D printing
As per the 3D printing experts, high hardness resin can print at around 40 to 100 microns. However, the model needs to be printed using supports, and while printing it, try to avoid printing it directly on the printer's build platform.
It will stick and can be very hard to remove. While using such resin, always keep the build platform warm. If you are creating large parts, don't forget to increase the size of the touchpoint. This way, you will not face printing failure issues.
Model finishing
Once you are done with parts, you should adequately wash those parts in IPA- Isopropyl Alcohol. However, don't leave the 3D printed parts in IPA for more than 15 minutes as the element may get weak and flexible. You can also machine the resin for detailed finishing.
Post curing of the model
To let the high hardness resin, reach its maximum mechanical property level, you need to follow some post-curing processes. This is something quite crucial for the functional resins, and you will get accurate and durable parts. Post curing of such resin can increase the level of flexural strength and stiffness.
4.2, Castable resin
With time, the perception of 3D printing technology in the global jewelry industry has shifted quite dramatically. For example, hardware and tools that were once considered experimental can now be widely used in the jewelry industry.
With this, affordable and powerful LCD 3D printers are now readily available in the market. The fantastic advantages of using 3D printing for investment casting and jewelry designing are now clearer than before.
Different resin manufacturers have introduced castable resin to arm the emerging and established jewelers with reliable and consistent material. Such resin comes with a certain percentage of wax and allows for perfect burnout while keeping the design delicate and intricate level protected.
The process of using castable resin
In the traditional method, a pattern or model is created in wax, and then, using the wax, a plaster mold is developed. After that, the mold is heated in a kiln. When heated, the wax burns out, allowing different metal parts to be cast in the molds. Well, this technique is also used with 3D printed parts.
In the case of 3D printing, jewelers use castable resin as their printing material. After done with the pattern's assembling, it is correctly submerged in the slurry multiple times. The coating is left to dry, and after that, the slurry coating solidifies, forming an outer layer over the pattern.
After that, it is put inside an oven to melt the resin structure. Once done, the casting material is applied to the mold. Then, it is left to cool.  At the final stage, the outer mold is removed, and you will get the casting parts. These parts can now be gone through different finishing techniques.
Less finishing and cleaner burnout
If you use standard resin in the ring-making process, you will face resin expanding issues during the burnout process. This can significantly affect the mold's details. But such an issue can be avoided using castable resins.
The resin comes with some unique properties that keep the molds' delicate shape safe during burnout. As a result, you will get intricate and beautiful designs within a few hours. Printing castable jewelry parts in-house will help you to enjoy some benefits in terms of time, cost, maintaining the competitive edge, and more.
Not post-cure and same day casting
Another thing that makes the castable resin different from others is its high green strength. It allows the users to print delicate and intricate filigree and geometries without the requirements for any post-curing.
This is possible due to the castable resin's wax composition, resulting in cleaner and perfect burnout and help to protect every detail of the molds.
The resin also enables faster workflow. Castable resin is perfect for the standard burnout schedule, or you can also use this for a short burnout (for 6 to 8 hours) schedule.
Negligible shrinkage
The utilization of high-quality raw materials has made the resin produce good quality casting while developing negligible shrinkage. The standard resin has a high rate of shrinkage, which is not ideal for ring making.
When advanced and new technologies are made available for all, they actually have a higher price tag, and some have very complicated interfaces. It has restricted some people from using such technologies. However, 3D printing technology is now disrupting different industries.
The cost of 3D printing has gone down, and they are also facilitating superior-quality jewelry. Experts have predicted that in the coming years, the ring making industry will witness a growing trend. As the cost is low, now smaller jewelers are also adopting 3D printing.
The customers are now looking for low-cost custom rings that have unique designs. You can't attain this through the traditional mold making process.
So, to help you out in such situations, Dreambot3D has brought you its high-quality and high-performance LCD 3D printers. We have a massive collection of LCD 3D printers, such as ME-192, ME-215, ME-345, LG-293 and LG-550.
These printers can take your ring mold making process to the next level.  They can print the entire mold at the same time.  Our 3D printers can process tough resin and castable resin and support 402-405mm of curing wavelength. So, what are you thinking now?
If you plan to start your own ring making business and want to make it successful, you can trust our 3D printers.
What's more? Dreambot3D is also well-known for its 3D modeling design service. We don't just create machines; we also help the users with 3D designs. Get in touch with us now to get a free quote.
What resin can be used for ring printing?
For ring printing, you can go for castable resin and high hardness resin. While hardness resin is suitable for printing durable molds, the easy-to-use castable resin is ideal for printing super smooth and detailed designs. From large demanding pieces to elaborate wedding or engagement rings, castable resin offers a better workflow. You can use these materials through Dreambot3D's LCD printers, such as ME-192, and LG-293.
What is the best 3d printer for a jewelry ring?
While making a jewelry ring, you need to give maximum importance to its design. People prefer to go for rings with intricate designs. You can't attain such design by hand. For this, you will have to use the best ring 3D printer, and for ring making, an LCD 3D printer is the best option. These printers are developed to cure resin for mold making and can create intricate patterns within a few hours. Get in touch with Dreambot3D to get the best LCD 3D printer.
How do resin 3d printers work?
The resin-based 3D printers neither use filaments and powder materials; for printing, then use resin. The printing process is carried out in a large tank and spreads liquid polymer over the platform. As the resin is UV-sensitive, the UV ray will harden the area for creating a layer. The rest of the area stays in liquid form. After done with the first layer, the printing platform is then lowered to create the next layer. This process continues until the model is finished. Once done, the object is raised out of the resin tank.
What wax is used for lost wax casting?
In general, synthetic wax is used in the jewelry industry. You will find two major types of synthetic wax, i.e., paraffin wax and microcrystal wax. Both are used for lost wax casting. While microcrystalline wax melts at around 160-degree F, the paraffin wax melts at 135-degree F. It may be noted that paraffin is commonly used as an additive.
Can you make a ring with a 3d printer?
Some advanced 3D printers can process metals to created objects and using that, you can create a ring. However, if you are using an LCD 3D printer, using you can create molds with intricate designs for your ring. This way, you can save your money and time by eliminating some manual processes.
Can you make earrings with a 3d printer?
Yes, you can. But for this, you will have to buy the best LCD 3D printer, which can be brought from Dreambot3D. Using this printer, you can create perfect and detailed jewelry molds to make earrings. The entire process of mold making can be completed in a few hours.
Can you reuse 3d printer resin?
You can't reuse 3D printed resin as once printed; resin will lose its properties. That means you can't melt the 3D object and use the resin. The resin left in the tank can be used again. However, prefer to use new resin for better result and always store your resin inside a UV protected jar.
How long does it take to 3d print a ring?
It depends on the design of the ring and the material you are using. However, for ring 3D printing, you will use an LCD 3D printer, which works faster. To create a perfect mold, the printer can take around 30 minutes to one hour.
How do you 3d print gold jewelry?
Yes, you can 3D print different gold jewelry pieces, but the process is a little different. It may be noted that you can't directly print gold jewelry. First, you need to 3D print the wax and using the 3D printed wax, you can create a plaster cast. After that, you need to melt the wax and remove it from the cast. Once done, pour the liquid gold into the cast and let it dry. This way, you can create 3D printed gold jewelry.
Can 3d printers print wax?
Yes, but for a better result, you should use an LCD printer. If you find it challenging to get the right quality LCD 3D printer for you, you can go for Dreambot3D's 3D printers, which are designed for ring making. Visit the site and check out the available models now.
Can you use candle wax for lost wax casting?
Candle wax is derived from petroleum, and it can sustain a higher level of temperature. So, it is not ideal for lost wax casting. However, you can use it as an additive element for other waxes to increase the hardness.
How dangerous is resin 3d printing?
Resin 3D printing is not at all dangerous. In fact, it is the safest 3D printing option for all. Resin material has successfully passed different safety requirements, and it is non-toxic. Another significant component of resin 3D printing is the 3D printer. Resin is widely used with the LCD 3D printer, and Dreambot3D's LCD 3D printers are safe to use as they come with fully enclosed structures and other safety features. For more details you can call us anytime you want.
How do you cast jewelry in wax?
First of all, a wax pattern is created into a jewelry mold that can be 3D printed using an LCD 3D printer. Then it is filled with melted jewelry metals, such a gold, silver, etc., to create intricate pieces of jewelry. The process is also called lost wax as the wax is lost in the process. 3D printing has made the mold making process faster and easier, and you can now easily create custom rings for your customers.
What is the best resin 3d printer?
When it comes to buying a resin 3D printer, you will generally get 3 options, i.e., SLA, DLP, and LCD 3D printers. However, with time SLA and DLP printers are getting outdate, and LCD 3D printers are now getting a wider acceptance. On the other hand, LCD 3D printing is quite faster and accurate than the other 3D printers. So, LCD 3D printers are the best resin printers.
How do you make a silver casting ring?
The silver casting ring making process follows the same process that you use for ring making. First of all, you need to create the mold for creating wax. Here, the mold can be used using an LCD 3D printer. After completing the wax pattern, melted silver is poured inside the wax. Then it is heated inside the casting machine, which melts the wax. This way ring is made.
How do the 3d printers work?
3D printers can be divided into FDM and LCD 3D printers. Talking about the working process of an FDM 3D printer, this printer uses filaments for object making. The filament is processed through a heated section where it melts, and then the printer's nozzle extrudes the melted filament on the build platform layer-by-layer to create the model. On the other hand, an LCD printer uses liquid resin. Here a UV light source is processed through an LCD panel, and the layer of the image is projected on the resin tank. The light then hardens the area to create layers.
What is castable resin?
Castable resin is the perfect 3D printing material for jewelry making. It can have a low expansion rate with around 40 percent wax fill and can support different types of lost wax casting conditions. For investment casting, you can always use castable resin. Such resin can create delicate and beautiful pieces of jewelry. It has a sufficient level of casting flexibility, and the burnout parameters are also acceptable.
How difficult is it to learn 3d printing?
We will say that learning 3D printing is not difficult. The process is very time-consuming. You need to learn about how to use the machine, 3D modeling software, post-processing, and more. All these things can be very time-consuming. Once you obtain all the skills, you can easily carry out 3D printing. Besides, our LCD 3D printers are very easy to use. So, go on and enjoy 3D printing.
Is LCD faster than DLP?
Yes, different studies have proved that LCD 3d printing is faster than DLP 3D printing. It can print the entire model at one time. And the resin curing process is also fast. On the other hand, LCD printers can offer superior quality projections. Dreambot3D has LCD 3D printers that can offer 20mm/h to 10mm/h (Z-axis max) speed.
How do you make wax ring molds?
If you go for the manual process, the wax ring molds making process will be very challenging for you. Well, now you can use 3D printing technology to make molds using resins, such as castable resin or though resin. All you need to create the mold design, and the 3D printer will get the task done.
What is the wax printer?
A wax printer is also called as thermal wax transfer printers. They don't use ink-impregnated ribbons, ink cartridges, or toners. These machines use colored wax sheets, and the printing element generates heat. When you send an image, the print head properly heats the sheet, making it melt on the printing paper. When it cools, it creates a hard surface.
How much does 3d printer resin cost?
Well, there is no doubt that high-quality resin 3D printers can create prints with excellent resolution, but they have a significant drawback. The cost of the resin can be a little higher than the filaments. The average cost of resin can range from US 40 to USD 300 per liter. For example, if you go for a high-quality resin that is offered by Formlabs, it can cost you around USD 150 per liter. Coming to the unique resin per liter, the cost would be around USD 250 to 300 per liter.
What are printers and plotters?
Speaking about a plotter, it receives the printing commands from a computer, and after that, the machine starts creating drawings on the paper using different pens. Coming to the printer, this is device creates the precise imaging of pictures and text on the print paper. Both the machines are entirely accurate and can create delicate designs on the printer.
How do you make a ring with a 3d printer?
You can't completely 3D print a ring. Using a 3D printer, you can only make the mold for the ring. The mold then can be used for creating casting wax. 3D printing has simplified the mold making process by eliminating the hand-made molds.