The lamp 3D printer is used to create custom lamp models. Lamp 3D printers are commonly used in the interior decorations industry and for personal lamp printing. 3D printed lamps serve decorative purposes and are easy to make.
How 3D printers work for Lamp
3D printed lamps are created for the purpose of aesthetics and are found in homes, hotels, offices, restaurants and other public or private spaces.
There are several lamps and lamp shades that you can 3D print. The printer allows you to get creative which gives you the opportunity to have a feel of your creations after printing.
3D printed lamps often require some level of heat from the light bulb, this is why you need to print with materials that can withstand temperatures such ABS, PC, ASA or PLA for LED.
Lamp or lamp shade designs are found professionally designed on some websites. You can also customize the model you wish to print. Whichever you choose, Dreambot3D 3D printer is designed to print high definition 3D lamps for you. The printing thickness you can achieve is between 0.025 and 0.1mm.
Lamp 3D printers for your Choice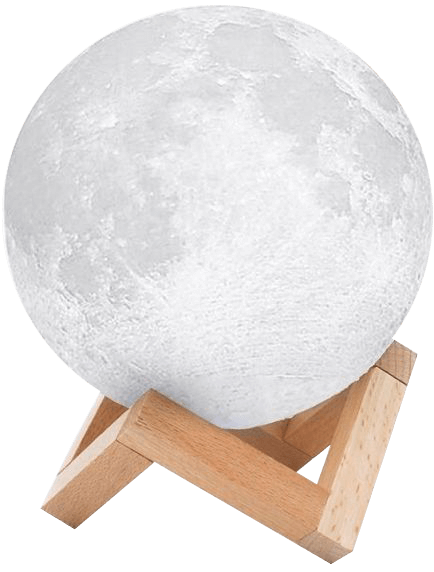 Don't know how to choose a model?
Are you confused about how to choose the correct model and type of 3d printer? We support 24/7.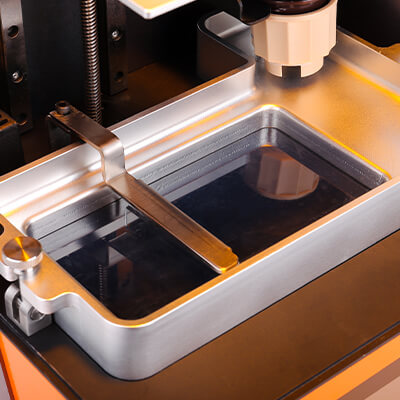 4K black-white industrial screen, 0.01-0.05mm layer thickness accuracy, more accurate printing of details.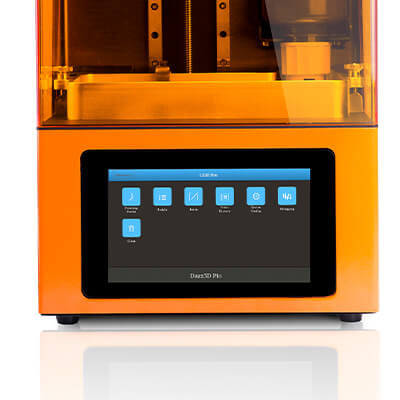 All 3d printers are equipped with PLC control system as standard, makes the operation more convenient, and reduces the error.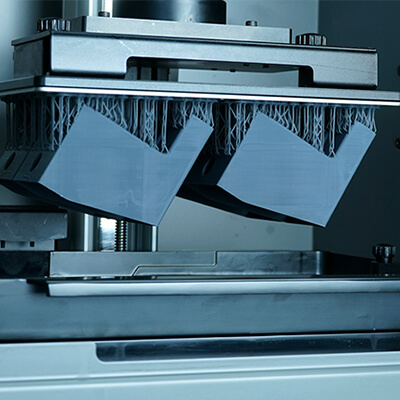 Large printing size, 20mm/h printing speed, complete your printing tasks faster.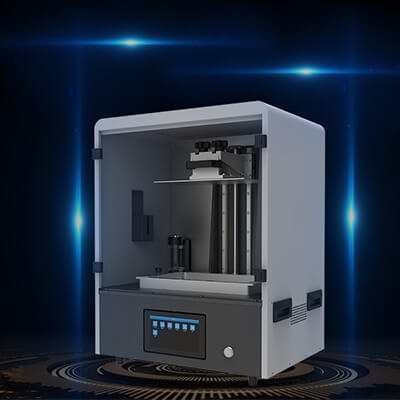 The all-metal one-piece shell reduces resonance, makes printing more stable and improves printing accuracy.
With the 3D printer, I can create vases, frames, clocks and lampshades without any of these products being restrained in design or budget. I get high demands for 3D printed moonlight due to its smoothness and accuracy.
I started making 3D printed moon lamps on a personal basis, overtime I got a lot of comments about how good they 3D printed moon lamps were, then I started commercializing it. The Dreambot3D printer serves the commercial purpose.
3D printing has generally proven itself as a qualitative and low-cost form of production process. I bought the 3D printer just a week ago and I have personally designed and made two diy moon lamp 3D prints.
I have a complete creative control on how lamps should look and this is as a result of the comprehensive detail of the 3D printer. The 3D printer allows complicated, personalized and cost effective designs to be made.
With the 3D printing equipment I can create reusable home props for movie sets. I strongly recommend this printer because of the speed and accuracy of printing, also no wastage of material occurs during printing.
I have a 3D printer I personally use for creating unique 3D printed lamps. I use the 3D printed lamps occasionally for large and intimate decorations. They are just so spectacular and accurate.
How 3D printers make lamps - Lamps 3D printer buying guide
Most lamps require different lampshades in order to protect your eyes, direct & diffuse light, and decorate the lamps. That's why most people are shopping for different types of lamp shades in large amounts. Well, buying lampshades is a good thing, but the issue is that many people buy very alike or identical items, and this is something not good if you really care about your home's interior design.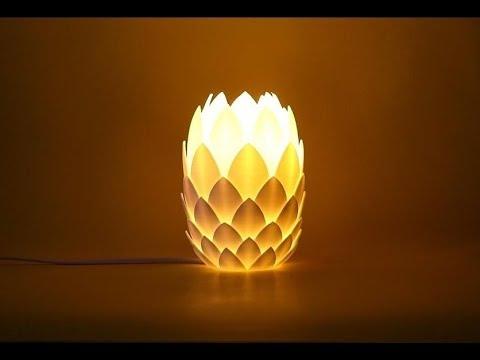 As a homeowner, you will always want to come up with an interior design that can demonstrate your unique taste. So, buying standard lamps or lampshades will not work well for you. Well, to find some amazing styles, you can search across dozens of online or local stores. But those products may come with higher price tags. So, what is the solution for this?
Well, this is where you can use a lamp 3D printer and create some fantastic-looking 3D printed lamps with unique designs. Now, the best thing is that you don't have to spend a lot of money on this as the modern 3D printers are affordable.
A 3D printed lamp shade can be produced in different designs and shapes. In fact, the possibilities of this modern printing technology are unlimited. One can craft very complicated designs and shapes of lampshades within a few hours. You can combine these fantastic pieces with LED lights.
3D printing – Benefiting the lamp making industry
Lamps have become a crucial part of everyone's home interior and can take beauty to a whole new level. But this is only possible when you have a unique piece. If you have a sufficient budget, you can buy a stylish lamp, such as moonlight, online. However, if you are looking for something unique and want to save your money, then using a lamp 3D printer can be a great option. How about creating a 3D printed moon lamp with picture? Sounds amazing, right? You can make it possible by using a good quality 3D printer.
3D printing for lamp making industry
There is no doubt that 3D printing or also known as additive manufacturing, has demonstrated and proved itself very useful in different fields, for example, the automotive industry, fashion industry, and more. The technology has proven itself as low-cost as well as a qualitative production process. 3D printing technology has opened up doors and can be used to different ideas and objects. For example, you can consider the lamps that in all the aspects can be designed and modeled in different ways and can also be personalized based on the users' taste.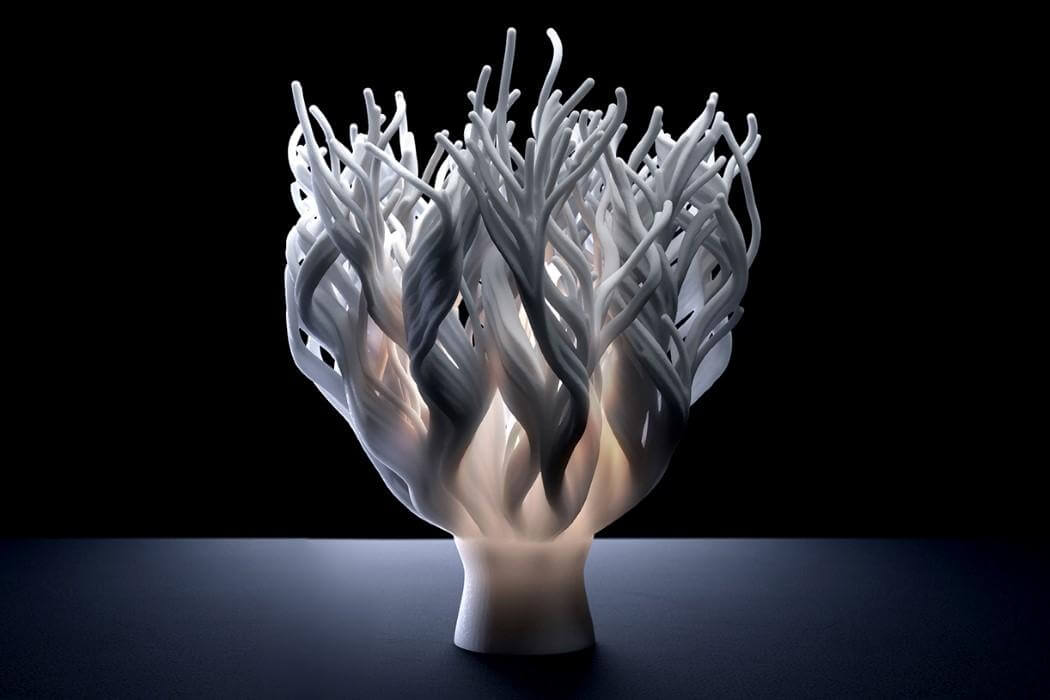 Prototype with unique designs
As a designer, you can have complete creative control over the look and feel of the lamp, thanks to the advanced 3D designing software and tool. Using a lamp 3D printer, you can create lamps with any design, and once 3D printed, you can choose the types of lighting to use and set the brightness. People think complicated design comes with a higher cost. Well, this is not true in the case of a 3D printer. 3D printing has made it possible to create personalized and complicated 3D printed lamps relatively inexpensively. Creating a prototype has become hassle-free.  
Production superiority
3D printing doesn't just lower the labor cost as it has automated different processes; the printing technology also eliminates the steps in the overall production process to lower the time and cost. Another crucial advantage for the organizations whose mission is to prevent the overall negative environmental impact is that 3D printing results in a significantly lower footprint.  You can use 3D printing materials that are environmentally friendly.
Great personalization options
Another significant advantage of 3D printing is the unlimited options for every customer to personalize the items. For example, you can go for any shades you want and can make your 3D printed globe lamp look stunningly beautiful. To make personalized products without using 3D printing, highly customized molds and patterns will be needed, and such molds can cost a lot of money. Besides, that can be more time-consuming. With 3D printing, you don't need any patterns, molds, or expensive tooling.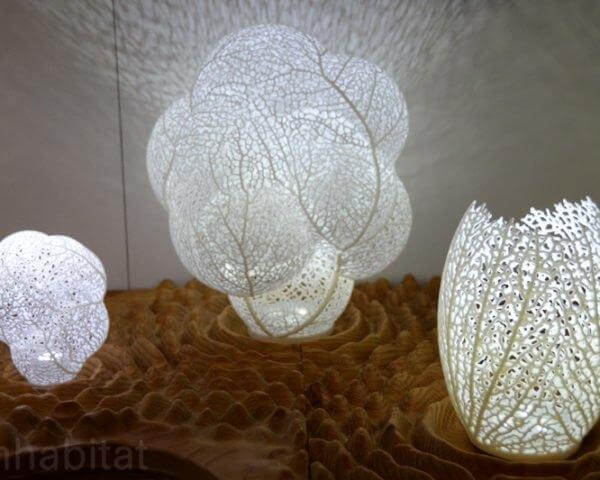 3D printers are widely used for gadgets, figurines, and hobbies. But now, this technology is getting popular in the lamp-making industry. 3D printed lamps and shades can be more exciting and beautiful than the lamps produced manually. As per the experts, when you have the best lamp 3D printer, anything can be printed.
If you are planning to start your own lamp business by selling custom lamps, then modern 3D printing technology can create a lot of excellent opportunities. You can create the lamp model design using any 3D modeling software or scan different images and give them shape using a 3D printer.
Some people think that buying a 3D printer for making moon lamps and shades is not a good idea. But the companies who are using these advanced machines know how helpful the machines are. So, don't think much and get a 3D printer now as the cost of the machines has gone down.
Making a lamp using the traditional manufacturing method is not a bad idea, but the process is time-consuming, and you may not go for the most complex designs. Besides, you need to have creative skills to create molds. But when you have a lamp 3D printer, you can create the 3D printed globe lamp within a few hours. Let's discuss this in detail.
Introduction to the traditional lamp making process
If you consider the traditional process for making lamps, you will find the process very time taking. A lot of effort will go into creating a perfect lamp. Well, a customized lamp can't be produced overnight. It can take a few days. Besides, the chances of making mistakes will be more in the traditional process.  If you think you can just begin the process by pressing the start button, you are wrong. It involves idea conceptualizations to making the models and more. Let's talk about the traditional lamp-making process in detail.
Before moving to the process, you need to know about one of the most essential parts, i.e., prototype development.
Before making the molds, prototypes are developed. Here the design of the lamp is created by professional artists. Earlier, prototypes were created manually using plastic or wood material. As the process is manual, it takes a lot of time. After that, mold making process begins.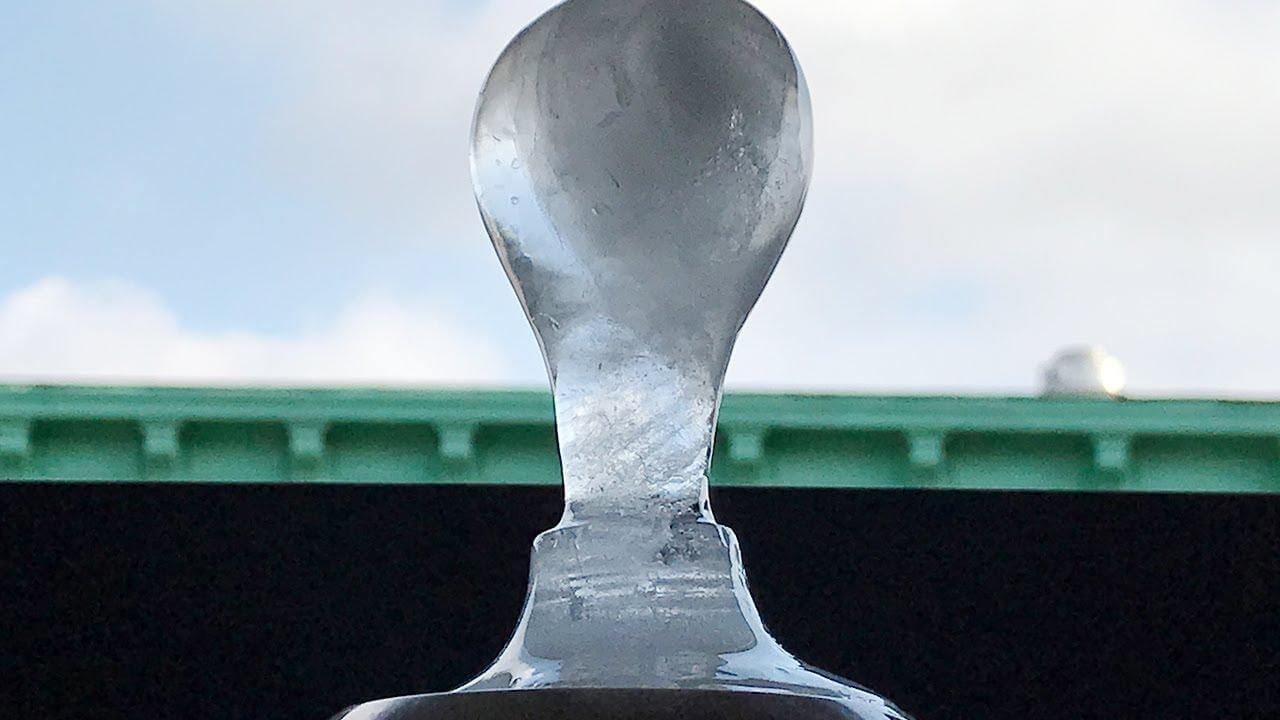 Silicon molds are generally used to create lamps. It is the mold that carries the details of the lamp that you want to produce. To create molds, you need carefully measure the item and add extra half inches to every side. Then, cut out the sides and ensure that the height is bigger than the prototype's height.
Once done, place the prototype in the center of the box and sealed it properly. Then, add mold material. Pour the mold material into a very thin stream. Let it dry and remove the mold from the box. The process is very time taking, and there is no guarantee that you will get 100 percent accurate mold. Sometimes, molds can be made using metals.
1.2, Finish production by injection molding
When the mold has been designed and approved, it is time to begin the actual manufacturing process. This is generally done through the injection molding process. Let's understand this process in detail.
Thermoplastic or thermostat materials in the granular form are attached to a hopper into the heating barrel. The material is properly heated at a predetermined temperature and driven by a screw by the gates and then into the mold.  When the filling is completed, the screw will be there to apply the required pressure during the cooling process. After cooling, the screw is removed, and the mold is opened. Now, you will get the solid plastic part. This is the finished product.
1.3, Trim the finished product and use it for sale
After removing the part from the mold, you may find some extra plastic material on the object's edges. You need to remove that extra plastic by trimming them using a shar knife, or you can use sandpaper. Once done, pain the product, and the product is ready for sale.
How to make a lamp with a 3D printer
2.1, 3D modeling through software
When it comes to making a lamp using a lamp 3D printer, you will find the entire process a lot simpler and faster. The process begins with 3D modeling. This is a method in computer graphics used to produce a digital and 3D representation of an object or surface. The designer uses advanced 3D modeling software to play with different points in virtual space to create a mesh, i.e., a collection of vertices.
The 3D objects can be created automatically or manually by manipulating the vertices or deforming the mesh. 3D models are used in different ways, such as architecture, engineering, commercial advertising, illustration, movies, and more. Well, don't forget that you can use them to create 3D printing.  The 3D modeling creates the digital object or digital version of lamp that can be animated; making is a crucial process for special effects.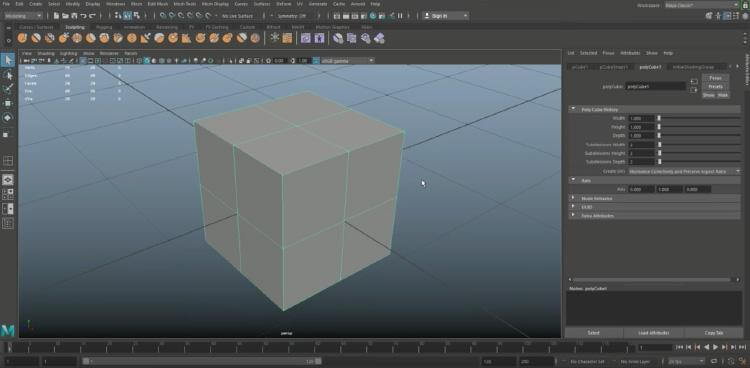 The core of a 3D model is the mesh. Various points are carefully mapped into the 3D grid and then combined together. Each point has its own position, and by combining the points, the object is created. While designing the 3D printed molds, it is crucial to consider two major things: whether the current design will print perfectly and whether the printed mold will operate adequately when melted plastic is injected into it.
The lamp makers are constantly coming up with different new ideas for unique designs, and it will be helpful to have software that can turn their ideas into 3D representation quickly. Using 3D modeling software, the lamp manufacturers can easily transform their blueprints as well as designs into lifelike models. Besides, they can visualize the product's dimensions before approving the model for final production. Some benefits of using 3D modeling software are
Better model design efficiency
In simple words, 3D modeling can help in reducing the time as well as money needed for design. The software will enable you to check every component of your model be checked and revised properly before moving into the final production. This way, you can avoid costly returns to the "drawing board."  You can see the object from different angles and find out the issues. This not possible in 2D design.  
More control and precision
Before design begins, 3D modeling is used to developed precise virtual models. That means 3D designs can be properly executed with a maximum level of confidence.
This is something that every lamp manufacturer wants. As you can verify the design faster with 3D modeling, the final production process can be completed as soon as possible. As a result, you can introduce new lamps with unique designs more quickly than your competitors.
Some best 3D modeling software that you can use
Autodesk 123D: It is a group of some free yet useful apps as well as program which are designed to make your 3D design process faster and easy.
Tinkercad: This is a very simple, free online CAD software designed to create as well as print 3D content.
OpenSCAD:  A simple to use 3D design tool for the designer and programmers to make easily modifiable designs.
SketchUp: An easy-to-learn CAD program for all.  
Blender:  This 3D design tool can be used to create more natural-looking objects with sculpting, animation, and rendering capabilities.
2.2, Print the mold through a 3D printer
Once you are done with designing the mold, it's time to 3D print the molds using a lamp 3D printer. Remember that not all the object can be cast in the traditional two-part folding molds. The reason behind this is the complex shapes. This is where you can create 3D-printed mold. Using it, you can cold-cast or create highly detailed objects from different materials.
If you want to create a lamp or any product using silicon, then using the 3D printed molds will be a perfect option for you. As per different studies, silicon material will not react with mold made of plastic. However, there is one thing that you should keep in your mind that the plastic's melting point. So, understand the melting point of every material you want to use.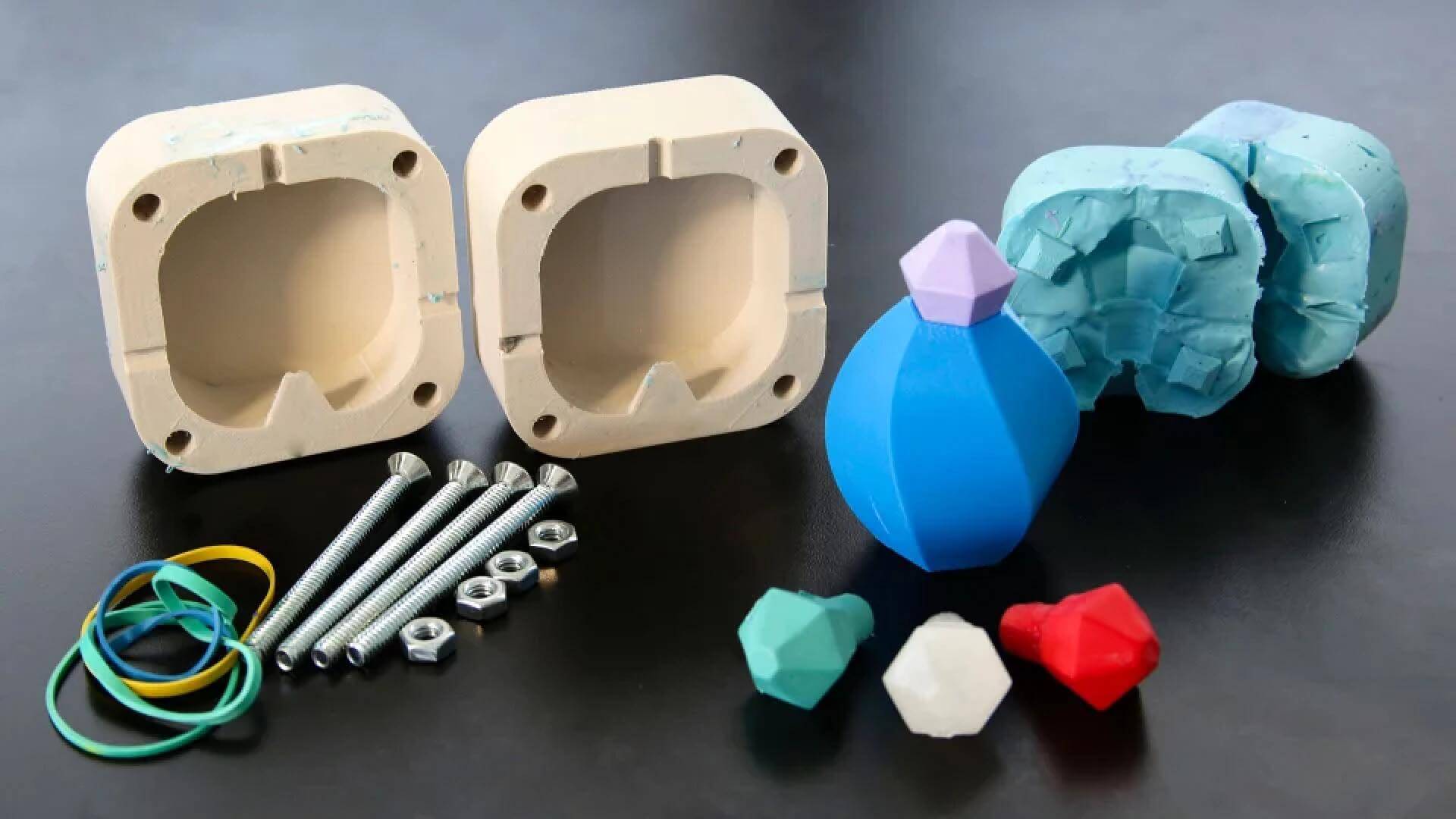 For making 3D-printed molds, you can use an FDM 3D printer or an LCD 3D printer. If you want to make the molds or parts durable, go for an FDM 3D printer. If you are making molds having complex designs and patterns, and LCD 3D printer can be the right option. However, based on the printer type you will use, the printing process will vary.
For example, under the FDM 3D printing, the mold is created by applying layers of filament on the build platform. Not just the mold, you can create the entire object and 3d printed moon lamp charger using these printers. The printer uses thermoplastic filaments, and the heated nozzle attached to the printer melts the material and applies it layer by layer on the print bed.
However, in the case of LCD 3D printing, molds or objects are created by curing the resins. The LCD 3D printer uses a UV light source and a high-quality LCD panel to process the UV light. The machine works very fast and produces models with fine details.
No matter what types of machines you are using, the mold can have a great amount of detail. Another good thing about the 3D-printed molds is that they are durable, and you can use them multiple times. As per the experts, with 3D printing, you can greatly increase your manufacturing process.
For effective mold making, you need to maintain some thin walls and make sure that the thickness level is consistent. Besides, you need to draft angles for the easy part ejection process. However, it can be said that 3D printers have made the mold-making process a lot faster and easier.
2.3, Assembled and put into production
Once you are done with printing the molds, you can now assemble them and make the final product. However, it is advisable to use different post-processing methods to give a perfect finish to your lamp model. The parts can be assembled using a good quality adhesive. If you have printed the molds using PLA, ABS, or PETG, then cyanoacrylate will be a perfect adhesive solution.
Analysis of the advantages of using 3D printers to make molds
3.1, Shorten the mold production cycle
It has been proved that 3D printing mold has shortened the entire product development process. Besides, in all most all the industry, it has become an important source of driving innovation. Earlier, companies sometimes abandoned their product design updates due to a large amount of capital required to create new molds for new products. However, now by lowering the mold setup times and enabling faster alteration of the existing design tool, 3D printing technology has enabled businesses to go for frequent mold changes and improvements. Besides, this technology has fastened the product design cycle.  In fact, some companies have set up their own 3D printing unit to create their own molds, accelerating product development, adaptability, and flexibility.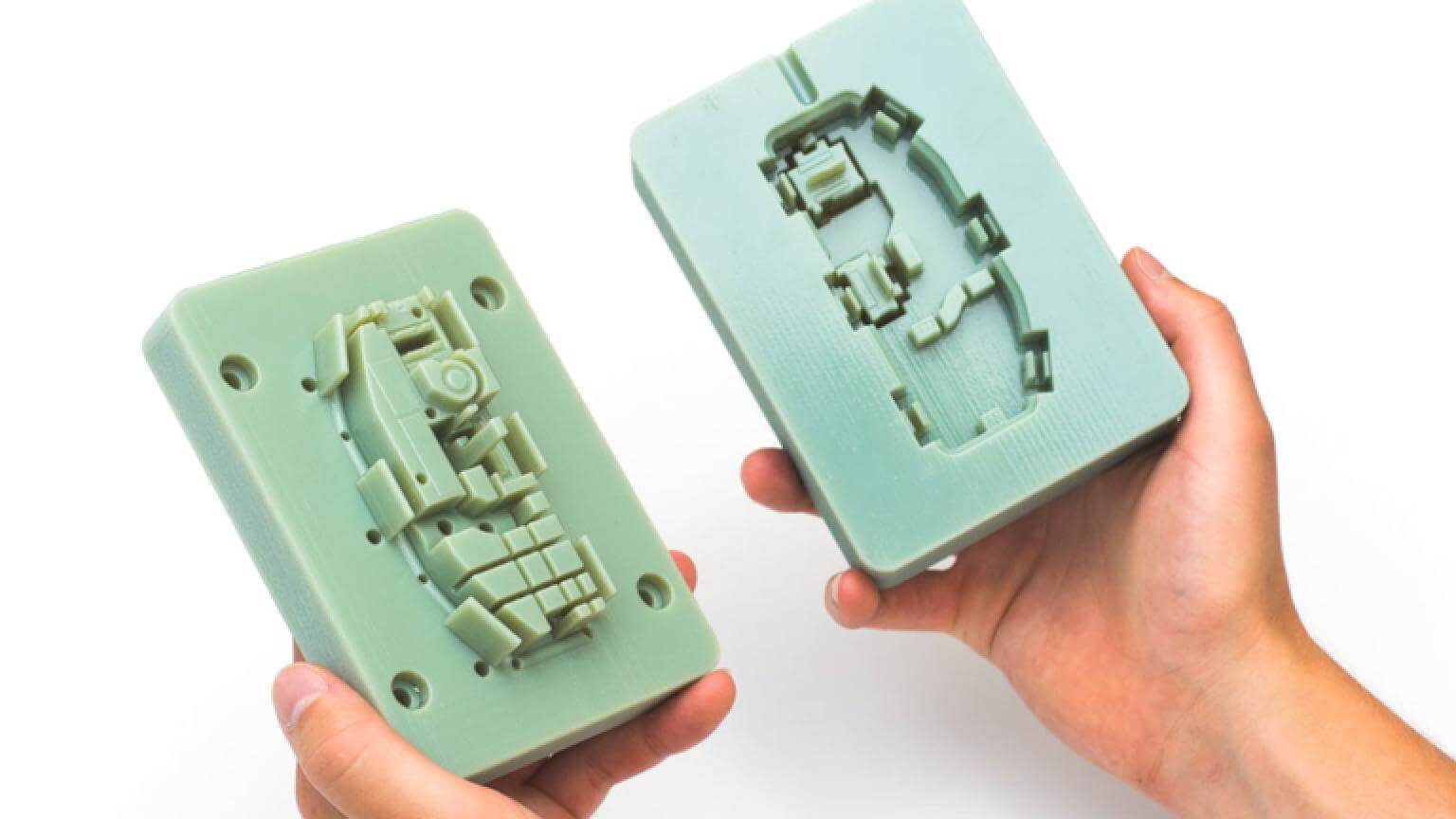 3.2, Manufacturing cost reduction
If you think the cost of 3D printers is very high, then you should consider the profit that you can enjoy in the long run. 3D-printed molds can be economically advantageous in the production of lamps with complex designs that are difficult to make through the traditional manufacturing process. Besides, 3D printing is very cost-effective when the materials are expensive, and the manual mold-making process results in an increased material scrap rate. Furthermore, the ability of 3D printers to make 100 percent accurate molds within a few minutes or hours can positively impact your manufacturing processes. You may find some conditions when the mold has to be modified. With 3D printing, you can do it instantly.  So, 3d print moonlight using a 3D printer will cost you much lower than using the traditional manufacturing process.
3.3, Custom molds help realize the customization of end products
The unique printing approach to filament or resin 3D printing can greatly improve the microstructure of the material, and you can create dense printed parts or molds having physical or mechanical properties as good or much better than the forged or cast parts. It has been proved that 3D printing offers the designers or manufacturers unlimited options to enhance the mold design. If the target part or mold consists of multiple sub-components, the 3D printer has the ability to perfectly integrate the entire design and lower the parts number. Besides, the process will simplify the product assembly process, lowering the tolerance level.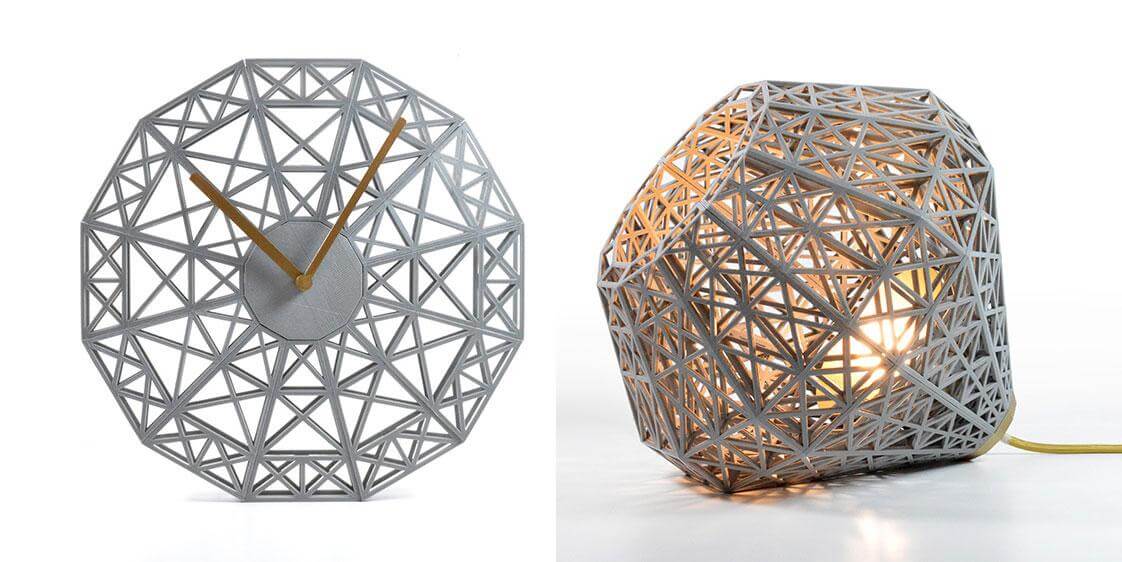 Furthermore, 3D printing has made it a lot easier the process to integrate different complex product functions. As a result, you can enjoy faster production of highly functional end products. You can lower the risk of product or mold defects.
3.4, Not limited by mold size
A very large 3D printer might offer a build volume of more than 100 cubic meters. One of the significant advantages of using 3D printers is they can create everything in different shapes and sizes. If you consider the traditional manufacturing process, any alteration in part needs a new jig, die, tool or mold to be produced.
In 3D printed parts, the design of the lamp is fed into the software, required material is added, and the 3D printer then starts printing. 3D printers have enabled the production of molds or products of any geometries, for instance, parts within parts, hollow cavities, 3d printed moon lamp with the picture, and more.  In terms of size, you can also create bigger-sized products by creating parts and combining them to form the whole object. So, go on and try this out now to witness the difference.
3.5, Custom mold to help achieve the final product customization
The development of complex geometries, the ability to lower the manufacturing cost, and shorter production cycles allow the companies to create a large number of personalized models. No matter what a customer needs, 3D printing will take a few hours to complete custom molds to make the final product. Just create the design that you want to print using 3D modeling software, and the printer will handle the rest of the task.
3.6, You will enjoy a complete DIY experience
Don't want to buy a lamp and want to create a 3d printed moon light at home? Well, this is possible when you have the best lamp 3D printer. No matter what type of lamp you want to make, 3D printers let you create the perfect molds for it. You don't even need to take the help of any professional or hire a 3D printing service provider. Don't worry about the budget, as you can now buy an LCD 3D printer under your budget. So, what are you waiting for? Get a 3D printer now and get ready to craft your own moon lamps.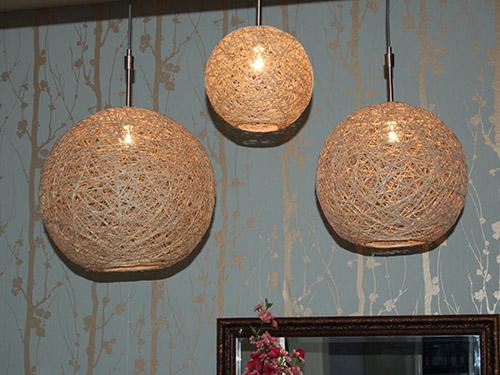 Till now, a few companies across the world have integrated 3D printing technology into their production process for their business lamp industry. Some of the most significant benefits they are witnessing are reduced process steps, lowered labor costs, faster prototyping, and more.  The growing customer demand for customization will greatly influence the future lamp-making industry. 3D printing is an excellent option for those companies to deal with possible future market changes.
How to buy a 3D printer for molds production
When it comes to buying 3D printing material for mold production, you should go for the best quality material. Some essential factors that you should consider here are:
Material's durability
Easy to print with
Post-processing requirements
Resistance to UV rays
Waterproof quality
Material's ability to attain the details or patterns
Keeping these things in mind, we have listed down some best 3D printing materials that you can use for lampshade 3D print.
4.1, Common 3D printing materials for making molds
Before buying a lamp 3D printer, you need to understand different types of materials that you can use to create a mold for the 3D printed moon lamp or to directly 3D-print the lamp. Remember that the 3D printing material will vary with the type of 3D printer you are using. However, here are some common types of printing material that you can use.
High toughness resin
Different from widely used standard resin, high toughness resin is very durable and robust than the standard resin. The 3D models create using standard resin can be fragile, and there can be a risk of cracking and snapping. However, speaking about high toughness resin, it has properties that match with the properties of ABS filament.
This type of resin is created to be utilized for different applications where the 3D-printed models need to withstand a higher level of strain and stress. While maintaining strength, the products will also have a smooth surface. As per some tests, the 3D-printed model created using high toughness resin can generate more than 58mpa of tensile strength. On the other hand, the elasticity modulus of the high toughness resin can be up to 4gpa.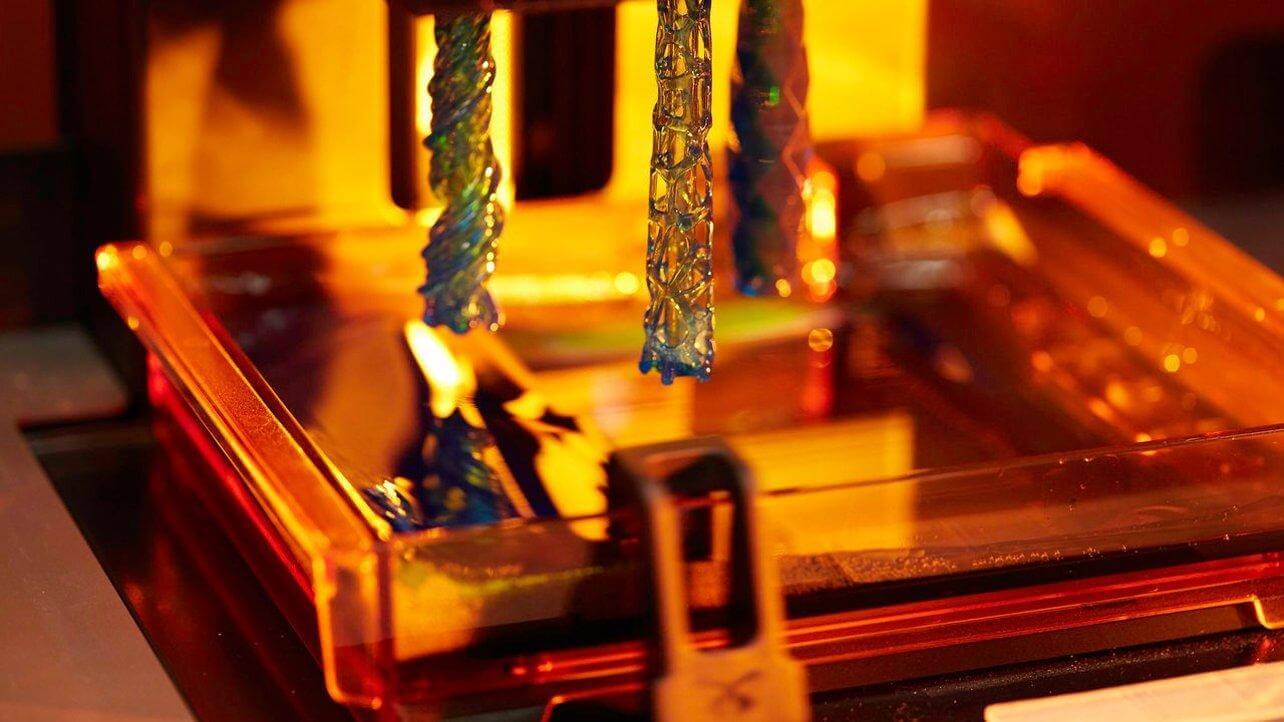 With a unique balance of strength as well as compliance, high hardness resin is perfect for making functional prototypes and assemblies. Such parts can easily withstand strain and stress tests. Besides, if you are 3D printing wearable objects, gadgets, or looking for the correct type of material for moon light 3d printing, then you can go for it.
As per the experts, high hardness resin prints at 20 to 100 microns, and you need to print with the support structure. Printing this resin directly on the print bed is not a good idea as you may face issues while removing the model from the print bed.
For better results, you should clean and wash the models with IPA-Isopropyl Alcohol and complete the washing process within 10 to 15 minutes as IPA can make the model flexible. If you want to create a thin wall, you shouldn't use this resin.
PLA
One of the most common filaments that are used in the FDM 3D printing process is PLA. It is quite common in different industries. The most important thing about the PLA is, the material is 100 percent biodegradable and is generally made from different renewal resources, for example, corn starch and sugarcane. This material is elementary to print with and perfect for a 3D printed moon lamp. If you compare PLA with ABS, you will find that PLA can be printed at a lower temperature. That means, for using PLA, you don't need a heating bed.  Another impressive thing about PLA is that it doesn't create any type of odor during the process. However, there is one thing that you need to keep in mind that a PLA-made 3D model can get softer or flexible if the surrounding temperature reaches 60-degree C.
Nylon filament
Talking about nylon, this is a popular synthetic polymer and used in different industrial applications. In terms of flexibility, durability, and strength, you will find nylon is a perfect filament for the FDM 3D printers. This FDM 3D printing filament generally requires extruder temperatures around 250-degree C. However, some filament production brand has introduced nylon that can be printed at around 220-degree C. There are some 3D printers that can't attain 250-degree C of high temperature. For those printers, the lower-temperature filament version will be very useful. However, there is an important thing that you need to consider, like PETG, it can absorb moisture as nylon is hygroscopic in nature. So, after printing your 3D lamps, you need to keep them in a cool and dry place.  This material works best in producing functional prototypes. Why should you use this filament?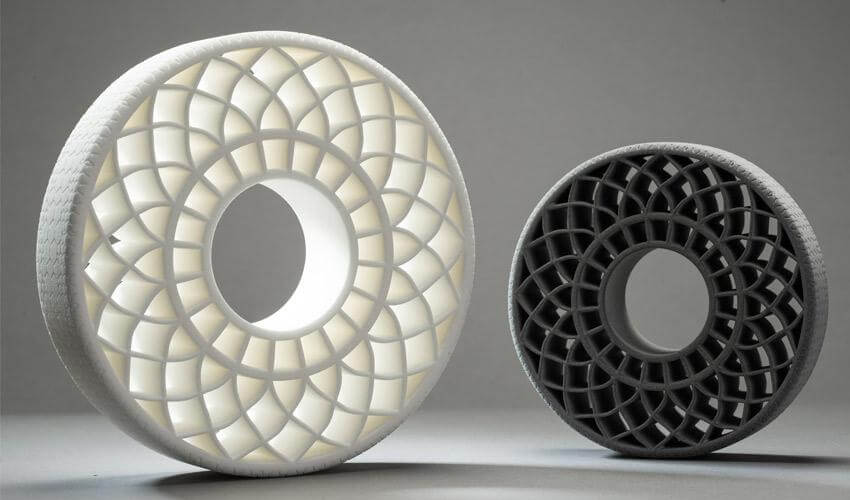 Perfect for functional parts and prototypes, nylon is a material that can be infused with glass fiber or carbon fiber. As a result, you can create lightweight parts having a great level of mechanical properties.
This filament demonstrates great flexibility to rigidity ratio. That means the parts of molds will be a little flexible when 3D printed with a thin wall. So, you can even create living hinges using nylon.
As the model's 3D printed using nylon has a good surface finish, you don't have to go for extensive post-processing.
When combined with multi Jet Fusion and SLC, printing with nylon filament can be very useful in making interlocking and moving parts.
PVA
Polyvinyl Alcohol or widely known as PVA, is an exceptional and high-performance thermoplastic that dissolves in water. As it is soluble in water, PVA is widely used as a support material while creating models or molds with complex and intricate designs, with over hangings and cavities. This material is colorless and odorless. So, if you are 3D printing some things for kids, you can use PVA. The printing temperature of PVA is 185-degree to 200-degree C.  You can print this material at 30mm per second. Well, while printing, you should use a heated print bed. Some impressive features of PVA are; low flexibility & low elongation, improve layer hardness, non-toxic filament, good durability, and high modulus.
PC
PC or you can say Polycarbonate is well known in the 3D printing industry for its sufficient level of transparency and better impact-resistant feature. The material is lightweight but is a sturdy thermoplastic that can be used for different professional applications.  
Different studies have proved that polycarbonate filament can easily withstand different temperatures, ranging from -150-degree C to 140-degree C. So, this has expanded its possible applications. As this is a transparent material, you can use this to make a scuba mask, electronic display, and more. Compared with other materials, PC is quite flexible and more durable than PLA but not durable like nylon.  Besides, it is harder than PMMA, PLA, and ABS. 3D-printed objects made of PC can easily withstand an excellent level of torsional stress. While printing with PC, make sure that the nozzle temperature is between 290-degree C to 300-degree C.  
4.2, How to choose and buy a 3d printer
After getting some knowledge about a different type of 3D printing material that you can use, it's time to understand the types of 3D printers that can be used in model or mold production. Even though there are different types of 3D printers available in the market, here we will discuss about two major types of 3D printers.
4.2.1, The types of 3d printer you need
In the 3D printing industry, the two most widely used 3D printers are LCD 3D printers and FDM 3D printers. Both these printers can be used for moon light 3d printing, but they work in different ways. Well, let's talk about these printers in detail for a better understanding.
LCD 3D printer for resin
Speaking about LCD 3D printing, this is the latest printing technology in the market and has witnessed considerable growth in recent years. Well, LCD technology was developed as a significant evolution of the most popular DLP technology, but now, this has virtually replaced DLP 3D printing.
The LCD 3D printers work like the DLP 3D printing technology, but instead of reflecting UV light through a DMD- Digital Micromirror Device, an LCD 3D printer uses the LCD device where every pixel act as a tiny window and allows or blocks light based on the requirements.
Speaking more about it, LCD devices are just like those utilized in computers, TV panels, or mobile screens. As a result, LCD 3D printers are a little cheaper than the FDM 3D printer and come in different sizes. Here, the projection will direct to the base. There is no need to use any complex or expensive projection lens systems. Unlike DLP 3D-printed parts, you won't face distortions issue in LCD 3D-printed parts.
If you are a beginner and have a low budget, then you can start with an LCD 3D printer. Even though there are many resin 3D printers available in the market, LCD 3D printers are very popular. The printers work by utilizing a UV light to harden or cure the resin. The UV light source moves through the LCD panel, reflecting the design of the object on the resin. It creates the objects layer by layer. When one layer is completed, the build platform will go up a little, and the printer will make the next layer.
It has been proved that with an LCD 3D printer, you can print a 3D printed moon globe lamp with amazing details. This is something not possible in the case of an FDM 3D printer. Besides, 3D models or objects created using an LCD 3D printer don't require extensive post-processing. So, you will enjoy faster production.  
A perfect 3D printer for all
Not just the beginners, professionals are also using the LCD 3D printers as they offer a lot of benefits. Among its benefits, some of the major benefits are low cost and an excellent printing speed. Besides, an LCD 3D printer can outperform the DLP technology in two significant ways. The perpendicular projection level can eliminate the distortion created due to the oblique projection, which is quite common in the DLP system. Besides, LCD panels don't just allow and block the light based on the object design but also filter the light considering the light intensity at every pixel. So, with the LCD 3D printers, it is possible to use an anti-aliasing process to lower the visibility of the staircase effect. The surface quality will be very close to the products created by SLA 3D printing technology.
To understand this powerful 3D printing technology in a better way, here are some essential points that you need to know.
All the LCD 3D printers come with a large resin tank that carries liquid resin. All the resins are photopolymer in nature and cured by using a light or UV light source.
Another interesting thing is that the build bed remains engrossed in the tank. Based on the design of the object that you need to print, the build platform moves upward or downward.
The object quality will also depend on the quality of the LCD panel installed in the machine.
The LCD 3D printers are very easy to use and come with an interactive UI. So, you can efficiently operate the machine.
When it comes to making 3D printed lamps with a great level of detail, and within a short period of time, you can trust an LCD 3D printer. What's more? This machine supports different types of resins, such as heat-resistant resins, castable resin, transparent resin, high toughness resin, standard resin, and more. So, get one now and show off your skills by making exceptional quality 3D printed sphere lamp.
SuperbMelt's LCD 3D printers and their unique features
If you are looking for some high-quality LCD 3D printers to create 3D printed moon globe, or a printer that you can use as a lamp 3D printer, then SuperbMelt has some best models for you. For example, you can go for our LG- 293, LG- 345 LG- 550, and more. You can check out the products on our official website.
Features of our LCD 3D printers
The printers use LCD surface printing technology which is very fast. At 20mm/h and 10mm/h or printing speed, these printers can create 0.25mm to 0.1mm of layer thickness. Speaking about the pixel size, our LCD 3D printers can support up to 3840×2560 pixels. The curing wavelength is 402mm to 405mm. While using 250W of power, they run at 10 to 30-degree C of operating power. These printers are very simple to use.
FDM 3D printer
FDM 3D printers are suitable for making durable molds and functional parts that can withstand heavy pressure and temperature. Besides, in different industries, an FDM 3D printer is used to make bigger size models. However, FDM 3D-printed model may lack the details that you will get with LCD 3D-printed models.
Instead of resins, these printers utilize thermoplastic filaments that melt at a particular temperature. Now, let's understand FDM 3D printing process.  To begin printing, the desired filament is loaded on the extruder. The extruder pushes the filament into the heated nozzle that melts the filament. After that, the nozzle slowly applies the melted material on the print bed, creating layers. The layers adhere to each other from the objects.
If you are looking for some affordable yet high-quality FDM 3D printers for 3d printed lamps, you can go for SuperbMelt's FDM 3D printers that come with some amazing features. Our FDM 3D printers are the best in the industry and come with a robust extrusion system. While the models have a single nozzle, you can customize them with a dual-nozzle system based on your requirements. In terms of nozzle size, you can go for nozzles with 0.2mm to 0.8mm diameter. The printing speed will be 20 to 150mm.
Our machines support different types of filaments, like PLA, water-soluble materials, ABS, PETG, nylon, glass fiber, TPU, carbon fiber, and more. Another best thing about our FDM 3D printers is they have an automatic pre-calibration leveling feature. So, you don't need to caliber the print platform and nozzle after a print. The printing platform is made of a material that combines aluminum substrate and black crystal glass.  In order to provide you a maximum level of safety, our printers have a robust enclosed structure that is made of metal sheets.
If you can combine both the LCD and FDM 3D printing technology, you can enjoy a lot of benefits in terms of production, design, and cost. Go for it now and make the process of printing moon light faster and easier.
4.2.2, What is the size of the print
It refers to the size of the object or mold that you want to 3D print. And for this, you need to consider the printing platform size of the 3D printer you are buying. As per the experts, you should go for 3D printers that have a printing platform large enough to completely 3D-print the object or mold. Well, this is where you can trust Dreambot3D. If you want to create a larger size lamp model, you can go for our L-100 FDM 3D printer that can offer you 1000x1000x1000mm of printing size. We also have some LCD 3D printers that can be used to create small models with the size of 215x135x200mm. For more detail about our machine, you can visit our site or get in touch with us anytime you want.
4.2.3, Choose a reliable brand
In order to buy the best 3D printer to make a lampshade 3D print, it is crucial to choose a reliable and well-known 3D printer manufacturer. Because only a reliable brand can offer you top-notch machines that can produce a quality print at a higher speed. Besides, you can expect 24×7 hours of technical support from them to keep your 3D printer running smoothly. What's more? When you choose a leading brand, you will get a chance to buy different models with different printing sizes based on your budget. Now, you might be thinking about how to choose a reliable brand? Check the customer reviews posted on the site. Besides, check their social media profile to know about the brand's popularity.  However, you can always choose Dreambot3D for this. As a reputed brand in this industry, we produce machines that will never fail to meet the user's 3D printing requirements. Call us to know how we can help you in your 3D printing projects
4.2.4, Safety configuration of the machine
A lamp 3D printer to print a 3D lamp is a modern production device and has many complex electrical components. Besides, such machines come with a printing platform or print bed that gets hot during printing. In fact, the temperature can go up to 250-degree C. Touching the print bed accidentally can lead to severe injuries. So, you need to make sure the 3D printer has all the necessary safety features, for example, temperature controller, air-cooling system, auto-off feature, and more. It is advisable to buy a well enclosed 3D printer to keep yourself protected from the hot print bed and VOCs generated from filaments.  For such 3D printers, you can trust Dreambot3D. Our machines are famous for their safety features and will make your working environments safe.
4.2.5, Resolution requirements of the machine
While 3D printing moon light, or other types of lamps, you need to make sure they have fine details and accurate patterns. For this, you will have to buy a 3D printer with a good resolution. For this, you should check the printer's positioning accuracy level, layer thickness, and nozzle size. It is advisable to buy a printer with nozzle size 0.2mm to 0.88mm diameter.  And the layer thickness should be between 0.05mm to 0.3 mm.  SuperbMelt has some best-in-class machines that can offer better printing resolution. Our resin 3D printers can print at 0.155mm of thickness at a printing speed of 20mm.
4.2.6, Consider whether the price of the machine is acceptable
While buying a lamp 3D printer, you need to consider your budget. However, first, think about if you really want a 3D printer or you can hire someone to get the job done. If you need a 3D printer only for a few days, then buying a machine is not a good idea. If you want to start your own lamp production business, then you should invest in this. However, don't forget to check the features while buying. As you will be investing a lot of money, you should make sure that the printer has good printing speed, a temperature control unit, can support different types of resins and filaments, and more.
What's more? Prefer to buy one with an automatic pre-calibration leveling printing bed so that you don't have to worry about leveling. Are you worried about your low budget? Don't worry at all, as Dreambot3D can provide you feature-loaded 3D printers at the best prices. For detail about our machine, please feel free to call us now.
4.2.7, Consider the supplier's after-sales service capability
Just like other electronic devices, 3D printers come with very small and complex electronic parts. The machine can develop technical issues without any notice. When such problems arise, they can affect your production process. So, you will definitely want to resolve those problems as soon as possible.  This is only possible if the printer manufacturer offers 24×7 technical support and faster after-sale services. Well, this is the reason why most people and businesses choose us. Our technical support team works 24×7 to assist you to keep the machine running smoothly.
4.2.8, Consider the service life of the machine
As the cost of a 3D printer can range from USD2500 to USD 50,000, you need to make sure that the machine can work for a long time. In general, a 3D printer's average lifespan is around 6 to 7 years. Our printers can keep offering you the best quality 3D printing for years without developing any issues.
4.2.9, Consider the maintenance cost of the machine
While some machines require an extensive level of maintenance, some machines need just a little bit of care. To keep your maintenance cost low, go for a machine that has advanced technology and enclosed body structure. By using FDM and LCD 3D printers of Dreambot3D, you can keep your overall production cost low by eliminating the machine's maintenance cost.
Case introduction and appreciation of 3D printing lamps
Even though LED lamps and lighting have turned into a mature technology, 3D printing technology is quickly rising as a potential benefit to the industry. 3D printing is the process of fabrication of 3D objects by applying a polymer-based material or thermoplastic filaments using a nozzle by accessing the CAD model. The impressive ability to attain an excellent level of product customization and uniqueness in design is the major reason for using 3D printing in the lamp-making industry or to make 3D printed moon lamps.
As discussed above, some of the essential benefits of 3D printing include improved functionality, visual appeal, custom components and fixtures, faster product introduction, and rapid prototyping. Some home décor and lamp production companies are now taking good advantage of it.
Philips
Well-known companies like Philips have implemented 3D printing into the production process. For example, the company utilizes 3D printing technology to produce hyper-modern Hue lamps and lampshades. The designs that look like a combination of hundreds of tiny twigs are quite challenging to make through the traditional production process.  
3Dlights.nl
Other companies who are using this modern production process are, for instance, 3Dlights.nl. This well-known Dutch company has used 3D printing technology for the unique lamps as this is a sustainable process. The mission of the company is to produce sustainable products and to lower the waste of materials. With 3D printing, the company produces lamps using unused materials.
Now, let's have a look at some stunning lamps that are created using 3D printing technology.
This 3D printed lampshade looks quite beautiful, and the design is inspired by the Eiffel Tower. The lamp is created by a Canadian industrial designer, Samuel N. Bernier, using the MakerBot. However, one can create this lamp using any desktop 3D printer. Well, there are not any particular instructions about the lamp production process. But you can create this without any support. Some makers have used around 0.2-mm layer height and a 100% infill to create the lamp.
Lunar is a beautiful moon model that is made to 0.006 millimeters per pixel precision, and the design is based on the data of NASA's Lunar Reconnaissance Orbiter. This model works great with AR apps and can be used to know about the features and landmarks of the moon.
This 3D printed lamp is perfect for animal lovers who want to mount a dear on the all. However, no real parts are used in this. Different parts, like antlers and ears, are 3D printed and then joined together for a complete look. This stunning-looking lamp will be a perfect add-on to any minimalist decorative space, and you can attain an eye catcher feel. Give it a try now using a lamp 3D printer.
The Futuristic Portal Lamp
The design of this 3D printed lamp will surely take the customers to another world, thanks to the lamp's optional and vibrant personalized color options. This unique-looking lamp is available in two different parts, the base, and the ring. All you need to do is to combine those parts to make it shine. For the lighting, you may need assembly, but the process is straightforward. One of the significant advantages of the portal lamp is that the product is lightweight and can be personalized, thanks to additive manufacturing.
This is a unique, stylish, and simple shade. This great functional 3D-printed lamp is designed by Au Flowalistik. It comes in different parts, but the assembling process is very easy. Besides, you can get the lamp design online and 3D-print it at your home. For this, you can use a 3D printer with a small build volume, and 120 x 120 x 120 mm will be enough. Want to take the design of the lamp to the next level? Well, you can use metal or wood-based filaments to print the base. You can find all the printing instructions online.
With a futuristic design, this turbine spins light. The design reflects the large industrial turbines. This can be a perfect option for any industrial decoration aesthetic. The model is a multi-part print ad that includes a base for the blades and another base of the lamp and the blades of the turbine.  You can go for different versions.
As per the designer, the work is still in progress, and the model will go through a lot of upgrades. In order to create it, the perfect combination is ABS filament and LED bulbs. But you can also try PLA filament for this.
Well, this 3D-printed flower lamp blooms as well as shines. The lamp has a unique ingenuity. Crafting a bedroom lamp, Jason Suter, the designer, crafted a flower that, when turned on, unfolds, and then the light turns on. Besides, it also rotates, offering you a spectrum of soothing and warm colors.
To attain all these things, you can split the entire print into different parts. For the best result, you can use PETG filament and an FDM 3D printer.
These are a few examples of 3D-printed LED lamps that you can try to make using a lamp 3D printer at your home. If you have some other designing ideas in your mind, then go on to give those ideas a shape. With the best 3D printer from Dreambot3D, everything is possible.
Are 3D printed moon lamps safe?
As per the experts, 3D printed moon lamps are safe to use. Some lamps are made of PLA filament, approved by FDA. As you all know that PLA filament is non-toxic and environmentally friendly, it is also safe for kids. Instead of using tungsten light, a 3D printed moon light lamp comes with LED lights that will not hurt the eyes or flicker. However, there is one thing that you should keep in mind. If the lamps come with an LED bulb, don't replace them with an incandescent bulb. This bulb can melt the plastic. You should take good care of the 3D printed lamp shade while using it with a high-voltage appliance.
How do you use the 3D printed moon light?
All the 3D printed lamps come with a plug-and-play power cord, and some come with a USB charging port. Just plug in the cord, and your lamp is ready to shine. Most people use such lights for decorative purposes. You can keep it on your table or hand it on the wall to create a stunning appearance. It's all up to you.
What are moon lamps made out of?
Well, thanks to the availability of different materials in the market, you can make a 3D printed lamp moon using the material you want. However, most people prefer to use PLA filament as this material is safe to use and eco-friendly. Some lamps don't come with a base, and some have support. For example, if you look at the levitating 3D printed lamp shade, such lamps generally come with a plastic, metal, or wood base with whistles and bells. Some other lamps come with different types of stylized bases, for example, a hand or a geometric shape. As the lamps are made of PLA material, they will be durable. Dropping a 3D printed moon light from a few feet high will not develop any damage. So, these are much better than lights made of glass or ceramic.  3D printed moon light can have a compact design of the topography of the moon. The reason is you can design it from the images of the moon.
What does FDM printer mean?
FDM – Fused Deposition Modelling is also known as FFF- Fused Filament Fabrication. In the 3D printing industry, such printers are very popular. When it comes to making durable parts, prototypes, or 3D printed night light; you can always use an FDM 3D printer. FDM 3D printers are ideal for basic proof-of-concept models and low-cost prototyping, for example, the part that can be machined. Speaking about how it functions, an FDM 3D printer works by extruding thermoplastic filaments, like PETG, PLA, ABS, etc., through a nozzle. The material is melted by the heated nozzle and then applied layer by layer to create the object. Each layer is laid down one at a time, and the process continues until the completion of the model.
Will additive manufacturing replace conventional manufacturing?
Well, as per some experts, 3D printing may not replace the traditional manufacturing methods altogether. However, 3D printing can be combined with the manufacturing method to enhance countless processes. No one can ignore 3D printing's importance in the modeling process. In 3D printing, you can use different types of materials and create a different version of a single product. Talking about the usage of 3D printing in mass production, it may not work like the traditional manufacturing process.
But to produce highly detailed products or models, such as 3D printed lamps in small quantities, you can use 3D printing. This technology enables you to create any design you want, and you can play with the materials. However, for the best result, you can combine 3D printing and conventional manufacturing method.
How does the FDM 3d printer work?
The entire process of FDM 3D printing is straightforward to understand. The printing process starts with creating or downloading a 3D CAD model file. If you want to 3D print moonlight, you can easily find a design online. After that, you can use slicing software to divide the design into several layers or slices. This software will create a G-code file readable by the 3D printers. Once done, the 3D printer will heat the filament and extrude the melted filament through a nozzle on the printing platform, creating a layer. The thickness of the layer can be around 0.1mm to 0.5mm based on the resolution. Once the printing is done, the model is removed from the build platform and post-procced.  
How can I improve 3d print quality?
Even though you can use advanced 3D printers from Dreambot3D for high-quality 3D printing, there are some points you should remember.
Remember that the temperature of the nozzle can directly affect the print's appearance. For example, if the printer's nozzle is hotter than the required level, it can leave strings of filament between parts. Besides, when printing a tall model, this can melt already printed layers. As a result, you will face malformation. If the structure has strings of filament, you can use an ooze shield or a wall structure, a feature available in the slicer programs.
Properly Adjust the Printing Bed and Nozzle Height
Another essential way to enhance the print quality of your 3D printed moon lamp is to make sure that the printing bed is perfectly leveled and the nozzle distance is reasonable. Most of the 3D printers come with the perfect placement of nozzle and printing bed. You can use a piece of paper to set the distance. Well, you can go for the 3D printers offered by Dreambot3D that come with an automatic pre-calibration leveling feature.
For Different Effects, Use Different Building Plates
Using different build plates, you can easily create various textures on the 3D printed models. For example, some bed materials, glass, Kapton, and PEI tape, can create a smooth surface. On the other hand, polycarbonate sheets or painter's tape can offer your produces a matter finish. Don't hesitate to play around and find out what works best to create a finish that will perfectly complement your 3D-printed objects.
Don't forget to use a slicer.
Speaking about slicers, they convert the 3D models into G-code instruction sets that the 3D printers use. You can easily find some free slicer software. If you think the print quality is not good, then try to adjust the fine or hyper-quality setting. This may slow down the printing speed, but the quality will be good. You will find different settings in a slicer. Take your time and learn those settings.
Try by Lowering the Printing Speed
While 3D printing LED moon lamps, ringing or echoes around the edges of the final product can lower the visual quality. These lines are generally created by vibrations produced by the printer's extruder. To avoid this, you can slow down the printing speed. Make sure that the extruder has enough space to move.
Post Processing Is Important
After completion of the printing, you need to eliminate the visible defects. You can eliminate the small imperfections using sandpaper. Besides, if your 3D model is made of ABS, you can go for the acetone vapor treatments to come up with a glossy finish.
What is a good size 3d printer?
Well, a good size 3D printer is something that can match your desired printing size. This will vary from one printer to another. For example, if you go for Dreambot3D's LG 550 LCD printer, the print size will be L527 x W296 H550. In the case of the LG 345 model, the print size is L345 x W195 x H400.  If you need a 3D printer with a bigger print size, then you need to buy an FDM 3D printer.  For instance, the print size of Dreambot3D's L-600 3D printer is 600 x 600 x 800mm. You can also go for the L-1000 model, which has 1000 x 1000 x 1000mm of print size. Remember that for small objects, an LCD 3D printer will work best, and for durable and large 3D-printed objects, you can trust an FDM 3D printer.
How durable are 3d printed items?
Different studies have proved that 3D printed models or parts are durable and robust. For example, Polycarbonate or PEEK can be used to create riot shields or bullet-proof glass. You can adjust the infill density, print orientations, and wall thickness to boost up the strength. In the case of PLA, the tensile strength is around 7,250 psi. ABS demonstrate a tensile strength of 4,700 psi. To create robust parts, manufacturers use infills. This is used in the walls.  It adds to the products' density. If you don't use an infill, you will get hollow walls, and the product will be very weak. Infill is an ideal way to enhance the strength and increase the weight of the 3D-printed models.  There are a lot of infill patterns that can be utilized to increase strength, like a honeycomb or a grid infill. But you need to understand how much infill you should use. For instance, for normal 3D-printed parts, 25 percent of infill will be enough. To make the product impact and weight resistant, up to 100 percent will be better.
What does FDM mean in 3d printing?
FDM stands for Fused Deposition Modelling and is also called FFF- Fused Filament Fabrication. In the FDM 3d printing process, thermoplastic filaments are deposited later through the nozzle to create a 3D printed object. During the process, the filament is attached to a hot extruder that melts the filament. Then the melted filament is applied layer by layer on the printing bed to create the model. Besides, filament materials are inexpensive and available in different types. That makes FDM 3D printing popular. Speaking about some significant benefits of the FDM technology, this printing technology is clean and easy to use. The process supports industrial-grade and food-grade thermoplastic. FDM 3D printing makes it possible to attain various complex geometries and cavities.
Is it cheaper to build or buy a 3d printer?
Well, it is possible to make a 3D printer at home if you have all the necessary parts, equipment, and knowledge on how to make it. The building process is not that simple, especially for beginners. So, you will have to closely follow the tutorials available online. In the building process, the most challenging part will be the alignment, fixing together the hot end, fans extruder, fans, and other parts perfectly. Hence, you need to keep all these things in mind, and it will be better to buy a 3D printer instead of trying to build it at home. You might end up paying a lot of money than a 3D printer kit.  Besides, Dreambot3D offers the best quality 3D printer at affordable prices.
Can you reuse 3d printer resin?
If you think about melting a resin-made model and use the liquid resin to create another model, then it is not possible as resin, once it proceeds, loses its bonding capacity. So, once cured, you can't reuse the resins. However, an uncured rein can be reused. But before using it, you need to filter the resin properly.  Besides, you should store the unused resin in an air-tight box and in a dark place to keep it usable.
How do the 3d printers work?
The function of a 3D printer will vary on the basic types of printers you are using, for example, an FDM 3D printer or an LCD 3D printer. Now, let's understand the working principle of an FDM 3D printer. As discussed above, an FDM 3D printer utilizes thermoplastic filaments to create a 3D model. The filament is fixed to the extruder, and the heated nozzle melts the filament. After that, the nozzle applies the melted filaments into layers on the build platform to create the object. In the case of an LCD 3D printer, it uses resin. Resin is cured by the UV light source that comes through an LCD panel. The layer of the model image is projected on the resin. The UV light then hardens the lighted areas to form the object.
Is LCD faster than DLP?
As for various studies, LCD 3D printing is much faster than DLP 3D printing, even though both of the printing technologies include the use of resins. Using an LCD printer, such as Dreambot3D's LCD 3D printer, you can 3D print the entire object at one time.  Besides, the process of resin curing is very fast. Furthermore, these printers are known for offering excellent quality projection. The LCD 3D printers available at Dreambot3D can print at 20mm/h to 10mm/h (Z-axis max) of printing speed.
No matter whether you have a small lamp production unit or a large one, you will enjoy multiple benefits from the 3D printing technology. You can create high-quality and attractive 3d printed night light that can take the interior to a whole new level. Besides, you will get a lot of opportunities to turn your unique ideas and imaginations into reality. If you are planning to deploy the 3D printing technology in your lamp production process, then don't waste your time thinking and get one now. No matter how complex the idea is, with 3D printing, you can easily create stunningly designed real objects.
Experts have said that 3D printing is a perfect and cost-effective solution that allows users to physically manipulate multiple complex ideas. Also known as Additive Manufacturing, it makes the galaxy print moon lamp production process faster and simple. The lamp 3D printer offered by Dreambot3D is a perfect solution for those lamp makers who want to manipulate some complex ideas.
It is a fact that when new advanced technologies are introduced, they come with nearly impossible to afford price tags. Besides, in some cases, you will find complicated interfaces. All these factors have restricted people from using the new technologies. However, in the case of 3D printing, you will not face any restrictions. This modern printing technology is now greatly disrupting the production process in various industries. As the cost of 3D printers has gone down, anyone can now afford to buy a 3D printer. Using this, making a quality 3D printer moon light lamp will be an easier task. In the coming years, the lamp-making industry will witness a massive adoption of 3D printing technology.
As the cost is affordable, smaller producers can also go for it. For decorating their homes, people are now looking for unique custom lights or lamps at affordable prices. Well, 3D printing has made it possible. While the traditional lamp-making process is very time-consuming and limited to only a few designs, with a lamp 3D printer, you can easily create a complex design lamp model within a few hours.
So, what are you waiting for now? Get in touch with Dreambot3D now and buy superior-quality 3D printers. We have advanced and feature-loaded FDM and LCD 3D printers.  You can go for L-400, L-500, L-800, LG- 345, LG-550, and more. Using these models, you can use resins and filaments to create lamps. Deploy these powerful machines to take the 3D printed lamp mold production process to the next level.  You can print any complex designed molds at the same time. Get in touch with us now and make us your partner for a complete 3D printing solution. Want a free quote? Call us now.