Car parts 3D printer prints different 3D components parts of an automobile. The automobile industry makes use of the car parts 3D printer, it is also used for printing on a small personal scale for car collectors.
How 3D printers work for car parts
Production of component parts in the automobile industry is extremely complex. Vehicles are made of thousands of different parts that can be created with a 3D printer for car parts.
The better way to newly print or replace certain car components is with a custom, low-volume manufacturing process. You can also print other car accessories for organizing and decoration in your car.
With 3D printing automotive parts, it is possible to produce quality replacement parts at a much faster rate  and a much lower cost.
It is possible to produce accurate 3D printed replacements for cup holders, clips, knobs and other non essential parts at home on a desktop 3D printer or a large capacity printer for commercial purposes.
3D printed car accessories can be professionally printed with Dreambot3D 3D printers. We offer you an affordable, easy to use and environmentally safe 3D printer.
car parts 3D printers for your Choice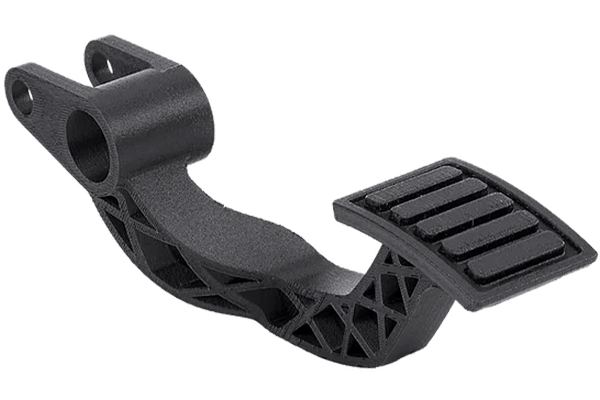 Don't know how to choose a model?
Are you confused about how to choose the correct model and type of 3d printer? We support 24/7.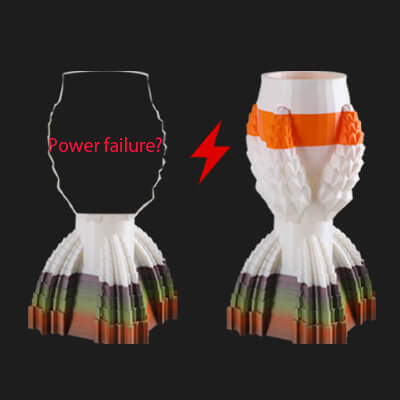 Automatic resume printing
Continue to print the unfinished model after the power is restored when the power fails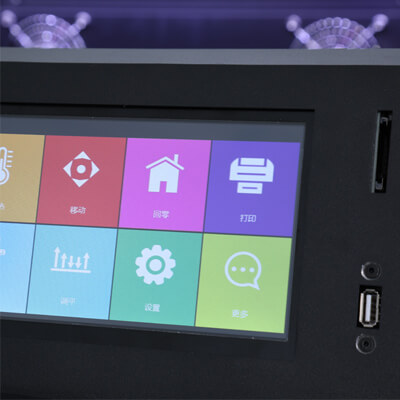 All 3d printers are equipped with PLC control system as standard, makes the operation more convenient, and reduces the error.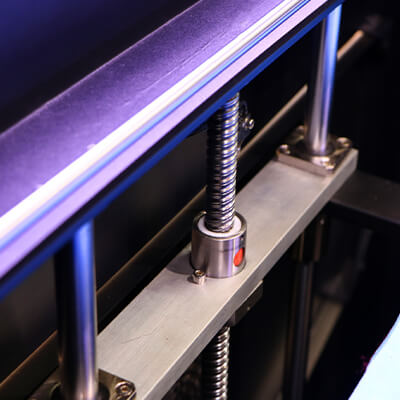 Higher straightness, lower friction coefficient, better smoothness, higher positioning accuracy and more stability during printing.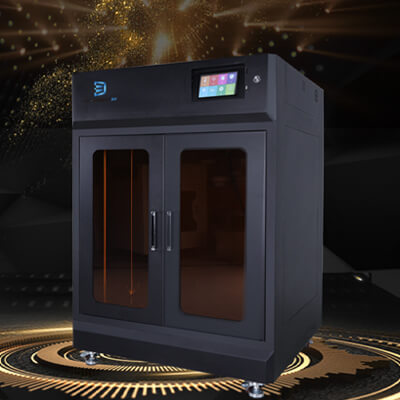 The all-metal one-piece shell reduces resonance, makes printing more stable and improves printing accuracy.
I have printed several 3D car accessories from the printer I got from Dreambot3D, such as cup holder organizer organizer, cable cip, basic smartphone holder, etc. Every printed item comes out amazing and well built.
Great printer so far. Made a few prints and no issues. I strongly recommend it. The printing quality is very good for the price. The software the manufacturer provides is very helpful and easy to use.
We have been printing some 3D automobile parts steadily for the last 2 months. I have been very pleased with the quality of the output. Each printed part keeps getting better and better.
This happens to be the first 3D printer and the first time of using one as well. For the price, I'm impressed. I chose the Dreambot3D 3D printer because it was recommended by a colleague that uses one for personal projects.
The 3D printing automotive parts from this machine are impressive especially for the price. The build is simple and straightforward. So far, everything has been smooth going and I'm very happy with this machine.
When you discover how easy it is to build, you will be hooked to printing with the 3D printer from Dreambot3D. I must also add that the printing process is fast and performs a noiseless printing operation.
How 3D printers are used in the automotive industry
Automotive 3D printer buying guide
You might be wondering how 3D printing can contribute to the automotive industry? But allow me to let you on a secret. In truth, 3D printing technology is considered to be a significant game-changer. Additive Manufacturing (AM), or as we call it, 3D printing, has resulted in creating lighter, stronger, and safer products with more splendid robust designs. 
Earlier, 3D printing was used as a prototyping tool, but with the advancement of technology, at the present time, 3D printing is also used directly for car manufacture. Even though 3D printed real-time car are not available for buying in a showroom, at least any time soon; however, 3D printing has started to gain a vital position in the automotive industry by establishing a foothold in the manufacturing sector. 
3D printing or AM has the potential of adding enormous contributions to the supply chains of the automotive industry by unlocking a wide range of production applications. 3D printing technology is growing to evolve and become more affordable and workable. It can be said, in the near future, the growth of 3D printing technology will be such that companies will be able to bring AM in-house to support the factory processes. 
The introduction of more resilient materials in the world opens up more opportunities for producing high quality, high precision, functional 3D prints that can even be implemented as the final parts in a car. And the modern 3D printed car accessories can even offer easily customizable opportunities that deliver high performance. This article will unfold how 3D printing is powering several innovations in the design and manufacturing departments across the automotive industry.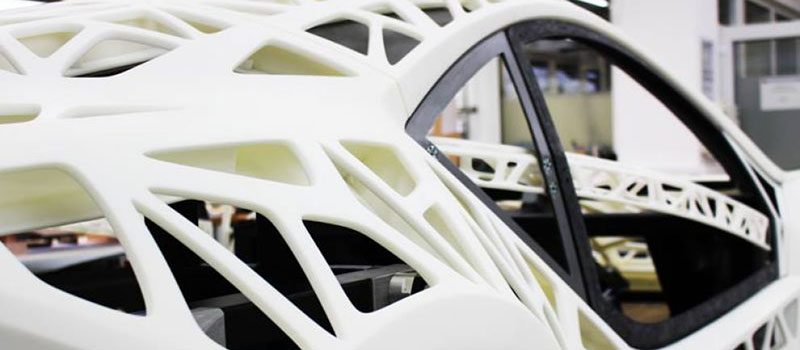 Chapter 1:
What 3D printers can do for the automotive industry
In a decade, 3D printers for car parts have changed from an elective portion of equipment for producing comparatively easy prototypes to an utter requirement, converting the automotive industry in meaningful ways. 
Now factory assembly lines, fixtures in automotive design studios and test tracks, 3D printers produce complicated parts, enhance measurements and testing, provide customization solutions, and speed up tooling cycles across all vehicle development aspects process. 
1.1, Introduction
The automotive industry faces requests from all fronts: the request for better, fresher, performing cars, and the requirement to optimize production and streamline supply chain and logistics. 3D printer for car parts is the only technology that helps the automotive industry meet all these challenges. 
The recent advances in 3D Printing for automotive parts or Additive Manufacturing (AM) have opened doors, for the automotive industry, for newer, more sturdy designs that are more rigid, lighter, and safer products, along with reduced costs and reduced lead times. The annual Wohlers Report, in 2015, stated that the automotive industry accounted for 16.1% of all 3D printed expenditure.
1.2, Common 3D printed cases in the automotive industry
With the range of car parts 3d printer's applications continuing to increase and expand, some of the examples with high-potential of automotive companies using the technology to improve their products are given below:
3D printed car accessories by Ford for high-performance Mustang Shelby GT500
Ford Motor Company is one of the first embracers of 3D printing auto parts, having bought the third 3D printer ever made almost 30 years ago.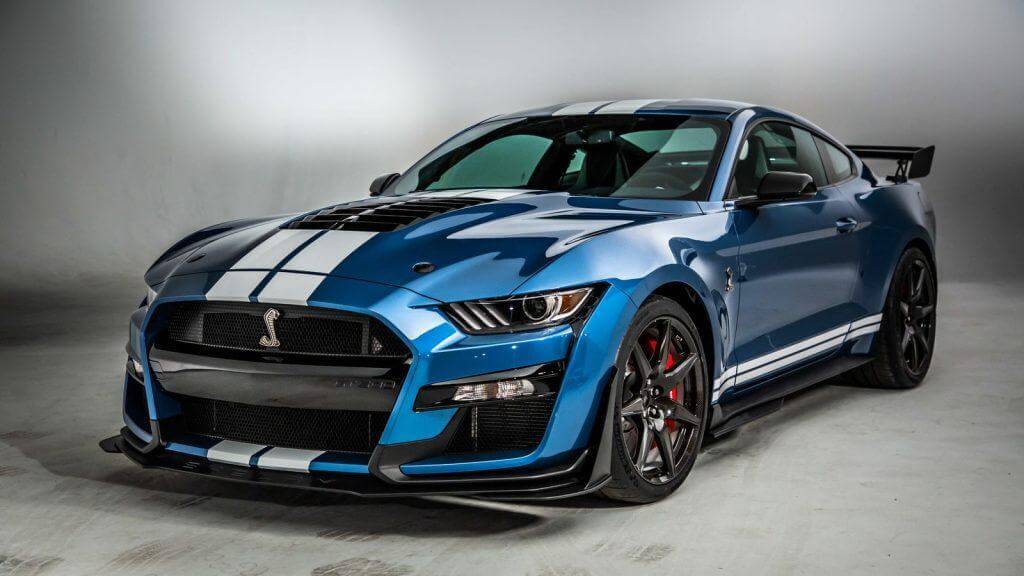 Ford, which opened its Advanced Manufacturing Centre in 2018, has taken steps to combine 3D Printing into its product development and advancement cycle. Now the company is looking for ways to use the 3D printing technology for manufacturing applications.
Ford's latest vehicle, the 2020 Shelby GT500, is an example of this. The 2020 Shelby GT500 is allegedly the most aerodynamically advanced Mustang due to sale in late 2019 year.
Once Ford's engineering team identified the excellent designs, they used 3D printing auto parts to create and test prototypes. For example, the team printed and tested over ten designs for front splitter wickers that they were able to send out for test assessment consecutively.
Volkswagen Autoeuropa uses 3D printed manufacturing tools.
Volkswagen is one of the exciting examples of using 3D printing automation parts in-house for many years.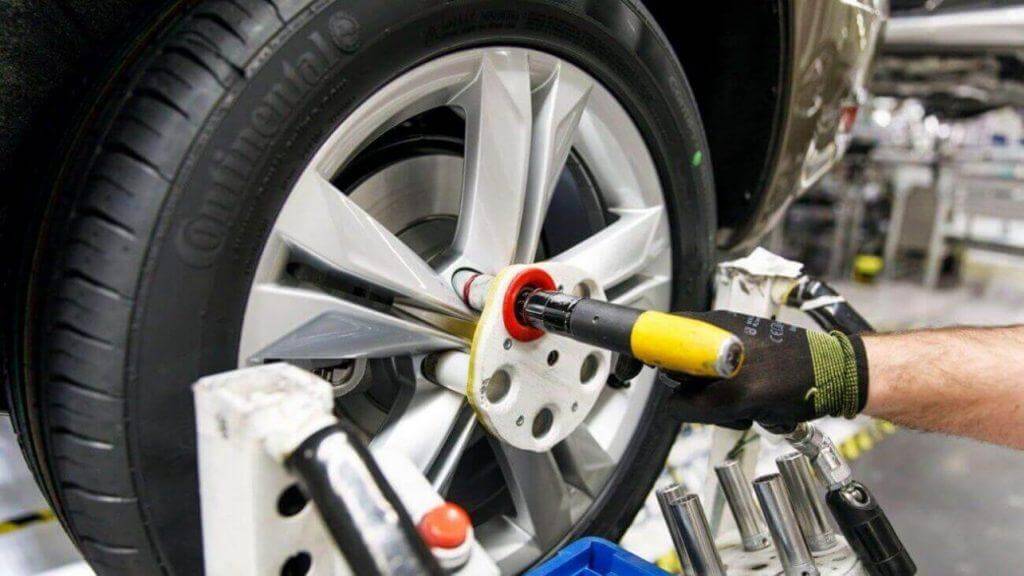 The company started to pilot Ultimaker's desktop 3D printers to manufacture tooling instruments at the Volkswagen Autoeuropa factory in Portugal in 2014. Volkswagen has altered its tooling production almost entirely to 3D Printing since the pilot's success as using the 3D printing technology for this application brings several benefits. Volkswagen Autoeuropa uses Ultimaker's fixtures and jigs for their assembly line.
XEV and Local Motors: on the road I the direction of 3D printed cars?
Based in Arizona, Local Motors is one company with a target to 3D print whole vehicles possible. In 2014, the company made a splash when it announced and claimed the first-ever 3D printed electric car named Strati at the International Manufacturing Show (ITMS). The car was produced in partnership with Cincinnati Inc. and Oak Ridge National Laboratory.
Local motors are just one of the many examples who are pursuing 3D printed cars. Italian automaker XEV is also developing a low-speed electric LSEV car with the car parts 3D printer's help.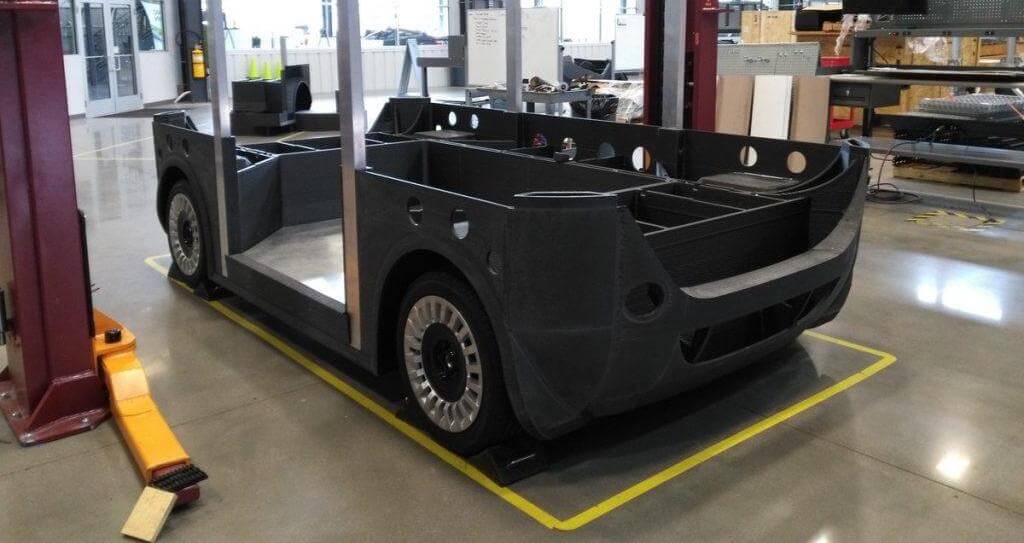 1.3, Benefits of using 3D printers
Evading supply chain disturbance:
The majority of the volume car manufacturers use just-in-time manufacturing. Large quantities of parts reach the production line just before assembly to decrease the need for expensive warehouse space. 3D Printing can ease this procedure to produce production parts on-site if there be any disturbances to a manufacturer's supply chain.
The iterative aspect of Research and Development:
3D printing car designs have revolutionized R and D for car manufacturers – increasing used to deduce development times, deliver innovative parts that would be impossible using traditional methods, and improving the prototyping workflows. Rapid prototyping allows a shorter development period and reduced time to finalize parts.
3D Printing powering the rise of electric cars:
Electric vehicles are gaining approval from consumers as an "environmentally friendly" mode of transportation. Designs for 3D printed car accessories cause engineers to rethink how they can create accessories for the vehicle, permitting them to produce parts in methods not possible with traditional technologies. This might result in parts with unique geometrical shapes with lightweight.
Another revolution possible through the power of 3D Printing is a 3D printed cooling jacket that functions as a heat exchanger. An electric car's electric battery and the motor can generate a massive deal of heat, particularly during charging. With the vast rise in 3D Printing among automotive manufacturers, this is one of the fields with implausible potential for the coming generation.
Chapter 2:
How 3D printers are used in the automotive industry – Automotive 3D printer buying guide
For the last few decades, people have using the 3D printing process to make automotive prototypes. Carmakers use the 3D printers to create the prototypes to check if they fit in their form. Electric and self-driving cars are a part of today's modern lives. We are used to a cloud-to-car-based mapping system and driver behaviour monitoring system that both value drivers and insurance companies. 
The dynamic economic environment and the increase in the demand of consumers drive more and more automakers to look for new opportunities and materials to catch up with their competition. It creates an environment where demand created innovation.
How The Function of 3D Printers Have Evolved Under The Automotive Industry
For the initial years, companies used 3D printing auto parts in the automotive industry to make prototypes, but later they used it to build aesthetically pleasing parts. Though it looked good, they were not durable. Hence, people have developed more robust technologies for automotive 3D printing, such as fused filament fabrication or FFF that can be a part of prototypes and end-use parts.
3D printed car accessories, and 3D printer car parts have led the market to look different with large-scale loads and smaller companies in the competition. It has helped to dominate the sale of the projects, and the market has reached high entry barriers.
2.1, Speed up product development 
The automotive 3D printing techniques has led to phenomenal growth in the industry that has affected its design, development, growth and distribution processes. The technology has helped to reshape the automotive industry as lighting fast speeds.
3D printing or additive manufacturing has revolutionized the automotive industry. It enhances the functionalities and value of the existing products and creates new products in every way.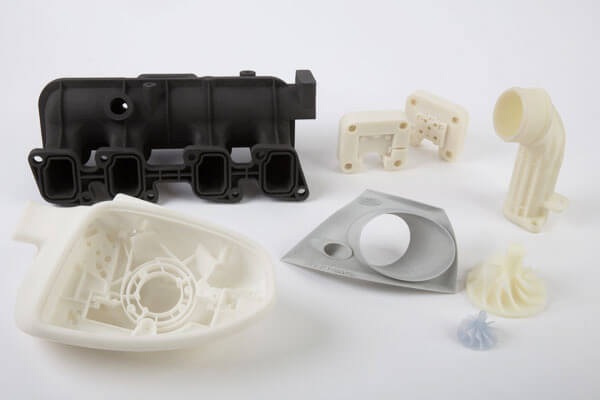 Due to the 3D printers, automotive industries can produce prototypes a lot faster. The fully operational parts are produced within a concise time range. In today's day and age, where there is immense competition, it is vital that production speeds can be doubled, or tripled.
And 3D printers do just that. People can rely on extensive supply chains, but it is better to have the autonomy to produce such parts quickly in their private facilities with the help of 3D printers. It makes them independent, which has become crucial in today's pandemic situation when companies cannot rely upon anything.
Companies continue to work on pushing the boundaries of additive manufacturing and car parts 3D printers are central to that. New materials help unlock new applications. The possibilities have become endless.
2.2, Greater design flexibility
The automotive industry has adopted 3D printing. Due to the concerns of the environment and the economy, people have begun rethinking how automobiles are designed. The industry can meet all the concerns by using 3D printers. 
Since 3D printers make the parts layer by layer, the process opens up numerous design freedom opportunities. It then creates opportunities to reduce the weight of the component and the overall weight of the vehicle.
Since 3D printers make it possible for producers to try multiple options and iteration in the developmental stages itself, there is optimum efficiency and less waste. 
Manufacturers have the option of making the design changes on the go to help them stay in tune with the market requirements and stay in the lead. They can use the possibility of creating a virtual prototype before creating a solid one that makes the prototype less likely to be defective. They can create various options in the initial stages to set their visions straight with the help of 3D printers. 
2.3, Customizable
3D printers build a prototype in layers. Hence, it is possible to customize the final product to an unprecedented extent. It creates various opportunities, such as making the vehicle lightweight, improving fuel efficiency, etc. 
When we think of automotive production, we often link it with mass manufacturing. It creates millions of the same sophisticated products line by line that can then be assembled into the cars. With the increase in 3D printing automotive parts, industries can make degrees of customization at different cars' levels at a manageable cost.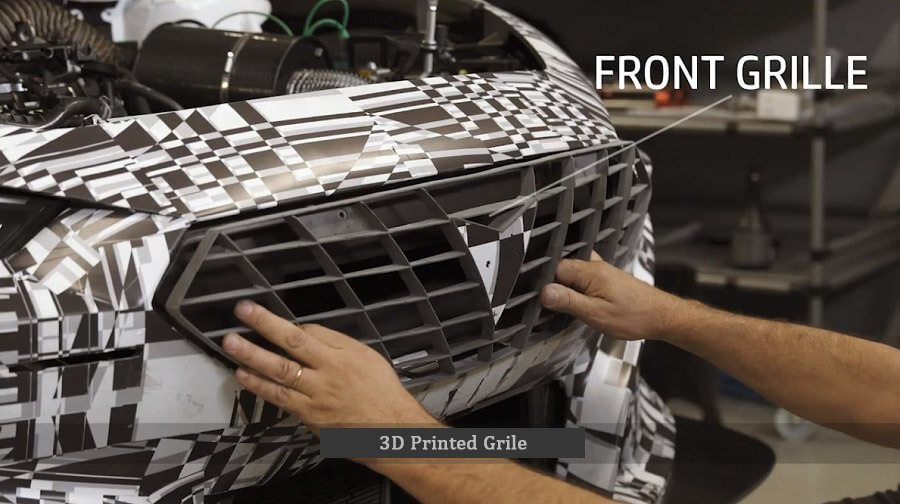 3D printers are a boon for speciality cars that companies manufacture in low volumes. The process helps to integrate custom interior features into vehicles. Customers can choose from an endless range of personalized 3D printed interior parts. 
Additive manufacturing is achieved through 3D printing automotive parts. It helps to tailor the parts of specific vehicles; hence making them customized and lightweight. For example, engineers can customize seats of racing cars according to the driver. It is an advantageous technique that helps the improvement of vehicle performance.  
2.4, Create complex parts
Since 3D printer allows integration of customizable layers, it is possible to build complex parts. Companies can redesign and create internal geometries. They can also cut down on the weight and material usage without tampering the overall vehicle's quality.
2.5, Design and make concept cars
3D printing car body parts and 3D printing car interior parts are a revolutionary concept. 3D printing has been useful for creating one-off prototype parts for concept cars or test mules. These printing operations have applications in producing car parts where the quality, printing speed and the cost per unit are cost-effective. 
Creating concept cars is a relatively new idea that has taken the automotive market by storm. Many companies have released 3D printing files for several of its concept cars. Some of them let you print your model of cars at home. Customers can then publish it on their website under the creative contents.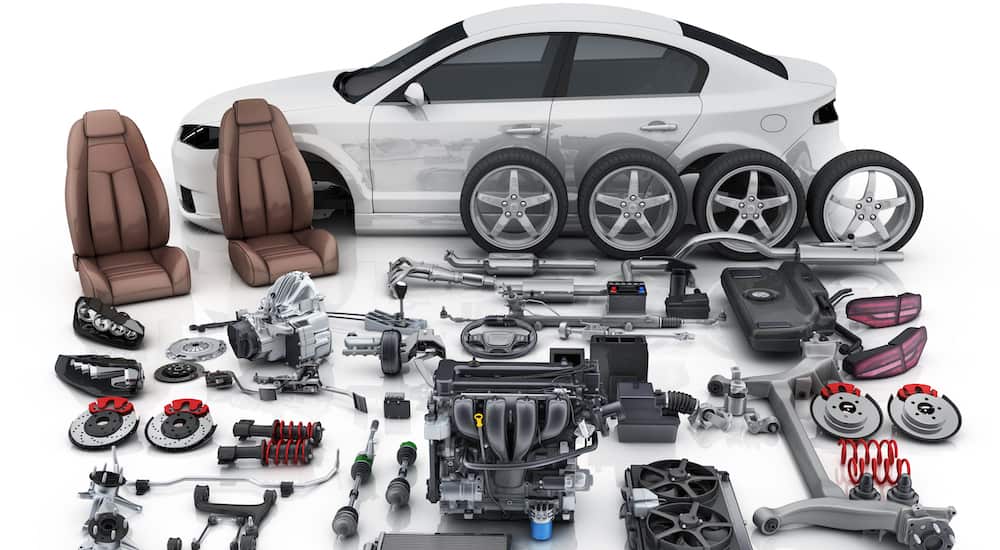 Though the plastic models from the 3D printers are only similar in appearance with the original car, it makes people wonder how far we are from printing usable cars at home. Concept cars are based on additive manufacturing, and it can also process real prototypes and concept cars. 3D printing for automotive parts creates lighter, faster and customizable cars, one layer at a time.
The best 3d printer for car parts is debatable, but for those in need of a large build area and a higher and more defined resolution of about 75micrometers, the Xtreme 3SP HD can be the perfect fit. It is perfect for prototype production to 3d printing car body panels and a lot more. The printer provides an excellent surface finish with detailing. 
Chapter 3:
3D printers' usage for car development
Although no one can buy a 3D printed car, it is not long before we can. Car parts 3D printer is the central point of the revolution of car designing. It is common knowledge that 3D printing technology has taken the automotive industry by storm. We see the technology gain a foothold throughout manufacturing.
3D printing technology creates all sorts of car parts such as 3D printing car dashboard, 3D printing car interior parts, etc. It has added tremendous value to the supply chains since the technology opens up a broad spectrum of production applications. It makes the production and car development workable, efficient and affordable. 
Companies can now bring additive manufacturing with the in-house support processes on the factory floor. New technological advancements in 3D printing have opened up new opportunities. We can now use varied, new, resilient materials for producing high precision, detailed, and functional 3D prints that can stand in place of its final parts and offer a new degree of customizable opportunities, but it is just the beginning. 
The role of 3D printers in creating otherwise impossible car parts
There were many instances where 3D printing was the only way to process 3D printing car parts. One such example is Bugatti's eight-piston monobloc brake caliper. Bugatti favours titanium metal to develop individual car components due to its high-performance characteristics. But processing the metal with any conventional methods deemed costly and otherwise problematic. 
But with the aid of 3D printing technology, not only could Bugatti produce the caliper at a scale they require, but they could increase its performance massively. 3D printing reduced the weight of the component, but all the while making it stiffer, and stronger than the alternative aluminium caliper. Hence, due to the technology, Bugatti's eight-piston monobloc brake caliper has become the world's largest functional titanium part created with 3D printed car design. 
3.1, Reshape the prototype process
The most frequent use for 3D printing in the automotive industry is the prototyping of vehicle parts. 3D printers are standard in prototyping due to their speedy production. Rapid prototyping has become almost synonymous with 3D printing, and the process has revolutionized the product development method.
With 3D printing, automotive designers can quickly design a physical part or assembly prototype, from specific 3D printing car interior parts and 3D printing car dashboard, or even a scale model of an entire car. Rapid prototyping can enable companies to turn ideas into hyper-realistic proofs of concept.
People can then advance the concept to highly accurate prototypes that closely resemble the ultimate finished product, and conclusively aid products through a series of validation stages toward mass production. In the automotive industry, rapid validation is a must. Pausing an automotive manufacturing process for some time can prove hugely costly. 
Previously prototyping used to be a tedious and time-consuming process, therefore was potentially expensive. With 3D printing, companies can produce a realistic representation of the prototypes within as short a time as a day.
Desktop 3D printers make it possible for engineers to design teams to bring the in-house technology to increase iteration cycles while shortening the distance between the idea and the final finished product. It strengthens their overall product development and workflow.
3.2, Create custom, complex and high-performance parts
The best way to go about manufacturing custom parts at a significantly reduced expense is with the help of a 3D printer. It brings about cast new capabilities in their potential and their product range to their customers.

For smaller companies who work mainly with customization, such as a custom car shop, 3D printing car parts is a boon. It provides the way of increasing the quality and creativity of their work while leaving plenty of room for experimentation with the customer's required designs, without worrying about the potential expenses and the time-consuming aspect of the creation that otherwise comes with customization automobiles.
For example, larger companies create new masterpieces with a combination of 3D technology and traditional knowledge. Volkswagen recreated its vintage Microbus by replacing its gas engine with a Type 20 concept and has various improvements thanks to 3D printing car parts. 
3.3, Production tools and manufacturing auxiliary tools
Companies use manufacturing techniques to make manufacturing and assembly processes straightforward and more reliable. It reduces cycling times and improves worker safety. Automotive companies and their part suppliers utilize thousands of custom parts, each of which engineers tailor and highly optimize for end-use. The result of this process is the multiplication of custom tools that adds a high cost and complexity to the final manufactured product.
Outsourcing the production of such custom parts into machining service providers who manufacture the parts from a concrete pile of plastic, metal, or other substances can delay production by many days, while the time stretch makes it harder to adapt to the changes on the factory floor.
3.4, Solve the problem of spare parts
It is a challenge for the automotive industry to create all possible spare parts. The demand for such parts is a challenge since it is impossible to predict what parts customers will want at a particular time. The unpredictable nature of spare parts creates a problem.
The value of such parts is uncertain due to their intermittent availability. Repairs become problematic in the absence of readily available spare parts. On the other hand, producing spare parts for future use requires a substantial sum of money and storage space.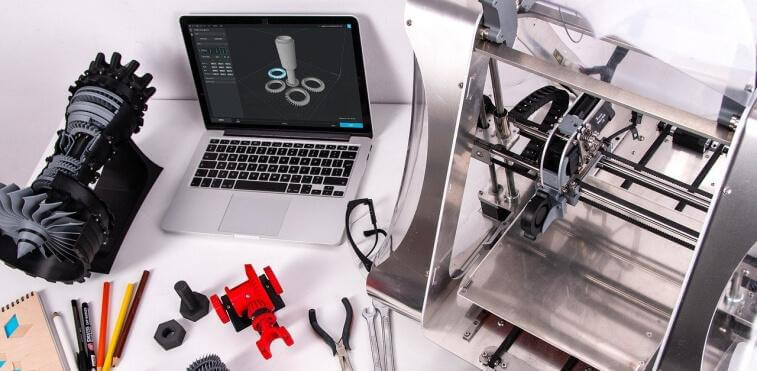 But, with the onset of 3D printing, the spare part problem is nothing but solved. It has brought about a positive impact on the aspect of the automotive industry's spare part problem. If the materials that match the traditional materials required in building the car parts are available, a 3D printer can create it in no time. Soon we will see the spurge of the 3D printer use for creating spare parts.
A part that no longer exists in the market can be remade with a 3D printer's aid based on reverse engineering. Older designs can hence easily have extended life span with the technology.
3.5, Simplify the manufacturing of common parts
Though 3D printing is not as affordable as we would like it to be, due to the limited number of them available, they will become more and more accessible and affordable with time. People will see a progressive transition towards producing usable automotive parts with a 3D printer in the near future.
The technology can improve efficiency at the general stage of manufacturing car parts. When 3D printing becomes even more popular, there will be new opportunities with additive manufacture benefits.
We might have an assembly of a few automotive parts that can combine into a single printed part. In this way, we can save assembly time and cost, even if the particular part is more expensive. The use of 3D technology also helps increase fuel efficiency by reducing the weight of each part or component.
Gradually, with plenty of trials, the breadth of materials in 3D printing is catching up with the requirement of the mechanical component of the automotive vehicle.
Though additive method can prove costly, due to the incorporation of moulding, diecasting, etc., it makes more sense from a productive and financial point of view to include 3D printing further into the general manufacture of all car parts. 3D printing is yet to take over the manufacturing industry entirely, but the future is slowly headed that way.
Chapter 4:
3D printers can be used in the car modification industry
Of recent, electricity driven cars and self-driving cars have become a significant part of our day-to-day lives. Features like cloud-to-car mapping or monitoring driver behavior are some features that are quite attractive to the drivers, riders, and even the insurance companies.
But to stay in competition with the other industries, automobile companies look for various other new opportunities. Here comes the importance of 3D printers, and the way it helps in modifying the car industry.
This importance towards car parts 3D printers is increasingly explored. From its extensive use in rapid prototyping to producing tools and end parts, the range of 3D printers in the automobile industry is enormous.
Car Modifications With 3D Printers
There are multiple organizations that provide custom car modification services for car enthusiasts. Most of these customizations are operated on sports cars such as patters of spoilers, side skirts, bumper, and much more. All this has become possible due to 3D printers.
For example Raise3D printer is one such 3D printer that has come to the aid of such customization companies. These printers are reliable and easy to handle.
Before the popularization of 3D printing, such intricate customization was a tedious task which required laborious, hand-made parts based on rough measurements.
Due to the use of 3D printer, the cost of such customization has reduced to half, with time for processing each car has reduced to manageable amounts.
With the 3D printers available for prototyping, time, labour, and cost, all have decreased. It has resulted in an overall increase in demand and made customization more readily accessible to customers.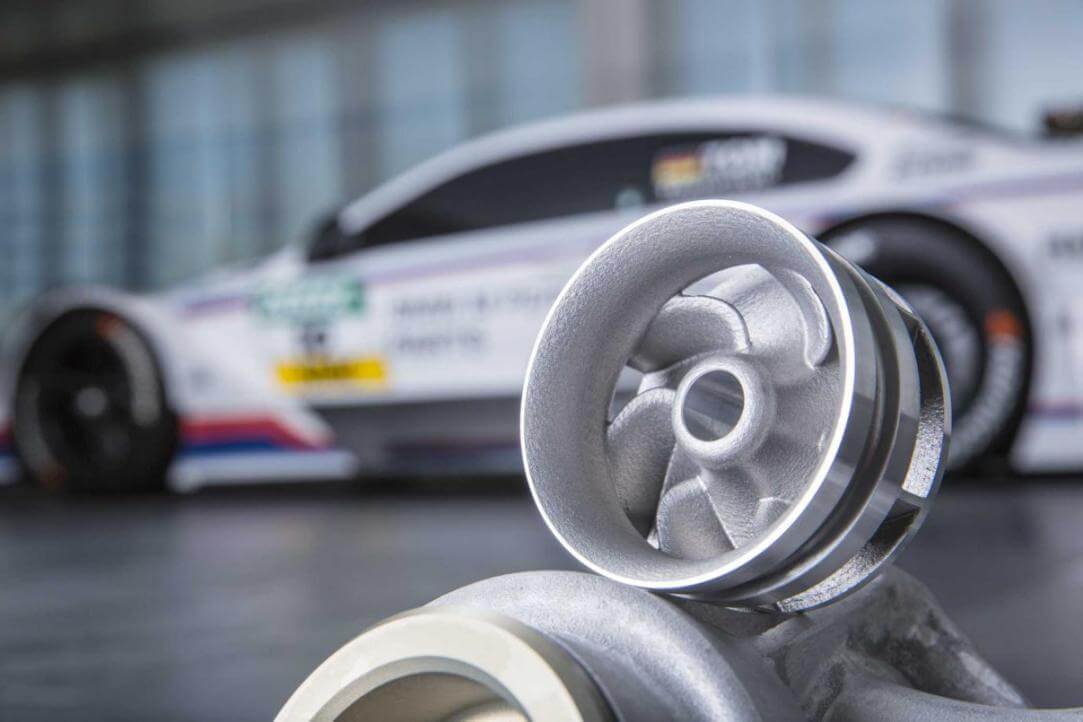 4.1, Customize the style of car modification parts
The popularity of 3D printers for styling car modification parts lies in their ability to take up any shape. 3D printed car accessories are widely available, and you can quickly put a shape to your imagination. While you imagine the part, design it, and have it ready in your mailbox is a desirable advantage. 3D printers can specifically make these parts, and any other way can rarely bring the real effect.
Down Town Kustoms owner Graeme Brewer had continuously used 3D printing car interior parts and their modifying. Although initially used for prototyping car parts, Graeme soon used it for developing interior pieces for cars.
3D printing car body parts is not a complex process for people who are interested in the matter. Any customization in the cart part begins with scanning or measuring the car. Engineers then collect the necessary specifications for the vehicle.
With the aid of the new and improved CAD software, they can electronically create the 3D printed car design as the customer specified. With the design, the engineers begin making the moulds keeping in mind about that specific car's structure and geometry to ensure the perfect fit.
For structures that are too large to print on a single 3D printer, engineers can make them with the help of a second printer. One such printer is the ideaMaker that can process the extra-large design and divide it into interlocking pieces.
The pieces are delegated. By delegating, workers can multiply the number of prints occurring simultaneously. Hence, with the help of multiple printers, the turnaround time can be reduced drastically.
Once all the individual parts of the parts have finished printing, workers can prep them for casting and assemble the moulding pieces for processing.
The moulds are printed into two different categories-
the male slot
the female slot
These slots will lock with the moulded halves. It is an accurate process that can eliminate any potential slipping during the casting process. People cast the parts with layers of resin and carbon fibre as demanded by the model. The resins and carbon fibre portions provide superior strength plus with the added benefit lightweight properties.
Four essential steps are required to be followed, which makes car parts' customization easy.
Scanning and measurement
Moulding
Casting
Assembly
4.1.1: Accurately measuring the parts required
For the best fit for your 3D printed car accessories, measuring the car parts' dimensions accurately is very important. Measuring the parts before modelling makes sure that the finished product has a perfect fit.
For accurately measuring, dimensional accuracy is quite an important feature. In this form of accuracy, quantitative values from machines or manufacturers and suppliers are expected to be accurate.
Warping or shrinkage is another part that is very important for accuracy. There are chances that some part will warp or shrink. This mainly happens during the stage of printing. It depends on the design.
There are many 3D printing technologies, where the amount of support used determines the accuracy of the printable surface or feature. The drawback to this is that this particular support affects the finish of the product.
Previously people created the models manually, and not digitally. Hence, they could only estimate the geometry of the vehicle and could not work without a prototype. Since 3D printing has stepped in, organizations can create the prototype with the help of 3D printers. The prototypes are made up of inexpensive materials such as wood carvings, or fiberglass moulds. The team then tests the prototype until the design matches with the indented design. Once they are sure that it is perfect, they prepare for casting and create a mould. Due to the 3D printers in the factories, coupled with the power of printing software, the process has become highly accurate and automatic. It is the perfect solution for accuracy and intricate designs for the final customized vehicles.
4.1.2: Modelling the parts with intricate details
The next step to customizing your car part is modelling it. Any dedicated CAD program, like Modo, is suitable for it. 3D printed car panels come out perfectly with this program. The levers that fit in the cars also come out perfectly in this program.
4.1.3: Finishing
Fine-tuning the finished design is equally important. In this step, you can polish the car parts, and 3D printing auto parts will become easier.
4.1.4: Installation of the parts
This is the ultimate step where you can install the finished product to your car.
4.2, Reduce individual customization costs
Using 3D printing car interior parts makes sure that any automobile manufacturer will incur fewer costs for producing low-volume parts. The added advantage for automakers is that they also incur reduced lead times.The primary reason for this is the advanced technology used in the 3D printers for the automobile industry. The technology eliminates any need to create individual aids or tools for every part.
The previous constraints that came in the way of customization were-
Requirement of high volume of skilled workers
High time consumption
Inaccurate modelling and casting
Prototyping based on assumptions
Due to 3D printing car parts, companies have to spend less on skilled workers. The retirement of a skilled person does not result in catastrophic changes in the overall work quality. Companies have become
With 3D printing, there is absolutely no need for specialized machines for each of the modifying car parts. A single 3D printer allows us to create more than various prototypes of the interior parts. This makes sure that a ton of products is created at a minimal cost.
Another added advantage of 3D printing car interior parts is that there is absolutely zero waste creation. With 3D printing, only those parts are used which are needed. If there is no waste, there is hardly any monetary loss or loss of time.
Within a few hours itself, there can be bulk production of car interior parts. Many variants of the customizable interior parts can be produced within a short time.
4.3, Test material reliability
Using 3D printing techniques to test the reliability of the products is a new procedure. For determining the efficiency of a project like building a car or developing a spare part, the reliability of the physical characteristics is paramount. This can be tested efficiently by 3D techniques.
4.3.1 Testing the compression and tension efficiently
The 3D measurement tools can be used to test the efficiency of quite a several features. The tests for tension and compression are done through MARK – 10. A 3D material is selected, and its quality control is tested. How the particular material will react to various types of forces are also tested by it.
4.3.2 Inspecting and analyzing
There exists a portable measurement tool for 3D products that test the analysis and inspection techniques. This 3D scanner is termed the Hexagon Romer Absolute. It can analyze data from various types of surfaces.
Chapter 5:
3d printer can be used to repair old vintage cars
3D printing has revolutionized the automobile world. It has given the industry the power to custom-craft the replacement parts and has gifted some more sophisticated materials. This technique has increased the number of possibilities for creation and has pushed the boundaries of production.
Owing much to the rapidly advancing technology of 3D printing, crafting new car parts has become a routine. Numerous companies have started to consider 3D printing complete re-creations of classic cars.
Various international powerhouse automobile brands like Audi or Ford extensively use 3D printing techniques for producing bulk car accessories or prototyping. Another domain that is in demand for 3D printing is a revival of classic and vintage cars.
Porsche has popularised the recreation of parts for various vintage cars by the method of 3D printing. The traditional way of producing these car accessories are quite costly. But the production of 3D printed car accessories come in relatively cheaper.
The concept of 3D printing can be hard to grasp since it is nothing like the machining we are used to. Here, rather than starting with a huge chunk of metal and removing parts of it until it reaches the size we desire, 3D printer works with thin layer of material at a time, stacking them along the way. It starts with nothing and builds up a stacked up material.
3D printing old car parts is many a time based on the CAD program. They can then convert the file into something the 3D printer can comprehend. The machine can take over fully and melt strands of PLA material to form a part of the overall design. People can easily modify and reprint the same thing with minimal investment or tooting cost.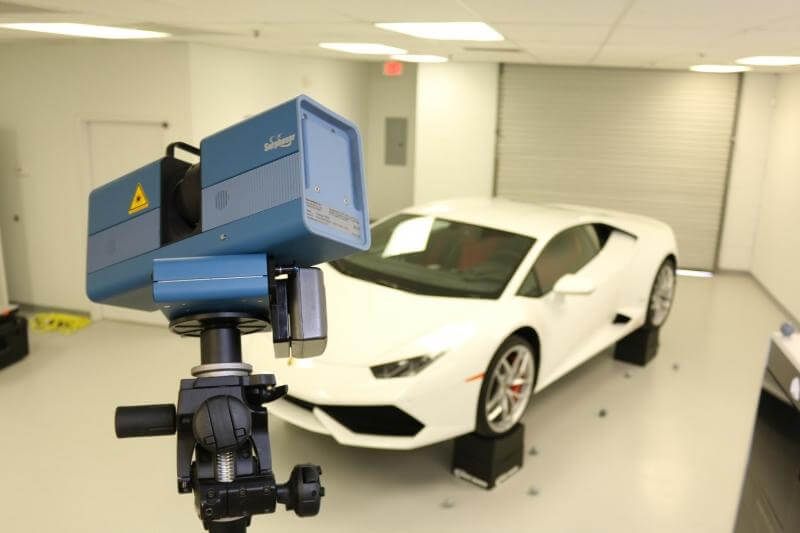 5.1, Who developed the concept
The concept of reviving classic cars came with Jay Leno in the year 2009. In a famous magazine, he wrote about how he used a 3D printer to substitute old parts in classic vehicles. This process is used to scan vintage cars for reference and use that critical information to produce identical replacements.
5.2, Restoring the vintage essence
The problem of maintenance of cars kicks in after a few years of owning it. This case is especially true if anyone owns a vintage car. The restorers always face the massive obstacle of finding spare parts for vehicles. Usually, the parts that are available in the market are mostly out of date.
In this scenario, it is the technique of 3D printing that comes to the rescue. The scanning equipment and 3D printers are the latest favourites of most car engineers, and they use modern hi-tech technology for the aid of cars.
A vintage car will have plenty of obsolete parts and prototyping 3D printer can scan, print and repeat. Many a times, there are no replacements of old parts available.
Some 3D printers that can create vintage car parts are NextEngine 3D scanner and Dimension 3D printer. They allow the user to make the form they need and create almost any part. The scanner can measure up to 50,000 points per second at a density of 160,000 dots per inch. Hence, it can scan it into a highly digital model.
The 3D printer can make the exact copy in plastic that they send out to create a mold. Some machine can also make a replacement part with cobalt-chrome with the aid of direct laser sintering process.
Inside the printer, the printer head continuously goes back and forth, putting on layer after layer of the material, making a 3D part. Once the printer has finished printing, they can remove the excess materials. The complexity of the part does not matter, but the size does. Any vintage car part can be created with these machines. They can be elaborately intricate and even scroll door handle. The 3D printer can print the part based on the design or can scan the original for printing.
If you have a car part that has worn away, or have lost a huge chunk of metal, you can fill in the missing part on the computer. You can also input the program into a Fadal CNC machine and it reads the dimensions and creates an exact copy.
They can produce from new engine parts to a 3D printed car bumper. Any kind of classic vehicle that has lost the chance of revival through the traditional methods can be restored through this process. This type of restoration is gaining massive popularity as it cuts down production costs and time.
5.3, 3D Scanners giving high-quality products
3D scanning car parts are the best reverse engineering option which has proven to be quite an effective option to repair old classic car parts. Tools like Artec Eva or Artec Studio have been used the most to revive old Ford cars.
The data for parts in the old Ford cars were collected. This data was used to put together a complete 3D model. Each time the car was scanned, a bulk quantity of data collected with the help of very powerful computers. After the data collection, the parts were printed out and ordered to perfection.
These parts were later fit into the classic Ford car. Not only was the quality of the end product of high quality, but it also cut down a lot of time and amount from the traditional method. The entire body, wooden frame, and the car interior of the Ford were revived in this method.
This process allowed for highly accurate digital measurements. The entire team that was assigned to this project had to disassemble the entire car to scan the parts, especially the parts that were hard to reach, individually. After this scanning procedure, the tools like Artec Eva or Space Spider were used to digitize the car parts with high ned details. This software could capture the parts individually with high resolution and helped to revive the old rust down parts.
5.4, Learning the entire process of restoring vintage cars
The process of restoring classic cars is detailed and intricate. These parts are perfect substitutes for those old cars for which no restorer can find spares.
5.4.1 Collecting information beforehand
This is the primary and most crucial step. The part that needs a replacement needs to be measured accurately so that the spare that is generated after scanning can fit in perfectly. Callipers are the best possible option for taking accurate measurements.
5.4.2 Preparing the parts for designing
The printing of these parts that are measured is the next step. This makes the design more accurate and concise.
5.4.3 Giving a proper finishing
After the measurements and designing, the final step before installation is finishing. Brushing the design is essential to remove any glitches and faults. After the finishing, the spare is ready to be installed in the automobile.
5.5, Why is the process of 3d printing classic car parts gaining popularity?
Apart from the most obvious advantage of reduced price, 3D printing also solves the problem of storage. Storing the tools and parts for an infinite period has been a problem for many automobile companies. Since their traditional way of production takes up a lot of time, they have to be produced beforehand. But, these vintage parts stay stored up in the factories in scenarios of low demand. The 3D printing process solves this very problem.
The process of 3d printing classic car parts is speedy. By this technique, both plastic as well as metal parts can be produced quickly for vintage cars. Porsche has an entire branch that is dedicated to keeping alive their vintage cars. It is named as Porsche Classic.
5.6, Who can use 3D printing for reviving vintage cars?
There are various hobbyists or even professionals who can use this technique for repairing vintage cars. A team of hobbyists, Eric Harrell, Chris Grey, and Michal O'Brien, are known for bringing back a Pro-Touring Camaro. This team of hobbyists devoted almost 200 hours to 3D printing to bring back this vintage beauty.
Apart from hobbyists, professional companies like Porsche and Audi also use 3D techniques to keep their vintage car lines alive and active. A French start-up company called GRYP has an entire career based on 3D printing automotive parts. They produce memorable vintage car parts and cater to almost all car companies.
Chapter 6:
How to choose a 3D printer for the automotive industry
3D printing is the future of car manufacturing. There are hundreds of models being created, and each company is looking to produce a wide variety of vehicles efficiently and affordably. When a car factory with one production line will be able to produce 3D printed car design with multiple different models is likely the future of the automotive industry. This will make production more efficient and flexible, with the use of robots and higher levels of digitization. 
3D printing engineering in the automotive industry has opened doors to newer, more robust designs and safer, more robust and lighter products and has finally reduced lead times and lead cost. 3D printers in the automotive industry are used for several purposes.
3D printers help in the communication by showcasing the overall form of a concept of the accurate models allowing design intention. 3D printers are also used for prototyping. Some of the printing technologies have engineering materials which allow the full testing and validation of the prototype performance. 3D printing automotive parts are suited for the prototyping need. 
3D printing has a significant impact on the competitive automotive industry. 3D printing technologies is the justification for the cost of highly complex one-off components, which gives a substantial improvement in the performance of the vehicle. Parts of specific vehicles can be tailored (lightweight suspension arms, customized) or driver (seat or helmet) with the help of 3D printers. 
3D printing technologies have allowed part consolidation and optimization of the topography of several customized automotive components. 3D printers and its advanced technologies have served as a blessing for the automotive industry. 
Let's first discuss what machines you will be needing and their purpose.
6.1, Which machines are needed and for what purpose
When choosing a 3D printer for the automotive industry, you will require two machines – which are a 3D printer and a 3D scanner. Let's learn about their use and talk in detail.
6.1.1, 3D printer
The core applications of a 3D printer are that it is used for design and concept of communication as highly detailed, smooth and accurate 3D printed scales models are often used in the automotive industry. 3D printers allow rapid prototyping in the pre-manufacturing stage. This is the most popular way of validating a prototype – from small printed detail to high full-scale detailed part.
3D printers are also used for making moulds and thermoforming tools, rapid manufacture of jigs, grips and fixtures. This allows automakers to produce tools and samples at a low cost and for eliminating future losses in production, which happens when investing in high-cost tooling. 3D printing automotive parts have allowed the lower consumption of material, and there is less wastage which is helpful for all stages of manufacturing.
6.1.2, 3D scanner (Optional)
3D scanning is a non-destructive and non-contact technology that is used to digitally capture the shape of the objects collecting data on its shape. The handheld 3D scanners offer high precision features, are easy to operate and are time-saving and labour effective. The use of 3D scanning during each stage of the product design, testing, development launch, and the aftercare significantly accelerates the workflow, helping avoid costly mistakes and enhance productivity.
The 3D scanner allows to you get the 3D digital design model when you scan the object using a 3D scanner. The scanner takes multiple snapshots of the object and then combines all the snapshots to complete the 3D model. The 3D scanner allows access to the hard-to-reach areas, which makes it more comfortable at the end of the process to see where the changes must be made.
6.2, How to choose the 3D printer
The automotive industry's production volumes are typically high – greater than 100,000 parts in a year – 3D printing technology has predominantly been used as a prototyping solution instead for the end part manufacturing.
When choosing a 3D printer, a number of options come into play – such as the size of the printer and the required print, speed at which it prints and the available materials. These have now become viable options for several medium-sized production runs, especially for higher-end automobile manufacturers, restricting production numbers to far fewer than the average.
There are a few areas in which 3D printers have been the most destructive and one of them is pre-production costs. It has affected the production of low-cost rapid tooling, which is used for injection moulding, jig and fixtures and thermoforming. In the automotive industry, this helps the tooling be quickly manufactured at a minimal cost and then finally used in producing low to medium runs of the part.
When choosing a 3D printer for car parts, you need to be researching extensively to learn about what you want and which printer suits your need. The printer you choose will be an asset for almost the next decade, and you need to be mindful when buying it.
When researching make sure you learn about the opinion of the people who have purchased and worked with the printer of your choice. Every printer has a maintenance process that should be followed in a proper manner. This will ensure the proper functioning of the printer over a longer time.
Factors that you must consider when choosing a 3D printer:
6.2.1, What is the size of the print
When selecting a 3D printer, keep in mind the most common size that is going to be printed, which usually is the 3D printed car accessories. Buying a large printer to accommodate all prize sizes is not going to be a viable option. By doing this, the cost of the printer increases and it may also hamper the quality of smaller delicate prints.
6.2.2, Choose a reliable brand
When buying a 3D printer, remember to choose from a reliable brand. Many top companies use 3D printers for the production of their accessories. Before you choose a brand for your printer, make sure you do the proper research and learn about the opinions of individuals who have previously purchased from the brand.
6.2.3, Safety configuration of the machine
Working with a 3D printer for manufacturing the 3D printed automotive parts, you should be extremely careful. When the printer is being used, it can get extremely hot, including the printing bed itself can get very hot and can be causing extremely bad and painful burns.
When working with heated plastics be extremely mindful of the heat. Sometimes some 3D printers lack any enclosure around their print area – take extra precaution with these printers. Along with this, many harmful fumes are released, which has extremely dangerous if inhaled in a large amount. Often bacteria gets collected on the porous surface of the 3D printers, which can be prevented by coating the object and limiting the printer's use.
6.2.4, Resolution requirements of the machine
The 3D printer that you choose will have a particular resolution. Resolution of the printer has a direct effect on the tiny features and finishing of your printed object. 3D printed car design needs to be done in a high-resolution printer. Choosing to buy a 3D printer with high resolution can be highly beneficial in the long run. A printer that has high resolution will easily be able to print tiniest of the features, and the layer height will be thinner – this will lead to a smooth surface finishing.
6.2.5, Consider whether the price of the machine is acceptable
The initial cost of buying a 3D printer often shocks a lot of people. However, after that, the cost is dramatically cut into ordering parts and getting the parts to your shop or factory. 3D printing can help cut costs for parts like new designs and mounting brackets that might not be on the production floor already. Make sure you compare the prices before you make any decision. Buying a high-end printer is definitely beneficial but make sure you buy the printer that is not too overpriced.
When manufacturing cars, it is often too expensive to order small batches of parts of the automobile. However, 3D printing car body parts can help cut down costs, allowing making low-volume customizations easier and helping in getting your parts to you faster for you to start work helping you get more cars off the line.
6.2.6, Consider the material compatibility
Material compatibility is an essential factor to consider when buying a 3D printer. If the 3D printed output that you want is supposed to be used for a specific purpose, then that part has to be 3D printed with the most appropriate technology. The raw materials being used must possess the properties needed to perform according to the designed specification.
6.2.7, Consider the service life of the machine
With proper maintenance and by choosing the right material, a 3D printer should last you for around 6 to 10 years. Also, sometimes the machine's life span can increase when proper methods are used for operating and maintaining it. Buying a 3D printer for car parts will be expensive. This is because you will not be able to develop and build those complex car parts without a high-end 3D printer. So nobody wants to spend that much money and not get good service. Make sure you do proper research before you decide to buy your 3D printer.
6.2.8, Consider the maintenance cost of the machine
Taking proper steps in order to ensure the maintenance of the 3D printer is essential. When the 3D printer is in use, you might need to replace the parts of the printer such as the heat break, liner bearing, tubing and more. Replacing such parts can increase the maintenance cost of the printer. Ensure that you use the printer in the right manner, and your machine has the right parts of running for a long time.
6.2.9, Considering the availability of the material
The content library for 3D printers is increasing day-by-day. However, the material properties are not entirely similar for every 3D printing technology. When a 3D printer is used to construct car parts and car accessories, a wide range of material is used for various parts. When choosing a 3D printer for car parts, one must be extremely careful in doing the proper research for what material they need and if it is compatible with their printer.
6.2.10, Consider the cost of the material
Material cost is another factor to keep in mind when buying a 3D printer. The cost of the material can subsequently increase the cost of the prototyping exercise. Every company will want to reduce the production price along with providing quality products to its customers. Proper research is needed about the pros and cons of a material of choice, and you should always choose the material that will be beneficial in the long run.
6.2.11, Consider buying the printer from reliable sellers
Buying a 3D printer for car parts will be an expensive purchase, and you must make this purchase from a well-known place for its quality products and services. Often many sellers sell fake branded products, to avoid that make sure to choose your seller wisely. You can always learn about the sellers from the people's review who have purchased from the seller and their website about their services.
Choose a seller who will give you a guarantee and warranty period, free servicing for a span of time, and replace damaged parts. Make sure you choose a 3D printer which gives you the actual value for money that you spend.
If you are looking for a standard and quality 3D printer that will provide you with quality service and cater to your needs, Dreambot3D is the solution. With our printer, you will be able to build the quality car parts – such as car body parts, car dashboard, car interior parts and other car accessories. We offer our customers quality service and provide the best 3D printer for car parts. Our printer's cost is comparatively lesser than our competitors, so you need not worry about that.
We a Dreambot3D take special care of our customers' needs, and our goal is to satisfy our customers' goals. We encourage our customers to leave any review on how we can better our services. 
Can 3D printers make car parts?
One of the first industry was the automotive industry to adopt 3D printing for automotive parts in the beginning. 3D printing car body parts are now popular use of this technology, and you can easily get high-quality products. 3D printers can print anything like car interior as well as exterior parts. Car body panels, bumpers, dashboards, seats, gearboxes, and other car components can easily be printed in 3D printing technology.
How much does a 3D printed car parts cost?
If we consider the total cost of 3D printing a car, then a 3D printed electric car would cost around $7500 (approximately). The cost depends on various factors like materials used, equipment and machinery used, the company making the product, other features in the product, and many more. It also depends on the technology used in 3D printing to print the car parts, the size of the parts, and their complexity.
What is FDM used for car parts?
FDM or fused deposition modeling is used in the following ways in 3D printing auto parts:
Concept Models:Using an FDM 3D printer, you can easily create models that look exactly like your original or finished product. Robust concept models can also be created using FDM 3D printers, which can be modified, i.e., the models can be drilled, sanded, or painted. Concept modeling also helps small companies to test out their ideas in a solid form without investing much, as the product produced is a miniature version of the final product. It also helps as a communication tool for better understanding between companies and clients because a 3D model works much better as a design than a design picture on the computer screen.
Architectural Models: 3D printing architectural models using FDM technology has helped architects, film, and prototypes, architectural and construction firms to visualise and present their ideas in reality as a 3D architectural model rather than a 2D or 3D design plan. This also helps save money for the investors as they can see what their final product is going to appear, and they can change the details or faults wherever necessary in the final product. A 3D printed architectural model can include every minute detail of the final product, including trees and vehicles. Architectural models help to save a lot of working hours and remove confusion.
Proof of Care (POC) 3D Printing: This printing aims to prove that the product is functional, and the idea or concept of the product is usable. It is different from a prototype as POC focuses on visualising the features. In contrast, a prototype has to prepare the product to become usable and perform its functions. This method helps secure a prototype from failing, or we can say an idea from failing.
Industrial Prototyping like Form and Fitment Testing, Dimensional Testing
How strong are 3D printed car parts?
3D printed car accessories like a 3D printed car bumper and 3D printed car panels are strong enough to withstand the external forces. The materials used in 3D printing automotive parts like PA6 MF or TPU 01 or nylon PA11 are very strong to handle the heat, vibrations, pressure, static loads and other forces.
What are the advantages of FDM?
Fused deposition modelling is preferred because of its ability to use engineering-grade thermoplastics in the automotive industry. Other than that, FDM also has these advantages mentioned below:
FDM is an economical form of technology.
The products formed from this process are very strong and durable.
FDM printers have low purchase and operating costs.
They offer faster concept to prototype lead time and are easy to use.
What is the difference between FFF and FDM?
FDM is fused deposition modelling whereas FFF stands for fused filament fabrication. One significant difference between FDM and FFF is that FDM is trademarked by Stratasys, Ltd, a 3D printer manufacturer and FFF is not trademarked. Other than this legal issue, another difference is in the structure of the 3D printers. The FDM 3D printers by Stratasys have their motors outside of the enclosed space, but in FFF 3D printers, heated beds are used to increase the chamber's surrounding temperature and increase the bed adhesion. This design of the FDM 3D printers is patent to the Stratasys.
Can I 3D print car parts?
Yes. You can get your 3D printed custom car parts if you have a 3D printer and printing material to suit your requirements. 3D printing car parts and rapid prototyping have become easily accessible to the car designers and engineers as well as to the common people. The FDM (fused deposition modelling) technology used is a boon to the designers for 3D printing because of its flexibility and durability.
What objects can be 3D printed?
In the automotive industry, 3D printing car interior parts, 3D printing car dashboard, 3D printing car body panels are possible. Other than that, outside of the automotive industry, 3D printing has become popular in every sector. With the progress in technology, new and better 3D printers and 3D printing materials are developing every day, letting us print almost everything in 3D. It is used in medical, industrial and sociocultural sectors due to its different benefits. The major use of 3D printing is in rapid prototyping. 3D printed cars and car parts, decorative pieces, tools and machines, pottery, clothes and shoes are now produced in mass numbers for the people to use. This technology is also used in the aviation industry. Not only cars but also trucks and aircraft use 3D printed parts in their bodies. 3D printing is used in manufacturing firearms as well as in the pharmaceutical sector, so we can tell how widely spread the use of 3D printing is. It is used in developing a range of medical items and also prosthetics, spares and repairs.
What is the best surface for 3D printing?
Here are some of the best surfaces for 3D printing any object:
PLA (Polylactic Acid) Filament
3D Gloop
ABS (Acrylonitrile Butadiene Styrene) Filament
ABS Juice (Mixture of ABS and acetone)
PET (polyethylene terephthalate) Filament
Blue Painter's Tape
BuildTak and Flexplate
Heated Glass Print Bed
Nylon Filament
PEI Films
How can 3D printing be used in manufacturing?
3D printing is a part of the manufacturing process. It is used in a 3D digital model to produce 3D printed objects. The 3D printer is used by adding the printing material like plastic, glass, metal and others to get a 3D printed object. This process is beneficial, too, as it is rapid and comes with a low production cost.
What is the largest 3D printer available?
The largest 3D printer in the world currently available and functioning is the Winsun 3D printer in China. It has a build size and capability of 87,120 cubic feet and 2466 cubic metres, respectively. This 3D printer uses recycled concrete from construction waste and can build furniture, houses and buildings up to five storeys.
What is a good size 3D printer?
For most of the products 3D printed, they can be printed separately and then combined if they are big enough and you are not able to be print them as a single piece. Considering this possibility, one can go for a moderate-sized 3D printer with a build area of 5 x 5 x 5 inches. It is a general size which is most commonly used, but you can choose the size of the 3D printer as per your workload and requirements.
How is 3D printing used in the automotive industry?
3d printing earlier was used in making moulds, and thermoforming tools and manufacturing of fixtures, grips, jigs, etc. 3d printing were used like this because this can save the manufacturer a lot of money. After all, if a fault arises, it is on the prototype rather than on the final product. But nowadays, 3D printing is directly used to produce final car parts. The products produced from FDM technology of 3d printing are much lighter and more durable, which makes the automobile lighter and long-lasting.
What is the strongest plastic for 3D printing car parts?
Polycarbonate is the strongest material for desktop 3D printing. ABS, PLA, PET, PETG are some of the best and strongest materials for a car parts 3D printer.
Which statement is true about 3D printing parts in the automotive industry?
Printing Solutions in the automotive industry offer benefits that can be quickly evaluated on account of performance characteristics. 3D printing serves as a for the expensive and long term CNC production. The plastic parts that have 3D printed are cheaper, and their production is shorter.
How long do 3D printed parts last?
3D printed parts can last for years under normal circumstances; however, they lose their strength with time. They can withstand heat, pressure, load for years without getting damaged. It also depends on the material used for printing, as different materials have different strengths and drawbacks.
What material is used for 3D printed car parts?
Polypropylene, a thermoplastic polymer is a material best for 3D printer for car parts. The properties that make polypropylene best for 3D printing automotive parts are:
High resistance to abrasion
High ability to absorb shocks
The right balance between two contrasting properties like rigidity and flexibility.
However, pure polypropylene is not UV and temperature resistant, so sometimes its alternatives are used. Carbon and glass fibre composites are most commonly used in 3D printing auto parts. Also, metal-based 3D printing automotive parts are now gaining popularity in the world of 3D printing.
Can you 3D print a car body?
Yes, you can. You can get a full car body 3D printed by getting a 3D printed car design. You can also get separate car parts 3D printed and combine them to get a 3D printed car. As exciting as it sounds, below are some of the names of big, luxury cars as well as sports and racing cars that use 3D printed car parts:
Mustang Shelby GT500 by Ford: Ford was one of the earliest companies to use the 3D printing technology in their cars.
Porsche Classic cars: Porsche uses 3D printing classic car partsto print the spare parts for their luxury cars.
Volkswagen Autoeuropa: This car used 3D printed jigs and fixtures for the assembly line of the car.
Strati by Local Motors: It is the world's first electric car to heavily use 3D printing technology. It was launched in 2014 and created a heavy impact of 3D printing in the automotive industry.
MINI by BMW: It is using 3D printed custom car parts and personalising them.
Volkswagen Motorsport's I.D. R Pikes Peak: It is a prototype of an electric racing car that used more than 2000 3D printed car accessories and parts.
Tesla Model Y: It used a 3D printed component inside the car.
The LSEV: An electric car costing around $7500 manufactured by Polymaker, a Chinese company and X Electric Vehicle (XEV), an Italian design company.
Formula 1 cars are using 3D printed F1 Gearbox.
The Blade by Divergent: It is the world's first 3D printed supercar.
The uBox by Toyota: Toyota does3D printing car interior parts for this car.
The Divo by Bugatti: This French company used many 3D printed parts and components in this supercar.
Shelby Cobra and Elvis's BMW 507: Both of these cars used the technology of 3D printing old car parts which helped them to restore these classic cars.
Olli by Local Motors: A minibus capable of carrying 12 people has also used 3D printing technology.