The dental 3D printer is used to produce drill guides, prototype dental restorations and so on. The dental 3D printer is used in the dental and dental education industries. It is safe, easy and cost effective for dental operations.
How 3D printers work for dental
The adoption of the dental 3D printer into dental practice enables an efficient workflow for dentists and dental technicians.
In dental 3D printing, prosthetics and orthodontics have to be printed with extreme precision to ensure a perfect fit.
Castable resin 3D printer gives accurate end results and the ability to print complex designs and unmatched flexibility.
With the LCD resin 3D printer you can create same day implants and a complete solution that delivers reliable proven results.
Dreambot3D LCD resin 3D printers allows the dental industry to achieve extreme accuracy, high throughput and a smooth surface finish.
Our 3D printers deliver tight-fitting crowns, incredibly strong dentures, orthodontic models.
3D printing teeth implants can be done in a dentist's office or a lab because the use of the printer is safe for the environment.
3D printing brings a new level of speed and ease to old procedures.
dental 3D printers for your Choice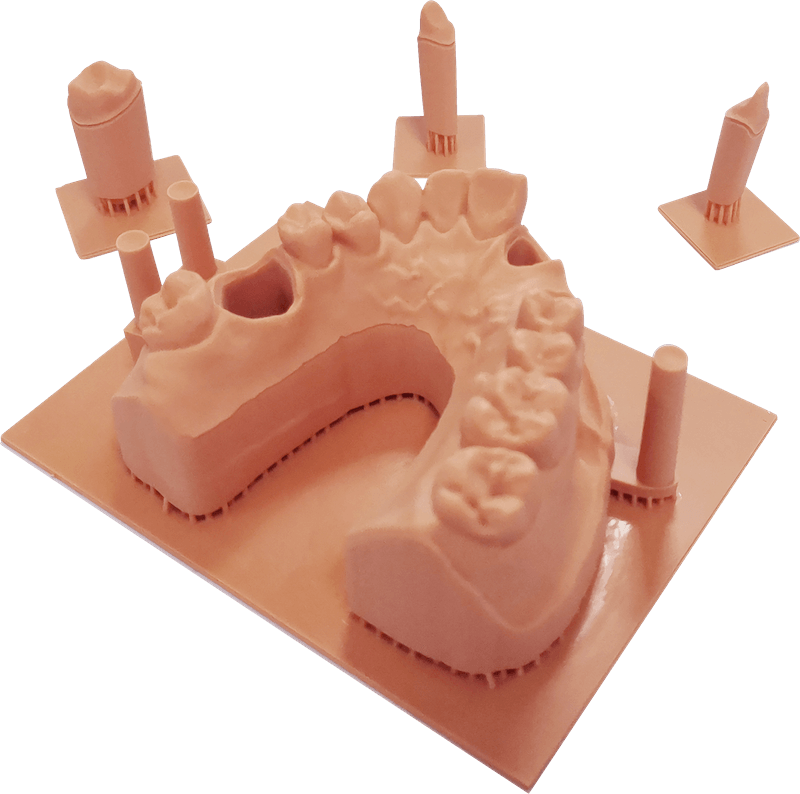 Don't know how to choose a model?
Are you confused about how to choose the correct model and type of 3d printer? We support 24/7.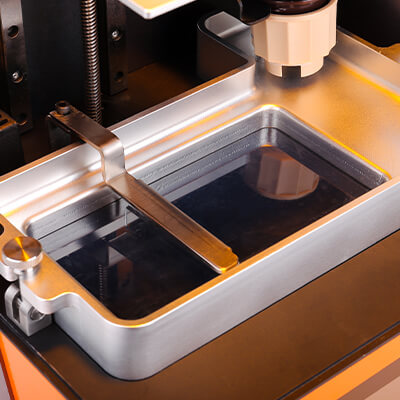 4K black-white industrial screen, 0.01-0.05mm layer thickness accuracy, more accurate printing of details.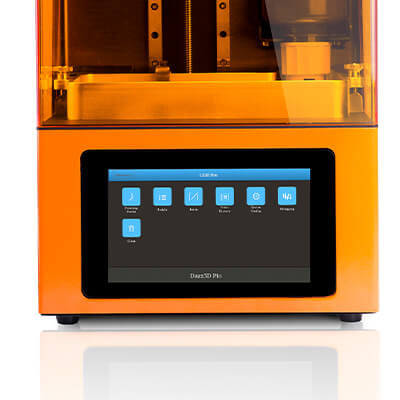 All 3d printers are equipped with PLC control system as standard, makes the operation more convenient, and reduces the error.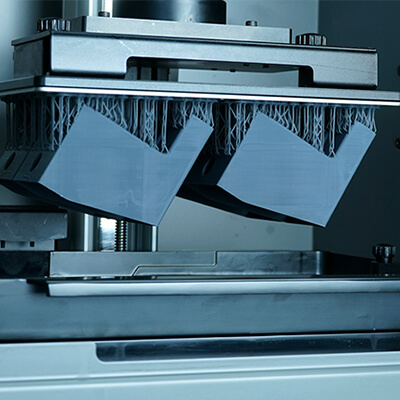 Large printing size, 20mm/h printing speed, complete your printing tasks faster.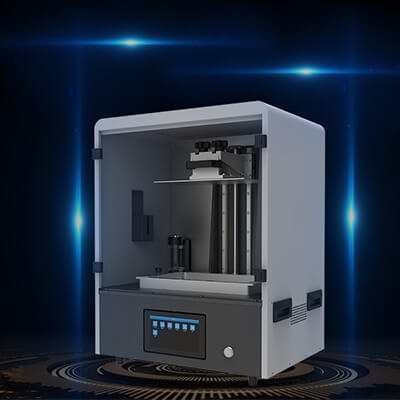 The all-metal one-piece shell reduces resonance, makes printing more stable and improves printing accuracy.
I work as a dental technician in my own lab. I did a lot of work using the 3D printer for dental labs. It is a perfect 3D printer for printing patient specific dental models accurately and precisely.
We simply use the Dental 3D printer for 3D printing teeth for training dental students. We print different parts of the teeth for effective teaching as the 3D printer prints accurate sample models.
The dental 3D printer helps me to print more efficient, predictable and ultimately successful dental implants. The printer can rapidly produce high-precision colour matched prosthetics for successful implants.
The models we print with the dental 3D printer helps the dentists to plan and prepare accurate interventions. I simply scan the model and the printer prints each model from different materials.
I am an amature in 3D printing technology, however since I started using the 3D printer from Dreambot3D, I'm getting better at this. The printing process is not difficult and it has helped with a lot of research.
The 3D printer lets us use 3D printed crowns and bridges for fillings to correct damaged or missing teeth for different people. This reduces the time and cost of making such a unique part.
How 3D printers are used in the dental making industry
Dental 3D printer buying guide
Once again, we have witnessed some impressive monumental shifts and changes in the industry of 3D printing. Most of the well-known vendors are now gradually improving their 3D printer to cater to different users in us usability and reliability here. Compared to a few years ago, now 3D printing has become more accessible and cost-effective to do.
Different industries are now utilizing these machines to offer better quality services to their customers, and one of the major initiatives is the global dental industries. The widespread proliferation of 3D printer for dental and CAM or CAD treatment planning software has contributed significantly to the improved patient experience.
In general, digital dentistry consists of these two innovations as they are used for labs and clinics. But after the recent development, the experts have argued that a dental 3d printer can enhance the paradigm and eliminate the loops by providing affordable fabrication.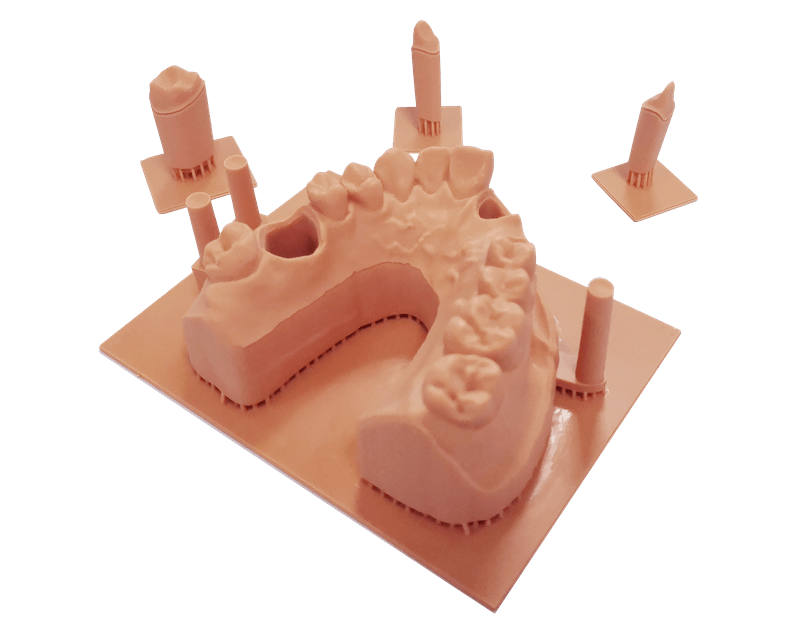 Why is dental 3D printing different?
A dental 3d printer utilizes pre-define and a specific use case. It is used to print different types of functional dental appliances, for example, monolithic dentures, surgical guides or nightguards This can be a significant difference between the way hospitals or clinics utilizes advanced 3D printers and the way they are utilized in other industries; FDA-approved products, dentists produce final, models or just prototypes. There are many different types of desktop 3D printers available in the market that can fabricate well-designed and good-looking parts.
Talking about the FDM 3D printers, these are designed for industrial use, and they are not suitable for producing highly detailed products. For this, you can use LCD 3D printing. However, how to choose the right one for you? Here, you will get to know all the things that will help you make the right decision.
Chapter 1:
The impact and changes of 3D printers on the dental making industry
3D printer for dental has contributed significantly to improved dentistry processes, a pool of talent from different backgrounds, breakthrough technologies, and some new investment sources. However, despite its widespread potential and massive applications, 3D printing is still considered an emerging technology in the dental sector.
For example, hospitals with a tooth 3d printer are limited to printing dental models, not real dentures. However, the models will play a crucial role in helping dentists plan and produce accurate interventions and printing dentures themselves. Besides, dentists from across the will require a printer that can print mental.
Introduced in 1981, 3D printing technology is now advancing rapidly with various types of printing techniques currently used to print using waxes, metals, resins, plastic and more. Even though the actual technology used to produce 3D parts may vary from one system to another, however, at their core, they all process a liquid or filaments by fusing, polymerizing or binding them into a precise shape.
3D printing is well-established in the dental industry with some early uses covering 3D printed wax for substructure casting. Now, dental 3D printing is used in both lab and clinical settings to complete different types of task covering, 3D printed surgical guides, orthodontic aligners, models, restorations and more.
This is an excellent fit for the dentistry industry as it lets you enjoy rapid productions of different customer parts. If compared, you will find that this is the most efficient process and consume much less material than the subtractive manufacturing, for example, CNC milling. With the workflow that can go from digital impression to digital design to the 3D printed finished part. This is entirely accurate than the alternate manufacturing that requires multiple steps. With this, you will enjoy a better ROI.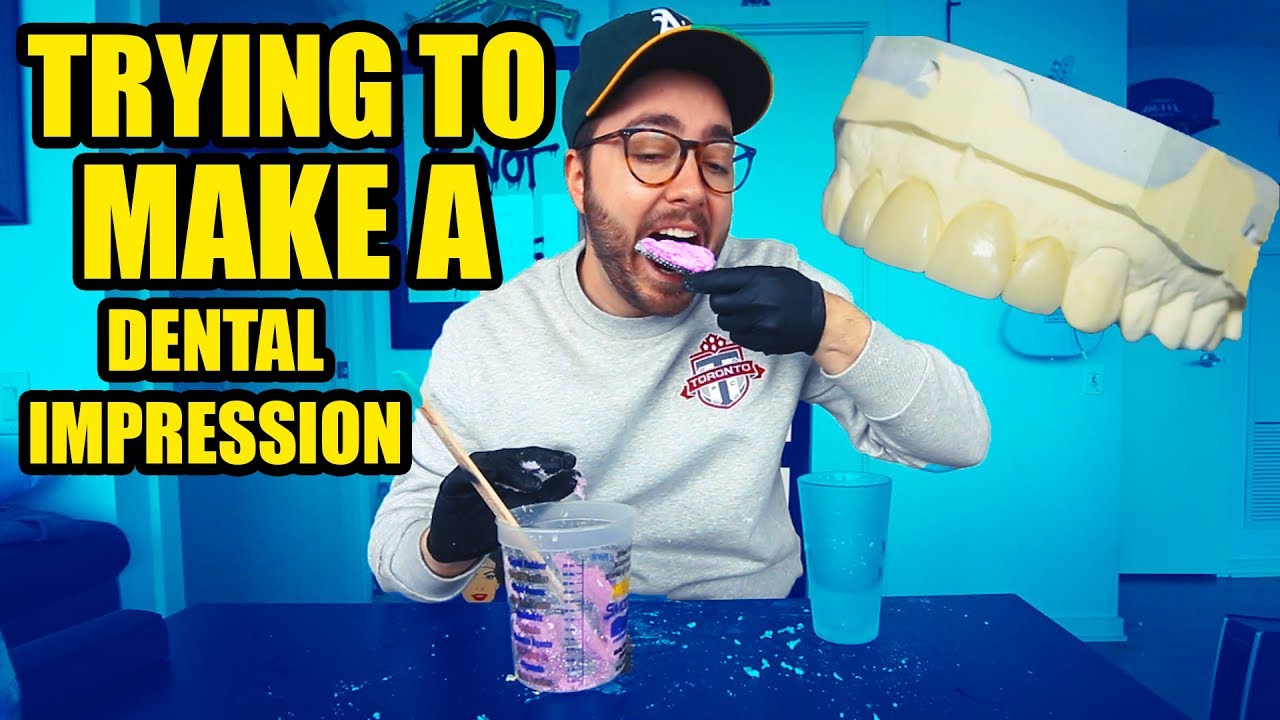 5 major ways 3D printing has dramatically redefined that the global dental industry
Low-cost mass customization
While the dental industry has always required an excellent customization level, this industry relied on manual methods to develop custom appliances. Today, modern technology has enabled mass customization in an automated and consistent, utilizing less labour and lower costs. Every person has a unique dentition, the pattern of arrangement and development of teeth.
Dental indications must, therefore, developed to match each patient's anatomy. Utilizing traditional workflows, the final quality of the product is dependent on the skills of the maker. Achieving a higher level of consistent and quality dental products with this can be very difficult and expensive.
With dental printer, you can produce highly accurate crown and bridge models, orthodontic models, castable and pressable restorations, surgical guides, retainers, aligners, biocompatible dental products, such as dentures and splints. 3D printing simplifies the workflow, reduce the space for errors and the amount of labour required.
Significantly disrupting orthodontics with clear aligners
Orthodontics is a unique dental speciality has been in use since the traditional metal wired braces. Removable aligners are offering an appealing alternative and are widely used to treat patients. Clear aligners can be developed without digital technologies. Their manufacturing process is a perfect combination of different digital workflows. The dentist first carefully captures the impression of the dentition with an advanced 3D intraoral scanner.
The 3D model provides a fundamental to correctly plan the progressive stages between the current and the patient's position. Every stage is 3D printed, and aligners are created using the 3D printed moulds. There are smaller format desktop 3D printers; you can create moulds for different types of thermoformed appliances. This has opened up a lot of opportunities.
Digital implantology
It has been proved that 3D printing can perfectly augment multiple complex procedures. CBCT, surgical guides and placement planning have turned out to be the new standards of care in the sector of implantology. With this, the accuracy of the implant during the surgery will be guaranteed. There will no risk about the failure of surgical complication. As an example, you can consider the surgical guides.
To construct a guide, the implantologists take the data of the patient's anatomy and dentition using a CBCT. Based on the collected data, the practitioners utilize CAD software to come up with a highly accurate treatment and use a dental 3d printer to produce dental guides that can be used in conducting surgery.
Earlier, milling or 3D printing through the industrial 3D printers were used to manufacturing surgical guides. However, due to the expensive and complex machinery involved, the guides were very costly. However, desktop and LCD 3D printing have brought down the cost by a fact of 10x.
Digital dentures
Instead of using labour-intensive and time-consuming process, dentists are now using 3D printing for 3d printing partial dentures. These are considered as the latest innovation in the field of digital dentistry. Denture manufacturing through 3D printing includes minimal step, resulting in a consistent workflow, and you will get a superior quality product.
On the other hand, digital dentures' design is also shareable, modifiable, shareable and can be crafted within a few hours. It has been predicted that digital dentures will supplement or replace the traditional method with 50 million dentures manufactured every year across the world.
A significant level of the patient experience
This is the industry where you should take good care of your patients by offering the best services. Diagnostic wax-ups, highly detailed replicas, and virtual treatment planning can help patients get the best care and easily understand their treatment, lowering the anxiety level. When there are consistent and precise treatments, the patients will be less likely to revisit you for the same problem.
In-house production
While industrial FDM 3D printers handle high-volume productions, desktop LCD 3D printers are now bringing on-demand manufacturing to the clinic. Where industrial 3D printing machines have a high upfront cost and maintenance requirements, LCD 3D printers come at a lower price and a smaller footprint.
1.1, What is the original production process of dental
A denture or false teeth are removable or fixed replacements for your teeth. When the tooth and the roots have been damaged badly, and you can't repair it, you will have to go for tooth replacement. While modern 3D printing has made the dental product process a lot easier, you might be wondering about the original process. Well, you will get to know about this. Before that, let's have a look at the history of this.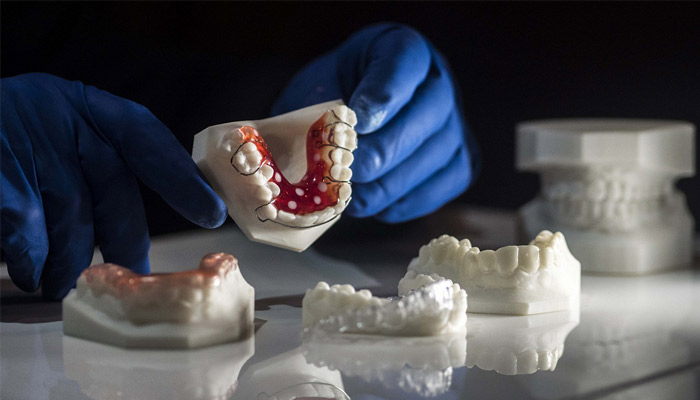 History of dental replacements
Different types of materials have been utilized to replace lost teeth. The earliest replacement materials were animal teeth and pieces. As per a report, two such false teeth were discovered wrapped in gold. Artificial teeth have been fashioned from different natural substances, for example, platinum, porcelain, ivory and more.
Theses crude prototypes were forged and carved using hand to mimic the appearance and the functionality of natural teeth. The early denture workmanship can be exemplified by famous wooden teeth of George Washington.
Modern technology has offered massive advances in terms of material used to make artificial teeth. Besides, there are improved techniques for fixing then in the mouth. Lightweight metal alloys and high-quality synthetic plastic resins have made tooth replacements quite durable, and they look really natural.
The original dental production process
For this you will need to arrange some supplies like alginate impression material, measuring containers, a mouth tray and water. After getting all these things, you need to mix alginate material with water to create a thick paste. Prefer to get quick set alginate to get the best result. After creating the thick paste, put the paste on the mouth tray.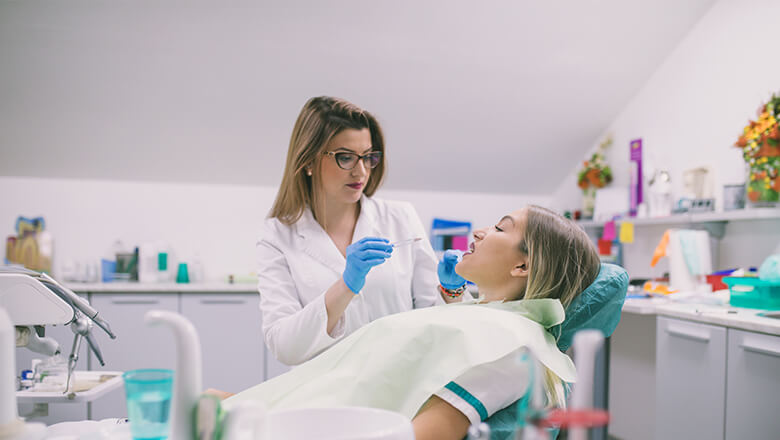 Now, put the tray in your mouth. While doing this, don't let your teeth to touch your tray. It is advisable to bite straight down into the alginate. Besides, make sure your upper lip is over the mouth tray so that you can get perfect gum coverage. After a few minutes, it will be hard and then remove the tray. You will get a perfectly nice impression right on the alginate solution.
Now, you need to create a thick paste using hydrocal white plaster or ultracal plaster. You can also use dental stones, and they are available in different types of colours. Hydrocal works great as the material is easy to repair. For example, if there are any air bubbles or something, you can easily chip it away. But with stone, you can find the repairing task quite challenging.
Take the powder into a glass and add water to create a pancake batter consistency. Once done, put it into the teeth mould and let the liquid paste to settle. It will become hard, and then you can remove it from the teeth mould. Now, using a Drywall Rasp, you can clean the extra edges to give it a perfect shape. That's it.
1.2, What processes can 3d printers replace?
If you look at the above-mentioned process, you will find it very time consuming and there is no guarantee that you will get an accurate result. Now, let's have a look at how 3d printing technology in dentistry is helping in this. First of all, it has highly simplified the process of dental production.
You don't have to put the mouth tray inside the mouth to get the teeth impression. Now, you can just 3D scan the teeth using any digital scanner, and you can get the complete digital impression of the teeth within a few minutes. Such devices are also called dental scanners. They capture a high-definition and detailed optical impression of the inaccessible and intricate spots located inside the oral cavity.
These machines are available in the lab an intraoral version and are quite easy to use. One of the major importance is the software you will use to capture data or image, suggest treatment, and create a perfect model for 3D printing. The most distinguishing features of a dental 3D scanner are the speed at which it scans, the quality and quantity of the data it obtains and the AI capability it shows in discarding or collecting data.
Once the data is obtained, you can edit the digital image data to attain the exact shape using the CAD software tool. One of the best software is TinkerCAD. If you are using 3D printing for the first time, this can be a good option. This particular software supports an intuitive block-building concept, and you can create models from a set of basic shapes. Besides, it also offers guides and tutorials to aid beginners. So, edit the image and process it for final 3D printing.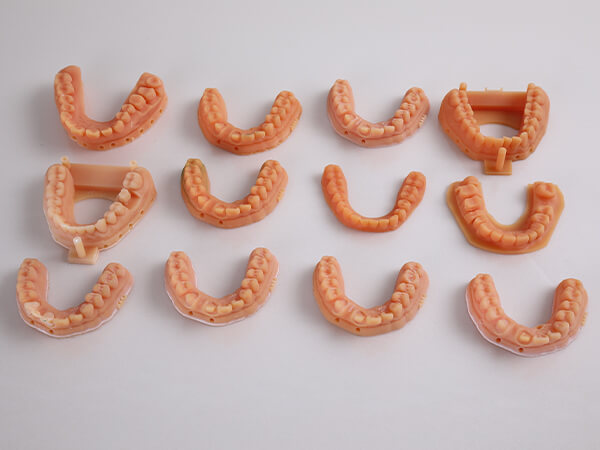 After that, the best 3d printer for dental models will start creating 3D printed teeth. Based on the types of printers you have; your printer will use different types of materials and process for 3D printing. For example, FDM, where hot melted material or filament, is utilized to create models' layer by layer. There is also SLS- Selective Laser Sintering, where UV light is used to cure the powder.
In some cases, stereolithography can be used, in which UV light is used for resin curing. The essential benefits of using 3D printing for dental product is the speed. The method takes a few hours to create a full batch. Besides, you can easily customize the model quite quickly. Compared to the traditional way, this method is accurate.
How have dentists used 3D printers?
Orthodontists, oral surgeons and dentists are utilizing 3D printing in the patient care and research and testing. Utilizing this, highly exact replicas can be developed of virtually any part of the human body, covering teeth and jaw. When you have the precise replicas, corrective appliances and dental implants can be designed to work, look and fit better.
On the other hand, the material used to create 3D printed objects is also advancing and enhancing quickly. While most of the objects are printed using plastics, you can now find various composited materials. 3D printing is commonly used in the development of dental implants and crowns. The process yields a final product that is indistinguishable from your natural teeth.
1.3, What's the changes after the intervention of 3d printers
It is already worth around USD 780 million in the global dental market; 3D printing industry is moving forwards to cross USD 1000 million in this sector. The prevalence of the technology in the market is projected to grow, but better 3D printing material and 3D printers are already being produced specifically for the dentists.
Experts have predicted that the sale of 3D printing systems to dental labs will double. On the other hand, it is also predicted that 3D printing is projected to offer more than 60 per cent of the dental production requirements by the end of 2025.
Capabilities of 3D printing in the dental industry
You might be wondering how exactly do the dentists utilize 3D printing? Here are a few essential applications that you can consider.
Creating orthodontic model
As discussed above, pre-3D printer technology includes a process where the patient bites down on gooey to harden into a mould. This becomes a model for designing a treatment for Invisalign or braces. However, this is not the process of 3D printing. With the latest technology, a dentist can scant the teeth structure, design a perfect orthodontic appliance and 3D print the model in-house.
Repair and replace a damaged tooth
The dentists properly scan the mouth of the patients using a small digital wand. This develops an accurate 3D image of the gums and teeth, and that is saved as a digital file. The CAD software tool lets the dentists digitally frame the tooth repair and print the object on a 3D printer. The entire process will take only a few hours.
Create surgical tools
Not only can an orthodontic 3d printer handle the dental implants themselves, but the machine can also 3D print different types and sizes of drill guides required to complete specific dental procedures.
Produce caps, bridges, dentures and more
The same process outlined above can be utilized to 3D print different types of dental implants. The only measure difference will be the precise material utilized in the printing process.
Thanks to the innovative time saving, a clear aligner can be quickly and easily developed according to the patient's teeth structure. Orthodontic treatment can now be completed within a short period of time using applying new appliance on the teeth step by step within just 4 to 8 days.
The global 3D printing market in the field of dental is estimated at USD 3.5 billion. However, it is growing much faster compared to the oral scanner market. The total 3D printing market value is projected to reach USD 26.1 billion by the end of 2022. It has been proved that the medical and dental fields will be a high value-added market in the 3D printing industry.
The clear aligner can be a new market
Compared to the implant market, the transparent aligner market is quite significant. China is considered the second-largest aligner market. The total market is valued at KRW 40 trillion. The well-known company "Invisalign" witnessed KRW 1.6 trillion of total sales for its clear aligners in 2017. The yearly average growth rate was recorded at 8.0 per cent, and its sales growth for the year 2021 is projected to be around USD 4.71 billion.
Why dentists prefer to used 3D-printed dental products?
The super flexibility of 3D printing system makes it a lot easier to create customized products, such as dental prosthetics, retainers, guards and more. Some other significant benefits of using 3D printed dental products are:
Lower waste
3D printing eliminates the requirement for a thermoforming mould and the considerable material lost during the grinding and buffing steps. The material waste level can be lowered by around 80 per cent through 3d printing dental implants.
Customization without thermoforming and trimming
Now, there is no need to create a trimming and thermoforming mould. Instead, you can use a mouth scanner to create a digital model and print the final product directly.
Quick turnaround
By eliminating the trimming and thermoforming steps, the final dental 3D object can be quickly 3D printed and shipped without investing many efforts.
Competitive materials
All most all the 3D printed products are competitive with products made of traditional materials. For example, epoxies, thermoformed acrylics, and more in terms of colour, value, strength and durability.
Reducing material waste, improving material and eliminating post-processing steps into a higher quality 3D object that are cost-competitive.
Chapter 2:
Research on the advantages of 3D printers compared to traditional processes
3D printing or additive manufacturing has been a significant focus in the last few years in the global manufacturing industry. While the term of 3D printing has been around the corner for a while, the latest advancements in the technology have lowered the cost of the 3D printing and made it feasible for all. Besides, it can save energy by around 40 to 60 per cent. Furthermore, you can produce 3D objects using lesser material. Let's discuss this with some examples.
Prototype production
One of the significant advantages of 3D printing over traditional manufacturing is that it doesn't require any special new tooling to create parts. While creating a prototype, you will save a lot of time and money along with efforts that will normally be spent on tooling. If your prototype reveals that the existing design requires some reworks, a new design can be created faster into the 3D printer. However, in case of a traditional assembly line, you will have to spend a lot of time.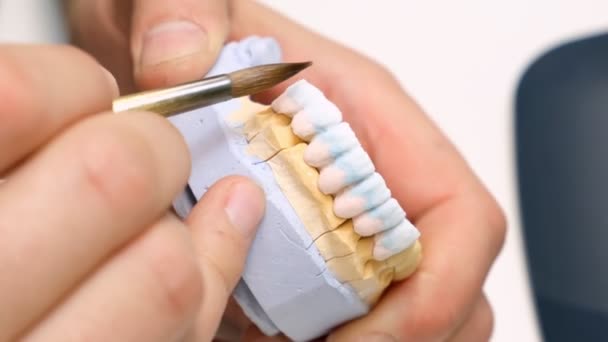 Waste prevention
It has been proved that 3D printing is resource-efficient. With the best dental 3d printer, the only material that is consumed is what the extruder processes. Compared to the injection-moulds, it requires extra materials to appropriately fill the mould. Perforated sheet metal assembly method will utilize a complete metal sheet and cut holes into the sheet, creating scraps. Even though you can recycle scraps, it will add more time and labour.
Large scale production
When you are done with the prototyping phase and is about to begin producing parts as early as possible, the 3D printing process may prove to be less efficient as well as reliable. Even though 3D printers may not need to be reconfigured in between the production process, the speed at which a printer operates, the object pales compared to the traditional assembly line. There is no doubt that 3D printing has a shorted lead time, but it cannot compete with the conventional manufacturing method's mass production.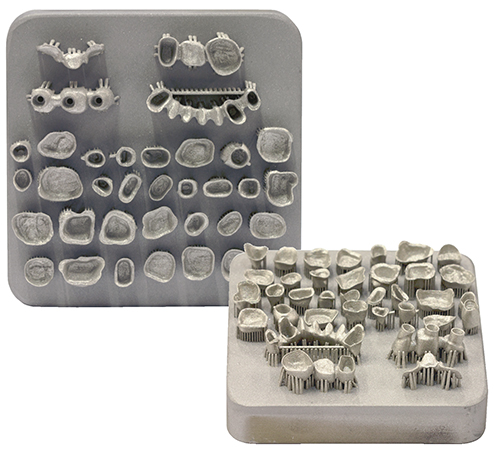 Availability of materials
Thanks to the recent advancement in the 3D printing industry, for example, Selective Laser Sintering, 3D printing can be utilized to create objects out of different metals, resins, filaments or polymers. However, the use of particular materials needs different types of 3D printers that are developed to process such materials. Besides, some types of metal alloys still won't work with a 3D printer. But you will still have a huge option of printing materials. This is a reason that makes 3D printing quite popular among different industries.
3D printers will be the future of the manufacturing business
It is a fact that jobs can be easily cut due to 3D printers. 3D printers are not just productive but also are environmentally friendly. When you develop something, you usually have some scraps. A 3D printer, as an intelligent machine, knows that mould and will create only what is required. That makes a denture 3d printer more earth-friendly and economical.
Besides, most of the advanced 3D printers have the capabilities of becoming a tremendous productive manufacturing tool. With a commercial 3D printer's purchase, you can enjoy higher production volumes and can easily larger product with a few simple clicks. Now, let's know more about this by exploring different types of printers currently playing a significant role in the 3D industry.
2.1, Introduction to the working principle and development history of 3D printers
If you are new to the 3D printing industry, you may get confused between different types of printers available in the market. This can make your dental 3d printer buying guide little challenging. However, to help you out with this, we have provided a detailed explanation of three major types of 3D printers, i.e., LCD, DLP and SLA 3D printer. Have a look.
2.1.1, SLA 3d printer
SLA, also known as stereolithography, is one of the most popular and widely used techniques in 3D manufacturing. The printer works by utilizing a powerful laser to harden the liquid form of resin stored in a reservoir or resin tank to produce 3D objects. In simple words, SLA printers convert photosynthesis liquid into the solid 3D model in a layer-by-layer process using photopolymerization.
The printers use light reactive materials named resin. When the resin is exposed to a particular wavelength of light, short molecular chains will start to combine together. This process will polymerize oligomers and monomers into flexible geometries and solidified rigid object.
It has been seen that SLA 3D printed parts come with the highest level of resolutions along with accuracy, the smoothest surface and the sharpest details. However, the crucial benefit of the SLA printers lies in its versatility. Many resin manufacturers have developed different types of SLA resins with various optical, thermal properties and mechanical properties to match industrial thermoplastic, engineering, and standard.

Understanding the workflow of SLA 3D printing
Design
Use any type of CAD software, or you can use a 3D scanner to design the model. After that, the design data is exported in a 3D printable file format. The most common configurations are OBJ and STL. Each SLA printer comes with software that specifies printing settings and slices the model into layers for 3D printing. Once done, the software will send the instructions to the 3D printer.
Print
After the confirmation of the correct setup, the printing process will be initiated. Once started, the printer can run for hours unattended until the printing task is complete. If the printer has a cartridge system, the material will automatically get refilled by the printer.
Post-processing
Once you are done with printing, the 3D printed part will be sent for post-processing. In the case of SLA printing, IPA- Isopropyl Alcohol is used to remove the unsecured resin from the surface. Then the supports from the parts will be removed. In some case, the sanding process can be used to get a smooth surface.
Some significant reasons to go for SLA 3D printing
Designers, manufacturers, engineers and more industries are now using SLA printing for its smooth surface finish, delicate features, higher accuracy, and ultimate part precision. Besides, it's mechanical attributes also play a significant role, like material versatility, water tightness and isotropy.
Isotropy
As SLA 3D printers develop parts by layering process, completed parts can have some variations in strength based on the part's orientation relative to the printing process, with various properties in X, Y, and Z axes.
Different from others, SLA resin 3D printers craft highly isotropic parts. Getting part isotropy will depend on various factors that can be controlled by integrating the material chemistry with the printing process. During the process, resin develops covalent bonds, however, but layer to layer. As the parts are isotropic, the part made by SLA 3D printing, such as jigs, can withstand the different levels of forces during high-level manufacturing operations.
Watertightness
SLA 3D printed models or parts are continuous. No matter the shape or design of the object, you will get a perfect water tightness feature. This is very important for manufacturing and engineering applications where fluid or airflow is predictable and should be controlled. That's why this printing is quite beneficial for biomedical research, automotive uses, kitchen appliances, and more.
A higher level of accuracy and precision
When it comes to developing an exact and accurate product, you can always go for SLA 3D printing. As the SLA process utilizes a light source instead of heat, the printing process is carried out at close to room temperature. Due to this, printed parts will not suffer from the contraction artefacts and thermal expansion.
Applications of SLA 3D printing
SLA 3D printing has accelerated innovation and supports businesses across different types of industries, like dentistry, healthcare, manufacturing, engineering, entertainment, audiology, education, jewellery, and more.
Some common types of SLA materials
In general, SLA materials come in the form of liquid resin. SLA materials are quite brittle than the product produced with SLS or FDM process. Some of the popular SLA materials are:
Standard resin
This produces a smooth surface finish but relatively brittle.
Clear resin
This is a completely transparent material, and for a very clear finish, it requires perfect post-processing.
Castable resin
This type of resin is perfect for developing mould patterns. Besides, after burnout of the material, you will get a low ash percentage.
Durable or tough resin
This resin produces PP or ABS-like mechanical properties. However, it has a lower level of thermal resistance.
Dental resin
The material is highly biocompatible and shows a higher level of resistant to abrasion. However, this can be a costly resin.
High-temperature resin
As the name suggests, this can easily withstand a higher level of temperature. It is perfect for thermoforming tooling and injection moulding.
Flexible resin
It comes with rubber-like properties.
2.1.2, DLP 3d printer
Speaking about DLP or Digital Light Processing, it is one type of vat polymerization. This type of 3D printing technology uses a photopolymer resin that can cure under a light source. A DLP 3D printer's significant component is DMD, vat, digital light projector screen, build platform, and the elevator.
Objects that are 3D printed through the DLP will have less visible layers than other 3D printing processes, such as FFF or FDM. Besides, different from SLA, DLP printing offers faster 3D model build speed as a single layer is created simultaneously in one singular digital image. Like SLA, DLP can be sued to produce high-quality artwork, develop moulds for investment casting, and manufacture non-functional prototypes.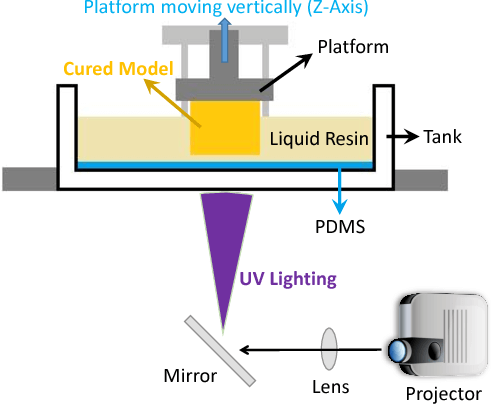 How does a DLP 3D printer work?
Like the SLA printer, DLP printers also have resin tank and create the objects layer by layer. The only difference that you will get is the source of light. All the DLP 3D printers utilize a Digital Projector Screen to flash the image of a layer throughout the platform, curing the required points simultaneously.
The light is reflected on the DMD- Digital Micromirror Device. This is one type of dynamic mask that comes with multiple microscopic-sized mirrors. These tiny mirrors direct the lights to the vat for curing and creating layers.
DLP 3D prints are beyond and above what is capable of FDM 3D printers. In fact, too complex geometries can now be printed.
2.1.3, LCD 3d printer
This is the latest 3D printing technology to introduce in the 3D printing industry and has witnessed massive growth in recent years. Earlier, these printers were developed as the evolution of DLP 3D printing, but today it has replaced it.
The operation of LCD 3D printer is quite similar to DLP 3D printing; however, instead of processing light source utilizing a DMD, it uses an LCD device where every pixel act as a window that can block and lets the light through based on the requirements.
Understanding the printing process
The printing process will start with the design of the 3D model. You can also obtain the invention using any 3D scanner. After getting the design, it is correctly sliced through using any modelling program or CAD software tools. The modelling program slices the design into various thin layers.
You need to fill the resin tank with the required printing materials, like PLA, TPU, resins, and more. Dreambot3D's ME-345 and ME -215 printers come with an automatic feeding system.
Once done, a light source will draw the object's pattern on the resin, making them hard by creating a layer. Here the object is created layer by layer. After the completion, the thing is removed from the build platform, and post-processing is carried out.
The most significant advantages that you will enjoy with LCD 3D printers are low cost and high printing speed. Besides, it can beat DLP technology in two meaningful ways. It follows a perpendicular projection that eliminates distortion from the oblique projection offered by the DLP 3D printers.
The second is, LCD 3D printers block or let the light pass through and can also effectively filter the light by varying the light intensity autonomously at every pixel. This makes the3D printers utilize anti-aliasing processes that can effectively lower the staircase effect and get a super smooth surface.
2.1.4, Comparison: Why LCD 3D printer is currently the most cost-effective
LCD 3D printers can print highly accurate 3D objects within a few hours and perform much faster than the machined or moulded parts. The manufacturers who enjoy time-saving benefits and design process can also be relatively faster by making CAD or STL files.
Another thing that makes the LCD 3D printers cost-effective is their ability to lower waste. The parts will only require the materials required for that particular part itself with almost no wastage. This process will save on resources and reduce material costs.
3D printing is considered a single step manufacturing process. It saves both time and cost related to using multiple machines for product manufacturing. You can set up the 3D printer and let it running, without appointing an operator to manage the device.
The rapid advancement in technology has made the LCD 3D printers and their parts budget-friendly. So, it has created a robust place in different industries.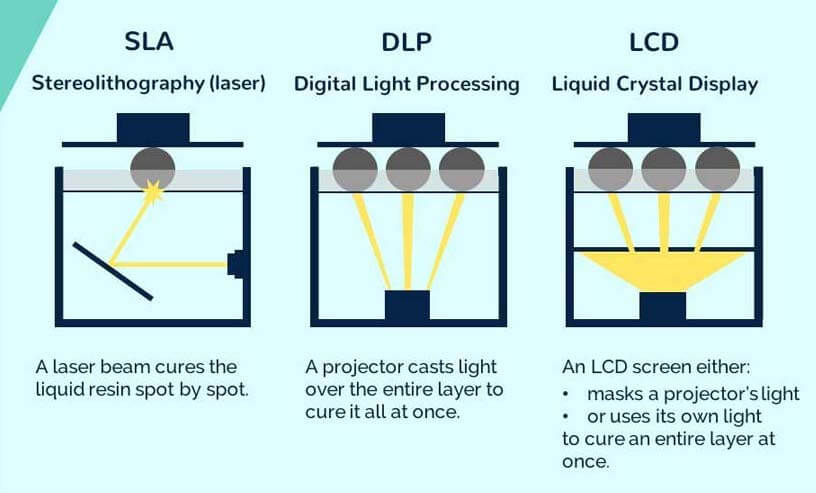 2.2, Analysis of the advantages of using 3D printing to the dental making industry
To understand this, let's look at some significant applications of 3D printing in the global dental industry.
Models
Different types of dentistry models can now be 3D printed within a few hours. These models can be used for education or training purposes by students and professors in medical colleges and hospitals.
Antimicrobial teeth
Many dentists are now trying to create antimicrobial teeth as an ideal replacement for fillings. Here, the entire tooth set can be 3D printed and will replace the same tooth. The only difference here will be; the tooth will be resistant to decay.
Surgical guides
Taking an accurate scan of the mouth, surgical guide models are created. The principles can have drilling equipment, and the dentist can drill inside the teeth with the maximum level of accuracy.
Bridges and crowns
Some of the most common orthodontic 3D printed pieces are bridges and crowns. These parts are used to correct missing as well as the damaged tooth. These are created using different types of metal alloys and ceramic material.
Medical devices and tools
Different types of surgical instruments along with devices can now be 3D printed. As long as you have the 3D models, you can 3D print machines and tools locally, saving money and time.
Compared to the traditional plaster model, a 3D printed dental model is a relatively stable, precise, and durable alternative. Besides, compared to a milled model, 3D objects have a complex structure with a better detail level. With 3D printing technology, you can see how the tooth will look after the prosthesis is placed or restored.
Another best thing is that it offers longevity. All most all the 3D printed dental parts are quite precise than the parts made manually. They come with residual structural defects along with a few imperfections that affect the lifespan.
On the other hand, 3D printing offers a better accuracy level, and there will be a smaller number of inherent defects. It can be said that 3D printing is here to provide a lot of opportunities in digital dentistry and 3d printing. Besides, you can also use this for more things that you don't even think of yet. For example, for operation planning and guided elevation. So, get the best dental 3d printer now and get ready to take your dental business to a new height.
Chapter 3:
How to choose a machine and assemble your dental 3D printing line
After knowing all these things about an LCD dental 3d printer, you might have started planning to buy a 3D printer. But how to choose the best one for you? Feeling confused? Here is some information that can help you with this. Have a look.
3.1, Which machines are needed, and for what purpose?
3.1.1, 3d scanner
Whether you are a dentist looking for a perfect dental tool or an industrial engineer looking for a powerful reverse-engineering solution, 3D scanning can help you a lot. 3D scanning is a modern technology that is used to create high-precision 3D models of different real-world objects. The 3D scanner takes different snapshots of an object.
After that, the shots are fused carefully into a 3D model. Speaking about the dental 3D scanner, it lets the dentists see the patients' dental anatomy from different angles. It can capture images analyzing which you can have a better view of the mouth bone structure, and you will be able to accurately measure the anatomical structure.
Besides, a 3D scan can also support multiple types of treatment and diagnosis planning, making the scanner quite flexible. Furthermore, a 3D scanner can increase treatment success chances, allow dentists to better extract, place implants, and carry out root evaluations. So, this plays a crucial role in making 3d printed dental models. While buying the best 3d printer for dental models, you will have to buy an excellent 3D printer.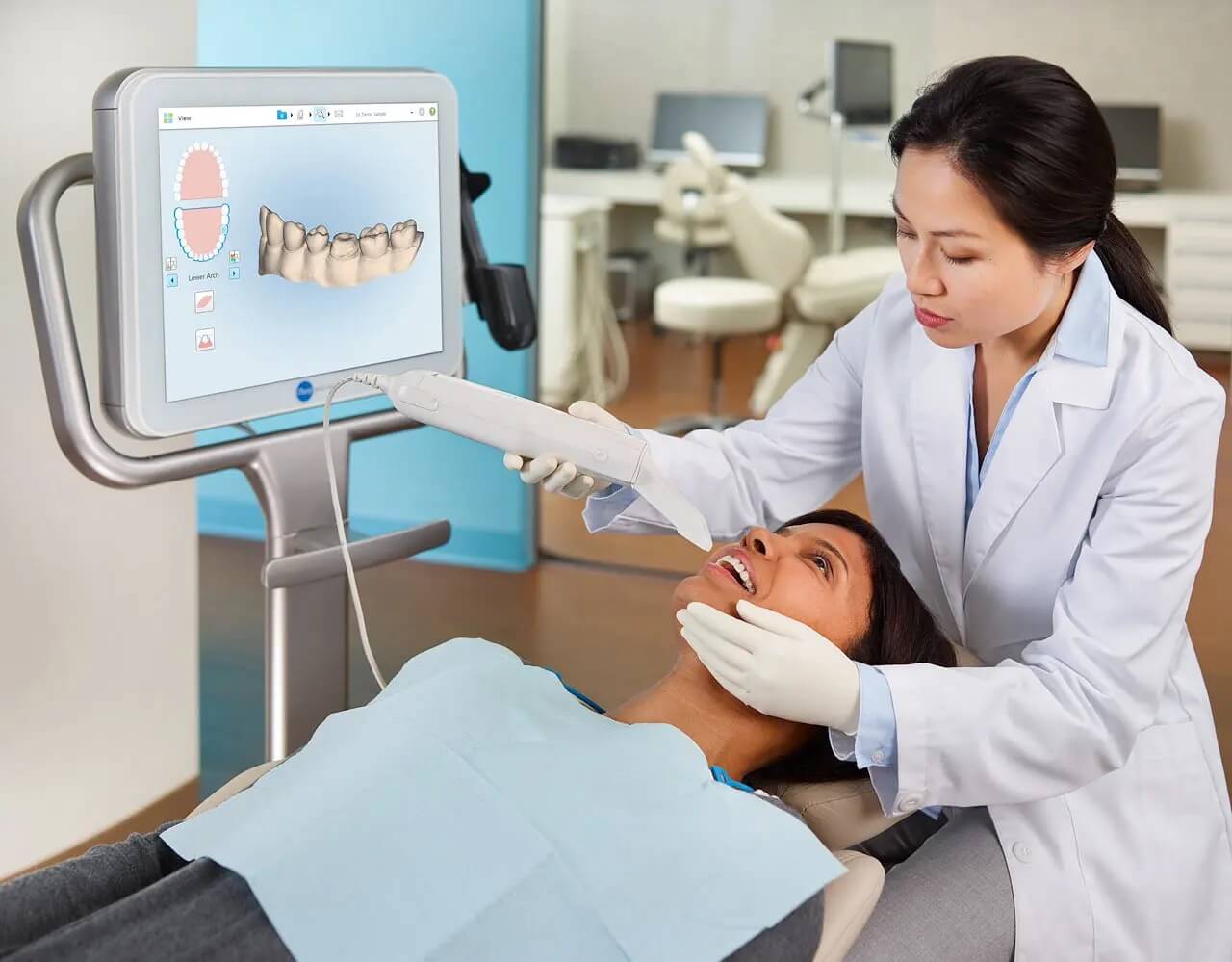 3.1.2, LCD 3d printer
This machine will process the digital imaging data taken by a 3D scanner and processed by a CAD software tool. For digital dentistry and 3d printing, you won't find the best option than an LCD 3d printer. This is one of the latest developments in resin 3D printing and utilizes a technique where an affordable LCD screen is used for masking.
Unlike DLP printers, an LCD printer doesn't have any DMD chips. The LCD technique functions by an array of LEDs, illuminating on the LCD. The masked LCD screen creates the required curing pattern. This turns the liquid resin into hard plastic on the spot where the laser light hits the resin. Some of the significant advantages for 3D printers are:
The cost related to LCD 3D printer and LCD printing is relatively cost-effective. So, these printers facilitate cost-effective rapid prototyping.
Using this, you can easily design, manufacture, and different test type of customized parts within a few minutes.
Another significant advantage of LCD 3D printers is they can print almost anything. You need to feel the design into the software, and your 3D printer will carry out the task.
3D printing doesn't require any type of levelling, and the precision level is quite good.
There are more such benefits that make LCD 3D printers an ideal option for 3d printing dental industry.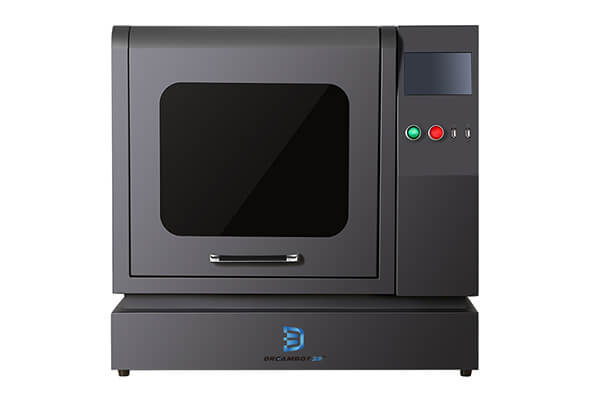 3.2, How to choose the most important part: 3D printer
There are some other factors that you should keep in your mind while buying an LCD 3D printer. Have a look at the below-listed points.
3.2.1, What is the size of the print
Before buying, you need to consider the size of the print. This also means the build area capacity that the printer has. As you are buying a 3D printer for the dental industry, a printer with a small built area will work correctly. In 3D printing, the size is generally measured by 10-inches Wide (X) by 10-inches Deep (Y) by 15-inches High (Z), for example.
3.2.2, Choose a reliable brand
When buying the best 3d printer for dentures, you should always choose a trustworthy brand. Because only a well-known brand like Dreambot3D can offer you the printers that will work correctly at a higher speed. The machines will also come with a highly durable enclosed structure to run for hours without developing any issue.
3.2.3, Safety configuration of the machine
Most of the resins produce different types of Volatile Organic Carbons. So, you need to buy a printer that comes with the enclosed structure to lower the risk of VOCs' contact. So, ask the manufacturers about the safety features of the printers.
3.2.4, Resolution requirements of the machine
When it comes to the lab and dental practice, not every dental printer will work perfectly. In 3D printing, the resolution is measure in microns. If there are smaller microns, you will get a very high level of details. Furthermore, you should get a denture 3d printer where you can adjust the printing speed as the speed of the printer can affect the resolution.
3.2.5, Consider whether the price of the machine is acceptable
For this, you can check the features of the printers. Some of the standard features that you can consider here are speed adjustment, multiple material supports, build platform size, constant heat generation system, and more. So, keep these things in mind.
3.2.6, Consider the supplier's after-sales service capability
Always go for a manufacturer that offers an excellent level of after-sales services. This way, you can solve any type of technical issue much faster.
3.2.7, Consider the service life of the machine
As per the experts, you should buy a dental 3d printer that can work for around 5 to 10 years. You should also avoid using low-quality material and follow a proper maintenance routine to keep it running smoothly.
3.2.8, Consider the maintenance cost of the machine
The maintenance cost of a 3D printer can be relatively high. You may face a situation where you will have to replace fans, heat break, liner bearing, PTEF tubing more. To avoid such a situation and keep the maintenance cost low, take good care of your printer.
Chapter 4:
How to choose materials
To get the best result from your LCD 3D printer, you will have to choose the best 3D printing materials. In the case of LCD 3D printing, you can't use plastic filaments, and instead of that, you can use different types of resin. Some of the most commonly used resins are:
4.1, High hardness resin
The standard quality resin is very fragile, and they create smaller details and susceptible to crack. To handle such issues, some resin manufacturers have introduced high-hardness resins that posse mechanical properties of ABS.
Objects made of high-hardness resin or resin can easily sustain heavy force and different mechanical pressures. This printing is suitable for producing functional prototypes and mechanical assemblies. The shock resistance level is also right. However, you can't use this for creating 3D model parts with thin walls.
4.2, Castable resin
Castable resins work great for jewellery and dental industries. You can create 3D parts that can are cast as metal. Here, moulds are adequately filled with castable liquid resin and allow the liquid to cool. Once completed, you will get a hard structure. The castable resin is good for creating models, collectable figures, jeweller productions, and dental models.
4.3, Flexible resin
These are rubber-like materials and have a good level of elastomeric properties. However, the 3D objects made of flexible resin can demonstrate a lower level of elongation. Even though you can compress or bend the product, you can't stretch it. This resin is suitable for producing custom moulds, gaskets, wearable prototypes, shoe insoles, and more. Don't expect that it will offer a higher level of details.
4.4, Photosensitive resin
These are one type of photopolymer or light-activated resins. The best thing about this resin is it can change its properties after exposure to UV rays or light. Such changes happen structurally. This helps in lowering energy consumption level, material waste level, and you will enjoy better productivity.
4.5, Heat resistant resin
These resins are developed to create 3D models or objects that can easily sustain a higher temperature level. For example, they can easily sustain around 270 to 300-degree C of heat deflection temperature. You can use this to create thermoforming tools, injection molding tools, and more.
4.6, ABS resin
This resin offers some unique features like a higher level of toughness and hardness. While producing an accurate printing size, the shrinkage level will be low. This is a perfect resin for creating a model manual, fixture production, small-batch parts production, and industrial design verification. This resin supports 395 to 405mm of applicable length. With up to 75mpa of bending strength, the resin shows up to 3. 835mpa of bending modulus.
4.7, High-temperature press film resin
It has a short curing time. The 3D model made of this resin can offer a super smooth surface. You won't face any deformation issue while using it, and there would be a higher level of precision. That's why it is widely used in the industries like dentistry, jewelry, glasses, toy design, handicraft, and more. The resin can sustain 200-degree C of hot temperature. It can produce around 70mpa of bending strength.
4.8, Dental casting resin
When it comes to getting exquisite details and super fine surface quality, you can go for this resin. While producing little residual, the resin can demonstrate an excellent level of combustion and small expansion. There will be no deformation while molding the resin. It may be noted that this can start to deform under 75-degree C temperature. It is widely used for making steel bracket casting, bracket, and dental crown.
4.9, Dental guide resin
This resin is widely used for making dental implant guide. The model made of dental guide resin can offer a smooth surface with a higher level of precision. The finished object will offer a better level of flexibility and good strength. It will demonstrate an excellent level of impact resistance. It can support 39.816 mpa of bending strength.
4.10, Special resin for dental mold restoration
You can use this to create a highly accurate dental restoration model. The model will have clear details. The odor level is low and demonstrates a higher level of printing stability and lower shrinkage level. The model will start deforming at 78-degree C of temperature. With around 70mpa of bending strength, it supports 2.855 of bending modulus.
Chapter 5:
Conclusion – Dreambot3D provides one-stop solution for dental printing
Are you planning to set up your own dental 3D printing unit? Are you looking for professional help for that? This is where you can always trust Dreambot3D. We are the 3D printing solutions providers recognized by HP. Our working process and machinery quality have helped us be listed as the Top 10 3D Printing Service Providers.
Besides, it is also our post-processing method that helps us to stand out from others. Dreambot3D works hard to introduce new machines and solutions to changing parts produced in the global dental industry. When it comes to buying the best 3D printer for quality dental printing, you can always buy LCD 3D printers from Dreambot3D.
We deal with 3D printing equipment, materials, and CNC equipment and CNC material. In the case of 3D printing equipment, you can get ME-192, ME-215, ME-345, DB-345, DB-550, etc. We also offer the best quality 3D printing materials such as high hardness resin, flexible resin, dental resin, casting resin, high toughness resin, high-temperature press film resin, dental casting resin, dental guide resin, special resin for dental mold restoration, and more.
Why choose Dreambot3D as your printing solution provider?
Faster turn around
On most of the printing service, you offer a 4 to 5-day turnaround time, and in some cases, it can be for 1 today. So, with us, you can start your 3D printing service much faster.
Fast and instant online quote
We have made the entire process very simple and fast. You need to just upload your STL digital design file, CAD, or 3D mode to get an instant quote and buying option. After the approval from our side, you need to pay online so that we can start working on your project.
Proper attention to details
As a provider of the best 3d printing technology in dentistry, for Dreambot3D, quality matters the most. We take good care while working on your printing projects using advanced production software. For this purpose, we always use large-size commercial 3D printers, such as EOS P450 and HP 5210.
What's more? We also offer professional 3D design services to our valuable customers. To provide you with the best service, we have our own in-house designers who have years of experience creating 3D CAD drawings. With the designs, you can bring the product to life. We at Dreambot3D specialised in designing, developing, and producing. So, what are you waiting for? For more details and to get a free quote from us, get in touch with us now.
Is it illegal to 3d print a 3d printer?
There is a 3D printing law, which is a collective term of different rules that may significantly impact the 3D printing industry. Already 3D printers have been used to develop surgical implants, machinery parts, pills, prosthetic limbs, artefacts, and more. So, Is 3D printing illegal? Well, 3D printing itself is not considered illegal, but some of the consequences may attract intellectual property law. You can 3D print a 3D printer if you have the legal rights regarding that.
What is dental 3d printing?
Dental 3D printing is the catalyst for dentistry and quite famous for its high-quality and reliability. Dental 3D printing uses a laser or light source to perfectly polymerize a liquid with maximum precision to create intricate details. The entire process of dental 3D printing can be divided into four steps. These are scanning, designing, printing, and preparing. This printing can print surgical guides, dental bridge or crown models, clear aligner models, patterns for pressing and casting, full dentures, Hawley retainers, and more.
Can you 3d print a tooth?
Yes, advancement in 3D printing has made it possible to 3D print a tooth. When the natural tooth has to be extracted, a dentist can scan the shape and size of the teeth and print an accurate copy from safe materials such as zirconia and titanium. On the other hand, corrective pieces or portions of teeth can be custom printed.
How difficult is it to learn 3d printing?
It is not that difficult to learn 3D printing; the only thing that can create obstacles in obtaining skills for using software and managing 3D printer parts. So, it is not difficult. Instead, it is quite challenging. First, you will have to learn how to use CAD software tools for designing and them about 3D printing materials. If you are good at math and designing, then this will be a little easier for you.
What materials do you need for a 3d printer?
Out of the available material for 3D printing, plastic is a widely used material. Such filaments come with spools and may have shiny or matter the texture. Some of the popular types of plastic filaments that you can use for this are PLA (Polylactic acid), ABS (Acrylonitrile butadiene Styrene), PETG, PVA (Polyvinyl Alcohol Plastic), PC (Polycarbonate), Nylon, and more. Besides, you can also use resins for this. Made from liquid polymer; resin attains its end state when it is exposed to UV light. You can go for castable resin, transparent resin, paintable resin, though resin, dental resin, and more.
What is the main use of 3d printing?
Also called additive manufacturing, 3D printing creates 3D components from different CAD models. It forms 3D objects by adding resins or filaments layer by layer. With this printing, you can create durable and accurate functional shapes. What's more? Using FDM 3D printing, it is possible to do rapid prototyping. 3D printers are also used in different industries like automotive, medical & dental, aerospace, education, manufacturing, and more to create 3D parts.
Is LCD faster than DLP?
Yes, LCD printers are much faster than DLP printers. LCD is created by a surface with a maximum speed of 20mm/h. However, in some cases, it has been seen that both LCD and DLP can achieve fast printing speeds while offering great details. However, if you are looking for a perfect printer for dental treatment, an LCD dental 3d printer will work great. Such printers can produce 20 to 150mm of printing speed with 0.05 to 0.3 mm of layer thickness.
How do dentists use 3d printing?
In the field of maxillofacial and oral surgery, dentists can 3D print models of mouth and guides that can help them during the surgery. Coming to prosthodontics, where dentists can print 3D printed prostheses and teeth. In the field of orthodontics, dentists use 3D printing to print dental models and aligners. A best denture 3d printer can also be used to create guides for different types of root canal treatment, oral tissue, and more. Scientists are now exploring new ways to use 3D printers.
How does a dental 3d printer work?
The first step is to get the digital image of the object that needs to be printed using a 3D scanner. After that, the obtained digital information is converted into a form that the orthodontic 3d printer can understand. Generally, using a CAD software tool, you need to convert them into the STL file format. Once done, the file will be sent to the printer, and the machine will start creating the object layer by layer. The printer will use a laser source to harden a thin layer of 3D printing material from the liquid pool, and then it will add another layer. The process will continue until the 3D object has been completed.
Can you reuse 3d printer resin?
Remember that the solidified printed products or your 3D models cannot be reused or recycled. The reason, while processing using the laser light, resin changes its properties, and you can bring them back. You can only reuse the resins that left in the resin tank.
Can you use candle wax for lost wax casting?
Talking about candle wax, it's derived from petroleum elements and widely used for creating candles. This is not perfect for hand modelling jewellery, and you can use this as an additive to other types of waxes to make them a little more challenging. Used by lost wax casting jewellery manufacturers, this generally melts at 135 to 140-degree F.
Does a 3d printer work?
Yes, a 3D printer really works, and you can use this to 3D print different types of 3D models. Using different materials, like plastic filaments and resins, you can object with intricate details.
What is the best resin 3d printer?
Today, most of the 3D printers work on SLA or DLP 3D printing technology. The best resin 3D printer can help you create isotropic, highly-accurate, and watertight parts and prototypes, utilizing different types of materials, and you will get a super smooth surface. Besides, you can also use the best 3D printer for design and commercial applications. However, for best-in-class resin 3D printers, can you always trust Dreambot3D.
What is DLP 3d printer?
A DLP 3D printer is widely in the process of additive manufacturing where objects are formed by the printers that utilize DLP- Digital Light Projector as the printing light source and cure photo-reactive polymers. The DLP 3D printers are developed around a resin tank with a transparent bottom, and there is also a built area that the remains descended into a resin tank to form parts. The laser light reflects on a DMD- Digital Micromirror Device, a dynamic mask consisting of multiple mirrors laid out on a semiconductor chip. These tiny mirrors direct the light towards the bottom, where the liquid form of resin is cured.
What are 3d printed teeth made of?
3D printed teeth are made of dental 3D printing material that is one type of resin designed and developed to produce dental items. It is not possible to 3D print dentures using any materials. Specially created PMMA resin is perfect for dental 3D printing.
Are 3d printed crowns good?
Possessing resistance and high-strength to wear, 3D printed dental crowns material offers a perfect balance of translucence and opacity for accurate and realistic teeth. 3D printers' crowns can be printed within a few minutes, and they are quite durable. Besides, 3D printed crowns can last longer than the traditionally made crown.
What wax is used for lost wax casting?
Most of the jewellers use lost wax casting investment method to create jewellery. Now, you can use two types of waxes for this. One is a natural wax, and another one is synthetic wax. Natural wax here means beeswax. This is used as a finishing process for bronze, steel, and ironwork. It helps in preventing rust and gives a beautiful sheen. In the case of synthetic wax, you will find two major types, i.e., Paraffin and Microcrystalline wax. While microcrystalline wax melts at 160-degrees F, paraffin wax melts at 135-degree to 140-degree F. There is also carving wax, which is quite challenging and used for hand carving. Its melting point can range between 225-degree F to 230-degree F.
How long do 3d printed crowns last?
Dental crowns are generally recommended after going through a root canal treatment to restore discoloured, stained, or broken tooth or repair a damaged tooth. Depending on the crown's wear and tear, a 3D printed crowns can last for around 5 to 15 years. However, by following good oral care habits, your crown can last for more than 20 years. Besides, the lifespan of the crown will also depend on the material used for this.
Are same-day crowns as good?
Talking about same-day crowns, they can help in preventing further injury as they are fixed immediately. The crown will keep your tooth much stronger as they require less drilling, saving more of your tooth. However, they can be less durable than traditional crowns. So, consult your dentist to know the best option for you.
How much resin does a 3d printer use?
It completely depends on the 3D model size that you want to create. Let's take an example to understand this in a better way. Suppose you are making figures for your tabletop board games, and each will have a height of around 2.8 CM. Using 1 litre of resin, you can 3D print about 140 of such figures. If you are printing 1CM long cubes, you can 3D print around 500 cubes using 1 litre of resin.
What is a 3d scan for teeth?
3D scan for teeth is carried out using an X-ray arm that rotates inside the mouth. While rotating, it effectively captures multiple images of your teeth and sends them to a computer. Using the software, all the images will be combined together in the 3D format. That file is used for 3D printing.
Can teeth be 3d printed?
Yes, thanks to the modern 3D printing technology, it is now possible to 3D print teeth. Dentists do this by taking digital images of teeth and mouth structure using a 3D scanner and create teeth using the best dental 3d printer.
What is 3d printing in dentistry?
3D printing in dentistry has emerged as an ideal way to produce different types of dental products. For example, dental crown, dental aligners, bridge, dental surgical guides, and more. The use of 3D printing in the global dentistry industry includes drilling guides for smooth dental implants and physical models for orthodontics, prosthodontics, and surgery. Besides, this is also used for the fabrication of frameworks and copings for dental restorations and implants.
What kind of resin is used for 3d printing?
Instead of using filament and power, resin 3D printers utilize stereolithography 3D printing technology that uses liquid resin. When it comes to resins, you can go for different types like though resin, clear or transparent resin, dental resin, normal resin, castable resin, and more.
How do you 3d print a crown?
How dangerous is resin 3d printing?
The standard quality resin that you use for 3D printing is not eyer or food-safe rated. So, this can cause permanent harm or damage if exposed to these body parts. Resin can be very toxic for both people and the environment. So, while using it, you will have to very carefully, and it will be better for you to use an adequately enclosed LCD 3D printer to prevent damages.
Which resins are used in the dental industry?
Based on your 3D printing requirements, you can use different types of resins, such as dental casting resin (for bracket and dental crown), dental guide resin (for creating dental implant guide), flexible resin (for sealing ring, shoe material, sample preparation, and soft products), and Special resin for dental mold restoration (for creating dental restoration model). Our 3D printers support all these resins.